Marking 75 Years Since V-E Day
Play
This article is more than 2 years old.
When the caskets of three young men — all who died in World War II — arrived in their Missouri hometown, their father, a widower named Henry Wright, was waiting at the local train station to take his boys home.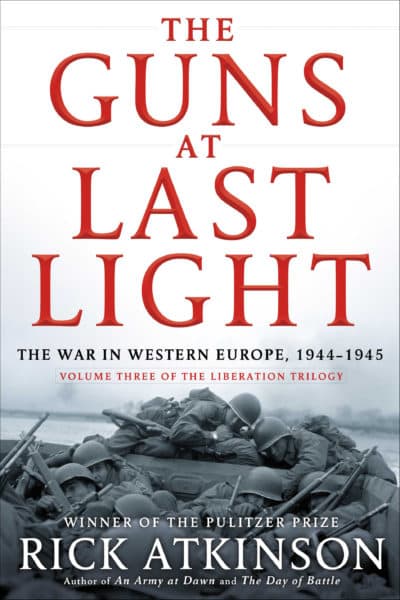 The caskets carried the remains of his sons Frank, Harold and Elton Wright.
Sgt. Frank Wright was killed on Christmas Eve in 1944 during the Battle of the Bulge.
Private Harold Wright died of his wounds in a German prison camp on February 3, 1945. And Private Elton Wright was killed in Germany on April 25 — two weeks before the war ended.
Henry Wright took the bodies to the home where the three boys were born and raised. Their bodies were then buried at Hilltop Cemetery.
The Wright's heartbreaking story is documented within the pages of author Rick Atkinson's "The Guns At Last Light: The War In Western Europe, 1944-1945" — the last volume in "The Liberation Trilogy," Atkinson's series on the history of World War II in Europe.
This week marks the 75th anniversary of the end of the war in Europe, known as Victory in Europe Day on May 8, 1945. It's a day to remember the more than 400,000 Americans who died in World War II, along with the 16 million who wore uniforms during the conflict.
In a televised announcement, President Harry Truman declared German forces had surrendered. "The flags of freedom fly all over Europe," he said.
Crowds filled Times Square in New York and as Atkinson writes, light again bathed the Capitol dome in Washington, D.C., for the first time since 1941, when the U.S. entered the war after Japan's surprise attack on Pearl Harbor.
There were also celebrations in the United Kingdom, especially London, where memories of the carnage and devastation of the German blitz attacks were still very present.
But the joy was tinged with the sadness that tens of millions had been killed in the six years of fighting. The Nazi death camps had just been liberated — and the world was starting to see those horrible images.
There was also the fact that World War II was not altogether over. The fighting raged on in the Pacific against the Japanese who were fighting to the death as the Allies pressed closer to the Japanese mainland.
"The battle for Okinawa was underway on May 8, 1945," Atkinson says. "That was a cave-by-cave bloodbath and that had a kind of chilling effect really on what would [have] otherwise been untempered jubilation."
This year, on the 75th anniversary of V-E Day, huge public celebrations in London and Moscow have been scrapped because of the global coronavirus pandemic. And marking V-E Day in 2020 is also tempered by the fact that the so-called Greatest Generation — Americans who grew up during the Great Depression and fought in World War II — is fading away.
Of the 16 million Americans who served in World War II, fewer than 400,000 are still alive today. They are dying at a rate of about 300 per day.
Atkinson says a soldier once wrote, "No war is really over until the last veteran is dead."
"We're getting closer and closer to that point where World War II is over because all the veterans are gone," Atkinson says.
Here & Now producer Alex Ashlock's father, Raymond Allen Ashlock, was one of those veterans. He fought in Europe in 1944 and 1945. On the back of a tiny photograph, he wrote "V-E Day Czechoslovakia."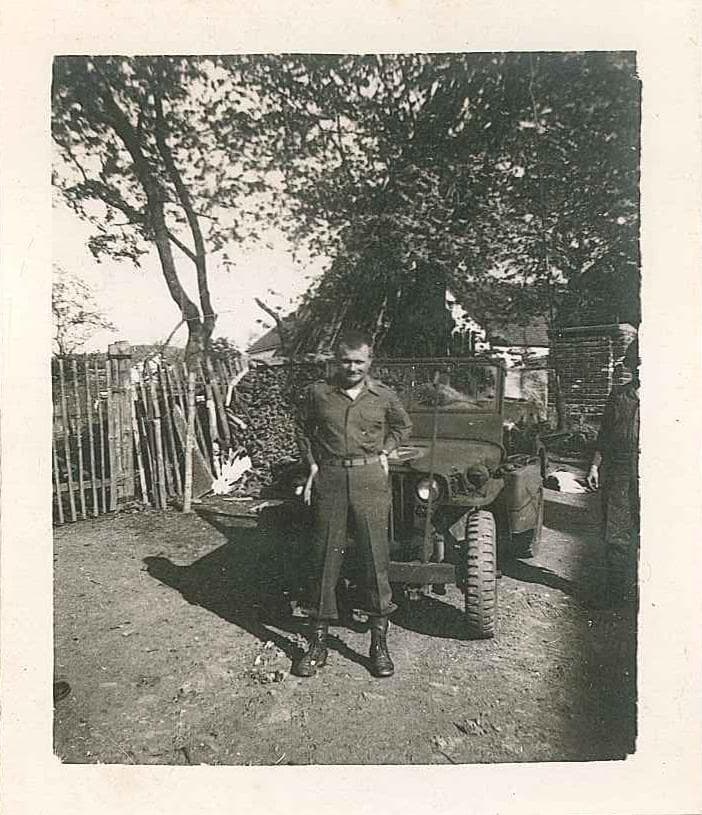 That's where he was when the Germans surrendered. Ashlock's sister and he have a few pieces of paper that document his service. There's a program from his graduation ceremony from Officers Candidate School at Fort Sill, Oklahoma in August 1943. Records show nine of his classmates were killed during the war.
There's also a telegram he sent to Ashlock's mom when he was stationed near Grenada, Mississippi, in April 1944, which read, "Arriving Saturday 7:30 a.m. from Memphis 12 day leave meet me." That was before he left for Europe.
Raymond Ashlock carried a few things home from Europe, including his bayonet which Alex Ashlock still has, but a conversation about the war never really ensured.
When Raymond Allen Ashlock died in 1981, Alex Ashlock didn't even know his father had received a Bronze Star. His family didn't find it until years later — and still doesn't know why he got it.
---
Alex Ashlock produced and edited this interview for broadcast with Peter O'Dowd. Ashlock also adapted it for the web.
This segment aired on May 8, 2020.