Hospital Photographer Says Documenting The Pandemic Poses A 'Unique' Safety Challenge
Play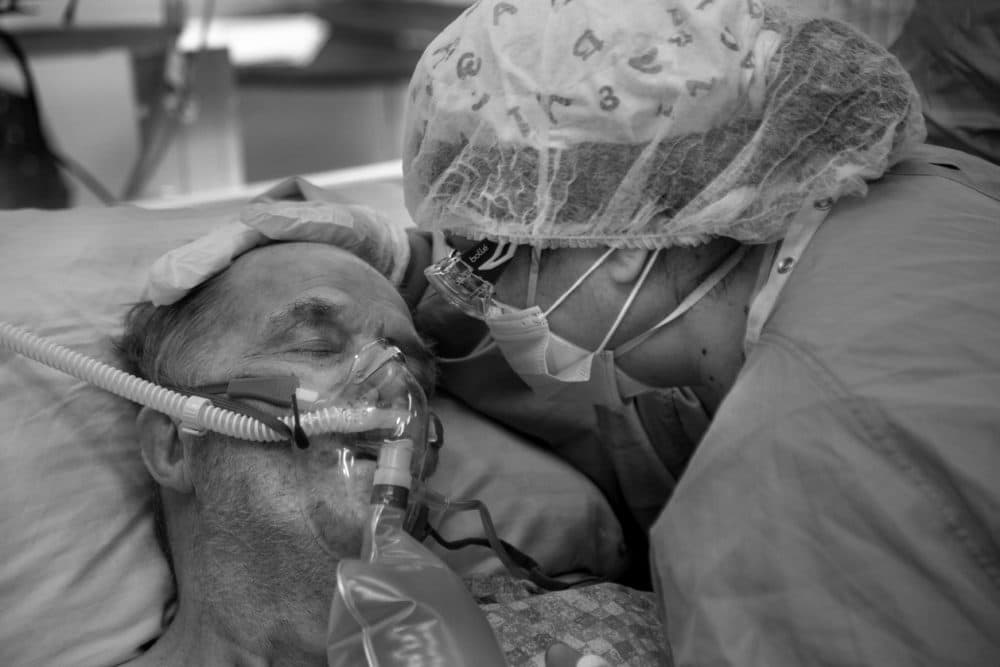 This article is more than 2 years old.
Photojournalist Jeff Rhode is documenting the coronavirus pandemic through the lens of patients and staff at Holy Name Medical Center in Teaneck, New Jersey.
For Rhode, the photos that capture emotional moments stick out in his mind — such as a patient's final hours alive. He spent the last five or six hours with a patient named Louie who recently died.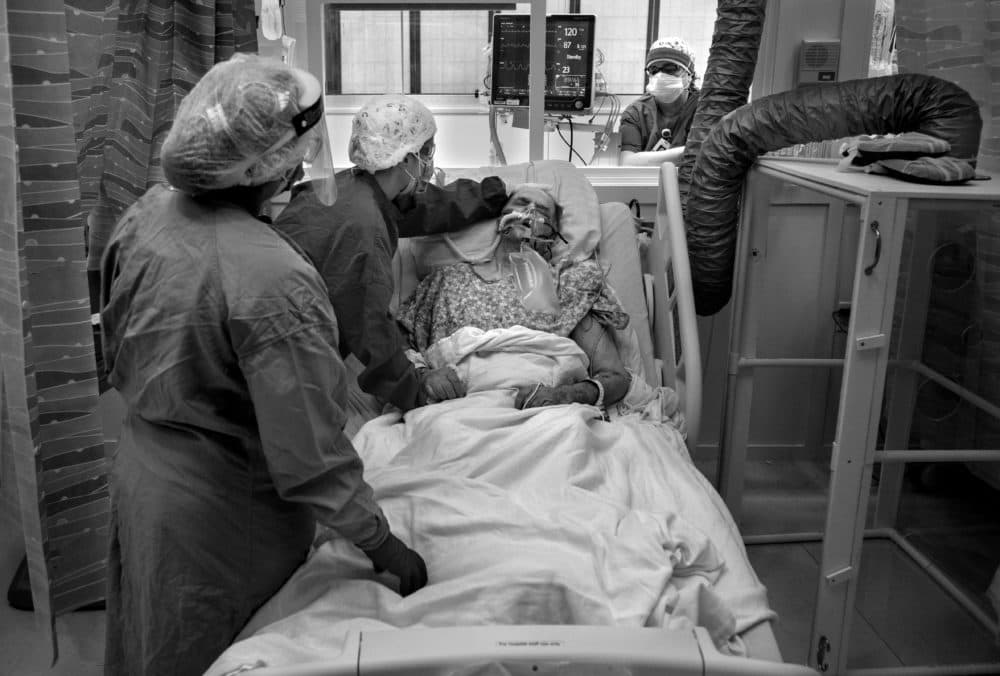 A team of nurses and patient care technicians surrounded Louie like a "surrogate family" and helped him FaceTime his caregiver, Rhode says.
Putting down his cameras, Rhode stepped in and held Louie's hand. With the other hand on Louie's shoulder, Rhode joined in supporting him during his final moments.
"He was unconscious. He was on a ventilator," Rhodes says, "but he was not alone."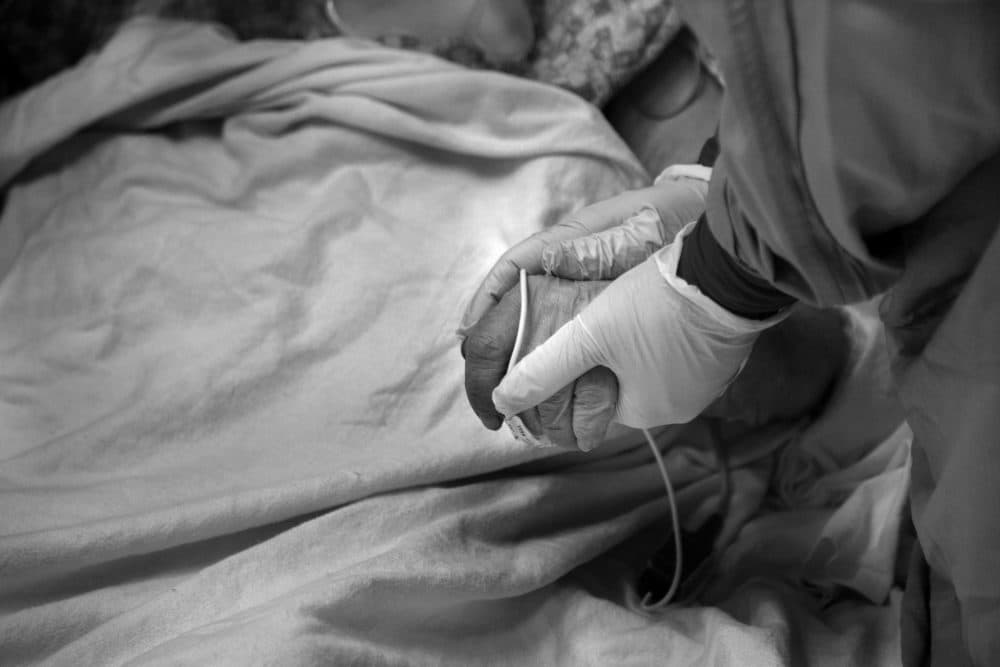 In New Jersey, he says he doesn't know of many other hospitals with a full-time photographer on staff. Most of his work leads to advertising or event coverage, but he decided his role needed to change amid the coronavirus crisis.
Photojournalists can't easily document the pandemic because of both safety precautions and privacy laws, he says. He doesn't reveal anyone's identity without consent, he says.
Despite working in a COVID-19 hospital, Rhode says he tested negative for coronavirus antibodies. But he finds staying safe in the hospital challenging.
Rhode wears the same personal protective equipment as doctors and nurses but his role as a photographer presents a unique challenge. When he leaves a room, he has to change his gloves and decontaminate his gear before moving on.
"My cameras that I bring into a room will become contaminated and I'll be putting them up to my face perhaps several hundred times in that time frame," he says.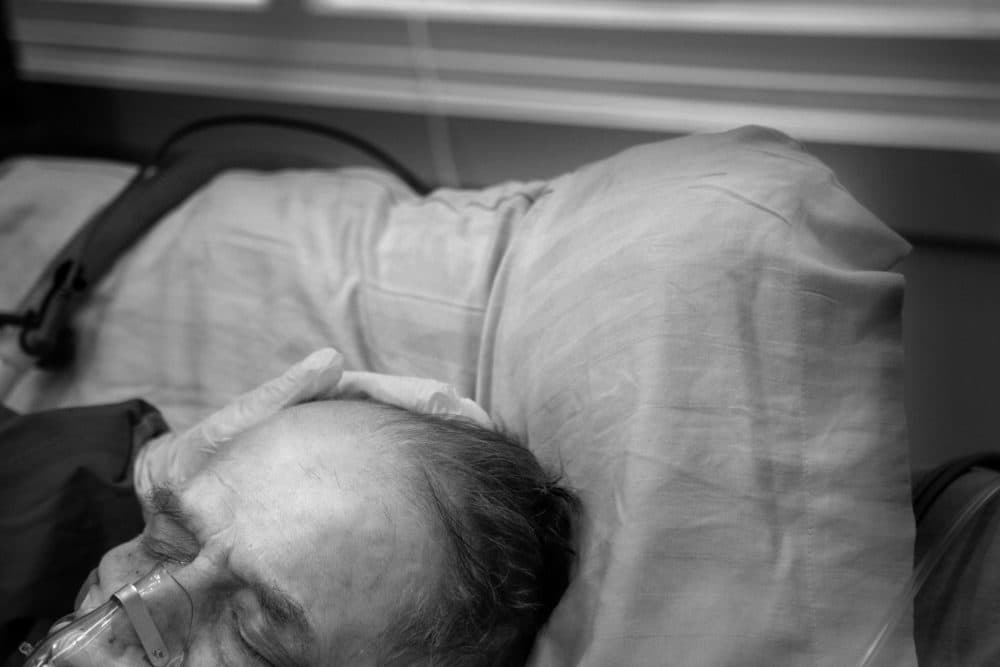 When the coronavirus crisis ends, Rhode hopes to photograph patients who have successfully recovered from the virus and moved home. He also hopes to shoot the hospital's recovery as it switches back to operating as a non-COVID-19 hospital.
"They're doing a full decontamination in the hospital, which is much different than anything I've ever seen," he says. "The images will explain everything."
---
Ashley Locke produced and edited this interview for broadcast with Tinku Ray. Allison Hagan adapted it for the web.
This segment aired on May 12, 2020.