Plastic Businesses See Boom In Demand For Sneeze Guards
Play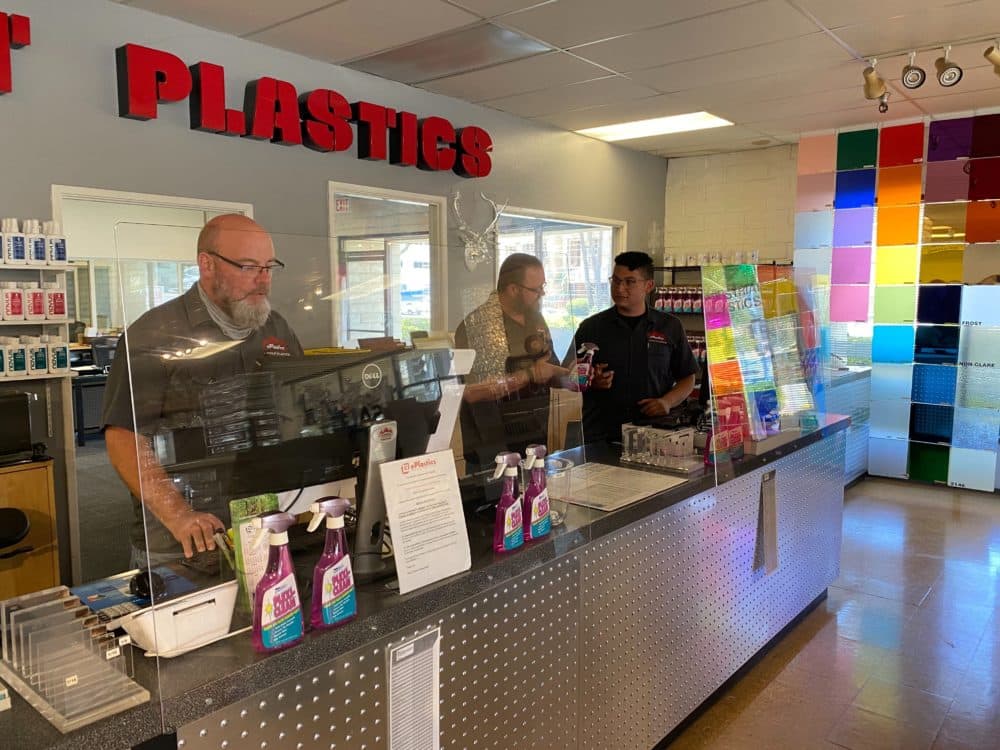 This article is more than 2 years old.
Businesses from grocery stores to nail salons are using plastic dividers or sneeze guards to create distance between employees and customers.
Companies that make and sell this kind of acrylic plastic are facing a boom in demand as more shops install barriers as a safety measure against COVID-19. John Short, general manager of San Diego manufacturing and distribution company ePlastics, says he's doing 80% more business in a month than usual.
The need for plexiglass goes beyond grocery stores: ePlastics is working with banks, hospitals, growers, nurseries, the Navy and "anybody who has any kind of contact between customers and employees," he says.
ePlastics works to meet the varied needs of these different types of businesses, he says. The process of making the barriers starts with four by eight or six by eight sheets of acrylic, then the company customizes the shield.
"Everybody has some kind of different application and configuration they need to put in place … to allow potentially a pass-through for documents or money or a speaking hole," he says
Filling an increased volume of orders has been a challenge for the company. The demand comes in waves depending on what parts of the country are reopening businesses, he says.
More than 50% of the company's business comes from the Eastern Time Zone, and Short says he's receiving a lot of orders from the southern part of this area. He says the company is also seeing a significant amount of orders from places such as Texas and Arizona.
The increased demand for this type of plastic has already caused shortages.
"There's a national shortage across not just our business, but lots of different industries," he says.
With production down for many industries, he says trucking companies have a lot of bandwidth to ship the company's products.
"We're kind of filling the void where others are down," he says. "We're up and filling that hole."
ePlastics' employees and customers need protection from the coronavirus, too. The company uses the shields in its showroom and front office, he says.
Without the coronavirus, Short predicts his business would have held its steady rate of 3% to 7% growth year over year. Now, ePlastics is seeing 30% growth, he says.
Though the need for social distancing has helped the business grow, Short says he can't wait to walk up to people and talk face-to-face again — without a barrier of plastic in between.
---
Ashley Locke produced and edited this interview for broadcast with Peter O'Dowd. Allison Hagan adapted it for the web.
This segment aired on May 22, 2020.