Miss Manners Updates Etiquette Guidelines For The COVID-19 Age
Resume
The coronavirus pandemic has turned many everyday encounters into emotional confrontations.
If someone is in the grocery store standing too close to you, can you ask them to back off? Across the country, there have been arguments between business owners and customers over wearing masks.
Tensions are running high over these everyday issues surrounding social distancing. Little things can become big. Fortunately, Miss Manners has some solutions to etiquette in the age of coronavirus.
Author Judith Martin, the longtime etiquette maven, has co-authored a new e-book on the subject with her two adult children, Jacobina Martin and Nicholas Martin, called "Miss Manners' Guide to Contagious Etiquette."
Martin says the key to diffusing these tense situations is to avoid insulting people.
"You don't insult them because, among other things, it doesn't work," she says. "When you start screaming at people, 'You're trying to kill me,' and, 'Back off,' and that sort of thing, do they say, 'Oh, excuse me,' and back off? No, they get hostile."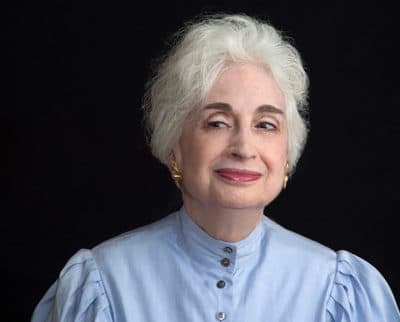 Instead, Martin says instead of blaming the other person, make the suggestion something that both people should be doing. So you can say, "I think we should have more distance here," she says.
"You're giving the person the opportunity to do what you want that person to do without being embarrassed," she says, "because if they get embarrassed, they're going to get mean."
When it comes to going out in public, Martin says the surgical mask is becoming this century's handkerchief.
"Everyone should carry [a mask]," she says. "Once upon a time, everybody had a handkerchief."
As a result of the pandemic, Martin hopes that humans will drop some "really annoying and rude" habits.
"People who used to give priority to anything electronic over people in front of them," she says. "I'm hoping now that they're sick of screens, and we'll be happy to see people back in the flesh and understand that's more important than somebody who's on the device."
She also hopes people will stop defying dress codes.
"I'm hoping that people who have been defying dress codes because they're always saying, 'Oh, I just want to be comfortable,' are sick of their sweatpants and will at least put them in the wash for a while," she says. "And perhaps, we'll come out better, I hope, for this experience."
More Etiquette Advice From Miss Manners 
On reminding people to wash their hands 
"I got a lot of suggestions from readers on that, like, 'Oh, look, free soap and water.' Or 'You may not have noticed, but there's a basin free now,' that kind of thing. So the readers really got into the spirit of it, of making people do what you want them to do without insulting them. By the way, manners are much more important in a difficult situation such as we all have now than in ordinary life, where you can avoid people. If you are quarantined with other people or dependent on other people to help you, you want to get along with them."
On writing thank you notes 
"There are people who leave their mail for a couple of days, but if there is serious thanks to be offered, a letter is still important.
"It's a great service to the child, too, who will find that it gives them a great advantage in life if he knows how to express gratitude."
On politely ending a phone conversation 
"You never needed an excuse. You just say, 'I'm so sorry, I have to go now.' And there are people working at home. There are people teaching their children, helping with the school lessons at home and so on. It's not as though people have nothing to do. But offering an excuse was always a bad idea."
On tipping delivery drivers 
"Tip as much as you can. ... The sad thing is that a lot of people who have to do the jobs, like delivering the groceries, have to risk their lives because they need the money."
---
Emiko Tamagawa produced and edited this interview for broadcast with Tinku Ray. Samantha Raphelson adapted it for the web.
This segment aired on May 27, 2020.