Celebrate Summer With These Grilling Recipes And Tips
Play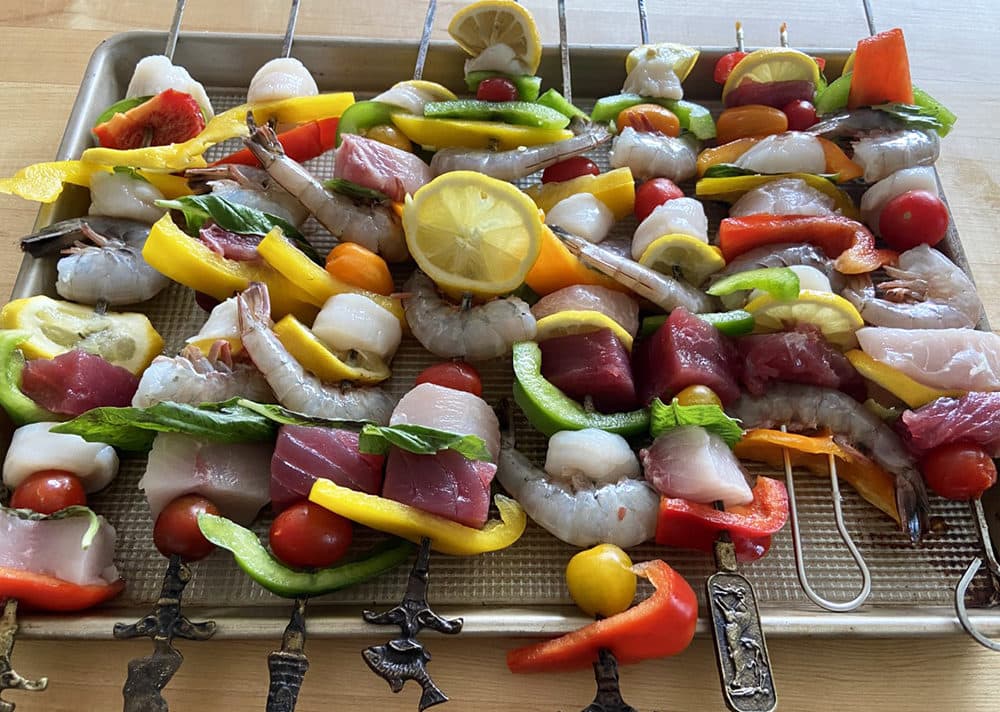 This article is more than 2 years old.
I always look forward to grilling season, but this year it's even sweeter. After being cooped up for the past few months and socially isolating, it feels great to get outside, light the grill and cook a simple dinner outdoors.
Whether you have a backyard, a fire escape, or an urban courtyard, or whether you work on a fancy barbecue or a tiny little tabletop Weber grill, this is the time to get grilling.
Though you can grill virtually anything, many cooks have a fear of grilling fish and seafood. Here are tips for grilling fish filets, whole fish or fish kebobs but many of the tips can also apply to grilling almost any food.
Tips For Grilling Fish
Preheat grill for at least 10 minutes.
Ideally, grill should be medium hot to hot, around 400 to 425 degrees.
Once the grill is hot, use a heavy-duty barbecue brush or even a vegetable brush to clean it of any debris from the last time you grilled. If your barbecue grills are clean your food has much less chance of sticking.
Very lightly oil the grill rack with a neutral oil, such as vegetable oil. Use a pastry or barbecue brush or a lightly greased old tea towel (and use barbecue tongs to keep your hand away from the hot fire) to lightly grease the rack.
Depending on the type of fish always keep the skin ON; it will keep fish moister and protect it from intense heat and keep it from falling apart.
Let fish come to room temperature before grilling.
Grill flesh side down first and then very carefully, using a wide spatula, flip the fish to finish off and crisp up the skin.
If you're working with a fish filet without skin, you need to lightly oil both sides of the fish so it doesn't stick.
In most cases, you want to cover the grill while cooking so it can maintain even, hot temperature.
The general rule of thumb for grilling fish: grill about 8 to 10 minutes per inch. If you have a fish that is 1 1 /2 inches thick, grill it for around 12 minutes, or 6 minutes per side.
If grilling a whole fish, stuff the cavity with thin lemon slices, fresh herbs or any other ingredients you like. Grill uncovered for about 10 minutes per side (about 5 to 7 minutes per side for a 1 to 1 1/2 pound fish) .
If making fish kebobs make sure all the fish on the skewer is of uniform size and thickness. Or cook each type of fish and vegetables on separate skewers.
When grilling shrimp, it's best to spear them on 2 skewers so they will lay flat on the grill and cook uniformly.
If using wooden skewers for grilling always be sure to soak them in cold water for about 20 minutes before placing on the hot grill to prevent burning.
Never douse fish (or meat) with oil once it's on the grill. It will create a flare up and cause the fish or meat to burn.
Use a wide spatula to gently flip the fish and then remove it from the grill.
If using a marinade, remove the fish or meat from the marinade and brush the marinade on lightly throughout cooking.
For additional flavor, place lemon or lime wedges on the grill and cook about 2 minutes per side; the citrus will get nice grill marks and lend a slight smokiness when squeezed over fish or poultry.
Always let food sit for a few minutes before cutting into it when removing it from the grill.
Look for sustainable fish and seafood. For help choosing, check out the Monterey Bay Aquarium Seafood Watch. It has state-by-state guides.
Grilled Fish With Lemon, Dill And Scallions

This is a basic recipe that can be adapted for any type of firm fish filet — think salmon, swordfish, or any type of firm whitefish like cod, haddock, etc.
One more quick tip: Lay several scallions on the grill as a "bed" for the fish; it adds flavor and keeps the fish from sticking to the grates. You could also lay out long rosemary bunches on the grill for even more aromatics.
Serves 2 to 4.
Ingredients
4 to 6 whole scallions, ends trimmed
1 pound fish filet with skin on
1 tablespoon olive oil
2 tablespoons chopped fresh dill
1 tablespoon minced fresh chives
1 tablespoon lemon juice, plus very thin lemon slices or wedges
Salt and pepper
Instructions
Preheat a charcoal or gas grill to around 425 degrees.
Place the fish on a large plate. Rub the oil, dill, chives, lemon juice, salt and pepper on top.
Place the scallions in the middle of the grill. Place the fish, flesh side down, on top and grill for 5 minutes. Gently, using a wide spatula, flip the fish over trying to leave the scallions in place, and add the lemon slices or wedges and grill for another 5 to 6 minutes, depending on the thickness and type of filet. Remove the fish and lemons (which should have nice grill marks) and serve hot.
Fish And Vegetable Kebobs

You can use any type of fish and vegetable you like making these colorful kebobs. You want around 2 pounds of fish and around 2 cups of vegetables to create 4 very ample kebobs.
Serves 4.
Ingredients
2 pounds fish (I used shrimp, tuna and swordfish cut into 1-inch pieces, and scallops)
2 cups vegetables (I used cherry tomatoes, basil leaves, thin slices lemon, thin strips red, green and or yellow peppers)
1 lemon, cut into wedges
1 tablespoon olive oil
Salt and pepper
Instructions
The idea is to alternate colors and textures on 4 long skewers. Skewer a piece of pepper and then a basil leaf followed by a piece of tuna, then swordfish, then a cherry tomato, a shrimp etc. It's best to finish off the skewer with a wedge of lemon to keep everything in place. Drizzle the oil, salt and pepper over entire skewers.
Preheat a grill to around 400 degrees. If using wooden skewers be sure to soak them in cold water for about 20 minutes before.
Place the skewers on the grill and cook for about 8 minutes per side, depending on the type and size of the fish.
Grilled Chicken With Cilantro-Garlic-Mint Marinade

This simple marinade is made by whirling cilantro, mint, lemon juice, olive oil and a whole lot of garlic in a blender and rubbing it on top of the chicken. The marinade smells like the essence of summer with the fresh mint and cilantro.
If you have an aversion to cilantro feel free to substitute parsley or simply add more mint. The marinade can sit on the chicken for 1 to 24 hours.
Serves 4.
Ingredients
The Marinade:
1/4 cup fresh cilantro leaves
1/3 cup fresh mint leaves
4 cloves garlic, peeled and cut in half
2 scallions, white and green section chopped
1/3 cup olive oil
Juice from 1 large lemon
Salt and pepper
The Chicken:
One 3 pound chicken, cut into 8 pieces
1 lemon cut into wedges
Instructions
Make the marinade: In the bowl of a food processor or blender, add all the ingredients and whirl until you have a thick, chunky marinade. Taste for seasoning, adding more salt or pepper if needed.
Place the chicken in a non-porous bowl and smear the marinade on top, tossing it so the marinade coats all sides. Cover and refrigerate for at least an hour and up to 24 hours.
Light a charcoal or gas grill to around 400 degrees.
Grill the chicken, covered, for 10 minutes per side, depending on the size of the chicken. As the chicken cooks brush on any marinade still in the bowl. Serve hot or room temperature with lemon wedges.
Lamb And Feta Burgers
This moist burger is a nice change from ground beef. You can also use ground turkey or chicken, but if you do, you'll want to add a touch of olive oil to keep them from drying out. These burgers are delicious served on pita bread, with a tomato, cucumber, and chopped sweet pepper salad.
For extra flavor toast the nuts in a 350-degree oven for about 6 to 8 minutes before chopping and adding to the lamb mixture.
Ingredients
1 pound ground lamb
Salt and freshly ground pepper
1/4 cup toasted pine nuts, walnuts or almonds, chopped
2 tablespoons chopped fresh mint
3 tablespoons feta cheese
1 teaspoon olive oil (if using ground chicken or turkey)
Instructions
In a bowl mix the ground lamb, salt, pepper, nuts, mint and feta. (Add the oil if using ground chicken or turkey.) Form the mixture into 4 burgers.
Heat a charcoal or gas grill until hot, about 400 degrees. Cook the burgers about 6 minutes per side, or until cooked through and crusty brown on the outsides.
Other Grilling Suggestions
This segment aired on June 22, 2020.