North Charleston, S.C., Housing Court Braces For Avalanche of New Evictions 
Resume
South Carolina State Rep. Marvin Pendarvis will never forget the first time he was evicted.
"I can remember vividly a gentleman knocking on the door. Banging at the door, it wasn't a simple knock, banging on the door," he says. "He basically said in some choice words that [my mother] needed to be out … and that scared me."
He was a teenager living with his mother and siblings in North Charleston, South Carolina. Pendarvis still recalls going to school the next day and sitting in math class worried and unable to concentrate.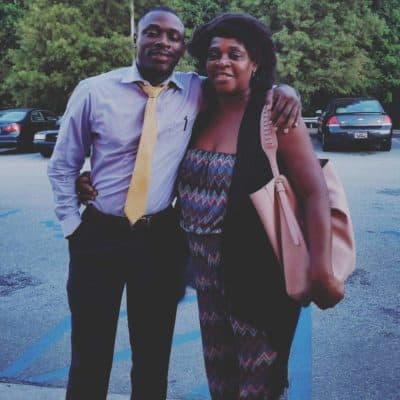 As the representative for North Charleston, he now champions housing issues in South Carolina's State Legislature.
During the height of the pandemic, Pendarvis supported the state's eviction moratorium and fought to extend it, but those protections expired on May 15.
Since the moratorium was lifted, he's been hearing from his constituents daily.
"People are losing their jobs. People are losing their homes. People are trying to figure out how they're going to get to next week," he says. "These are challenging times right now and they were challenging before the pandemic."
About one in five people in North Charleston, which is predominately Black and the third-largest city in the state, live in poverty. It's also a place known for having an eviction crisis.
Princeton University's Eviction Lab ranked it the No. 1 city in the country for evictions in 2016, with an average of 10 per day.
Antiquated landlord-tenant laws and stagnant wages made the city vulnerable to evictions, Pendarvis says.
And now, with the unemployment rate five times greater than pre-pandemic levels and no eviction moratorium in place, he is expecting a renewed surge in evictions — a surge that could overwhelm the court system.
The Charleston County Magistrate courts received 120 new eviction filings, according to public records, in the first two days after the moratorium expired.
Nicole Paluzzi, a housing attorney with Charleston Pro Bono Legal Services, is already seeing eviction cases pile up on her desk. She has to get through a backlog of older cases from before the moratorium and has hearings scheduled weeks in advance, which she says is unusual.
"The fact that we have an old filing that is being scheduled all the way to the end of next month," she says, "that would indicate to me that the cases that are new filings could be a while in some courts."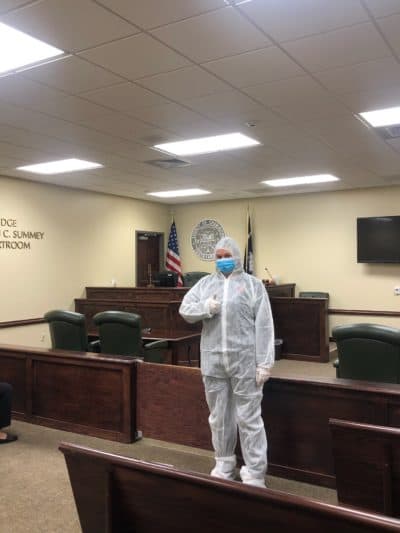 The need to implement new COVID-19 safety measures may also cause major delays. To keep the courts safe, hearings are being spaced out and some processes are being conducted using video conference technology.
An effective court system is an essential part of tenant-landlord relations and in some cases, can address the evictions crisis.  Research shows that when tenants have access to legal representation, the rate of evictions can be slowed.
It's why a group of legal nonprofits, including Charleston Pro Bono and One80 Place, created North Charleston's housing court in October 2019. The pilot program provides same-day legal representation to low-income tenants, which makes it hard to move online.
"Housing court is generally law on the haul," says Paluzzi, who is part of the original group of housing court volunteers and often defends tenants. "We use housing court as an opportunity to get these litigants organized with their evidence."
When tenants are first notified that an eviction has been filed, they receive information and can request that their case be heard in housing court. On the day of the hearing when the tenant shows up to court, they are met by lawyers, who help them with their case.
Before the pandemic, North Charleston's housing court was working to reduce the number of evictions and keep people housed.
According to early data compiled by Jeff Yungman, legal director of One80 Place and co-founder of housing court, 65% of the cases heard in the first five months of the pilot resulted in no evictions.
The anticipated increase in COVID-19-related evictions could test the nascent model, which is one of a handful of housing courts in the country to provide free legal representation.
Paluzzi and the other volunteers are committed to meeting any new demands on the court.
"If we're not going to do it, nobody's going to do it. It's our pilot program," Paluzzi says. "It's something that we're very passionate about, especially with things like COVID 19, where people have been furloughed for work and maybe this is their first time ever experiencing work insecurity."
Landlords are also worried about what will happen if courts become overburdened with eviction filings, says Robert Pinnegar, president and CEO of the National Apartment Association.
"If those delays occur, which have been discussed around the country, there's going to be an extended period in which rent is not going to be paid," he says. "It's going to cause great distress in the market and the industry."
Unable to collect rent and pay their mortgages, Pinneagar anticipates mom-and-pop landlords, who own three-quarters of the nation's rental apartments, could be forced to sell. He's particularly worried about more affordable properties.
Only 4% of affordable rental units collected full rent on the first of the month in June, according to a survey by LeaseLock.
"This is not a really high margin industry," Pinnegar says. "Only nine cents of every dollar that is paid in rent is considered profit."
When a tenant doesn't pay rent, that loss "goes back to the person who probably didn't put money in the stock market, but put it in real estate, and this is their retirement," he says.
During COVID-19, he's been advising landlords to work with renters and waive fees. But he and the National Apartment Association draw the line on halting evictions entirely.
"We're not supportive of blanket eviction moratoriums," he says. "They don't allow the operator to properly manage the property." 
Pinneagar says most landlords don't see evictions as a desirable recourse, but it's also the only legal right to reclaim a property and protect their own investments.
He says without a functional court system the already tight affordable housing market, which has declined significantly over the past decade, might shrink even further.
It's a problem that Pendarvis is already working on in North Charleston. Together with the South Carolina Housing Finance and Development Authority, he helped create a rental assistance fund and is also calling for the state to use coronavirus relief money to fund affordable housing.
He's sympathetic to what landlords are facing and the ripple effects on the housing industry, but he says he's still far more concerned about renters.
"Tenants are in a very, very different position. Many of them don't have the sophistication to navigate [the eviction] process," he says. "And if we're not doing things to protect them, then how can we call ourselves a moral and just society?" 
It's why he's also monitoring the situation at the courts and in particular North Charleston's housing court.
Pendarvis doesn't believe this eviction crisis can be exclusively solved through the court system, but the resources North Charleston's housing court provides can make a difference.
For now both tenants and landlords are relying on the court to work efficiently. The alternative,  housing advocates warn, is an uptick in homelessness and self-help evictions, where landlords take control of a property without going through the legal process and tenants find themselves without their day in court.
It's something housing attorney Nicole Paluzzi is already starting to see happen in North Charleston.
This segment aired on June 23, 2020.