White Actors Playing Other Races Diminishes Opportunities, #OscarsSoWhite Creator Says
Play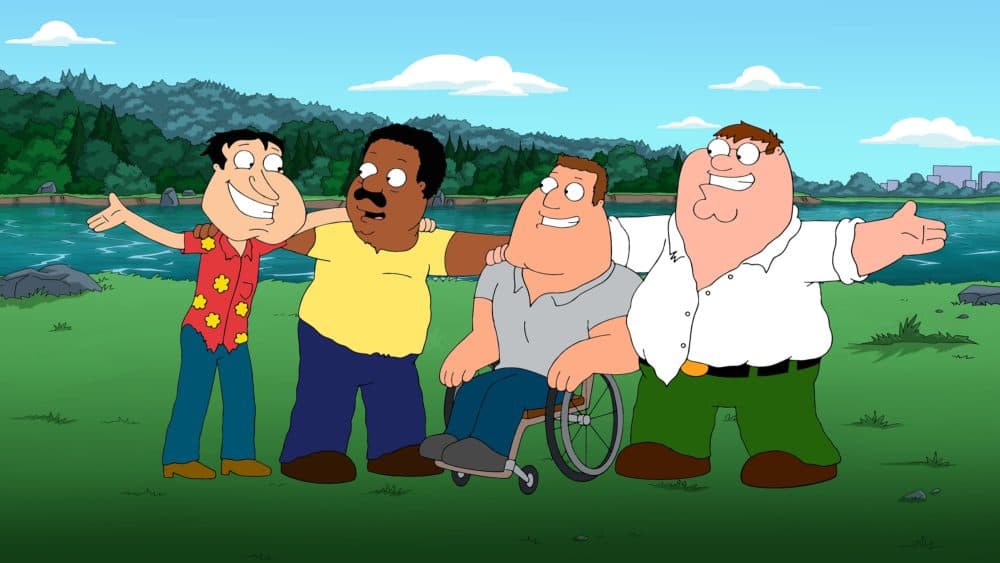 This article is more than 2 years old.
Long-running animated TV series like "The Simpsons" and "Family Guy" have decided to stop casting white actors to voice characters from other ethnic groups.
The move comes as Hollywood faces growing pressure to give more opportunities to non-white actors. The decision to cast white actors in non-white roles comes from industry gatekeepers — who are mostly white men, says April Reign, who created #OscarsSoWhite to bring attention to the lack of diversity among Oscar nominees.
"Voiceover work, animation work is incredibly hard to get into," she says. "So when we have marginalized communities, non-white communities, attempting to get their foot in the door, very often they can't because once an actor comes in and does a good job, they get hired for more and more roles."
After voicing Cleveland Brown on "Family Guy" for 20 years, Mike Henry is now stepping away from playing the Black character. Jenny Slate announced she's leaving her role of Missy, a bi-racial character, on Netflix's "Big Mouth" because "Black characters should be played by Black actors," she said.
Casting white actors in non-white roles isn't just a problem with animation, but also TV and film, Reign says.
"Someone that is not part of that community won't have the context and background to fully flesh out what that means," she says, "and give us a more of a realization to what that person is going through."
This idea goes both ways, she says, so only white actors should play white characters. Writers need to discuss why specific characters are portrayed as white or non-white, says Reign, who also serves as vice president for content strategy at Ensemble, which focuses on telling the stories of marginalized communities.
Diverse projects attract a broader audience. When creators can choose any race for a character, Reign says to give more depth to the story by devising a Persian, Black, Latinx, Asian or Pacific Islander role.
"People who have the most context to play those particular characters are the ones that should get the opportunities," she says. "And that also gives the opportunities for the actors and actresses behind the scenes, behind the voiceover work, to get their foot in the door."
The next step for Hollywood is to go back into the writer's room and take steps to give diverse talent opportunities, she says. Like white actors, writers who aren't part of marginalized communities don't have the context or background to write about them.
"If you are going to put Black and Brown faces on a screen, but there are no Black and Brown faces in your writer's room, then more work needs to be done there as well," she says.
---
Marcelle Hutchins produced and edited this interview for broadcast with Tinku Ray. Allison Hagan adapted it for the web.
This segment aired on July 2, 2020.