Fourth Of July Side Dishes: A New Look At Some Old Favorites
05:43
Play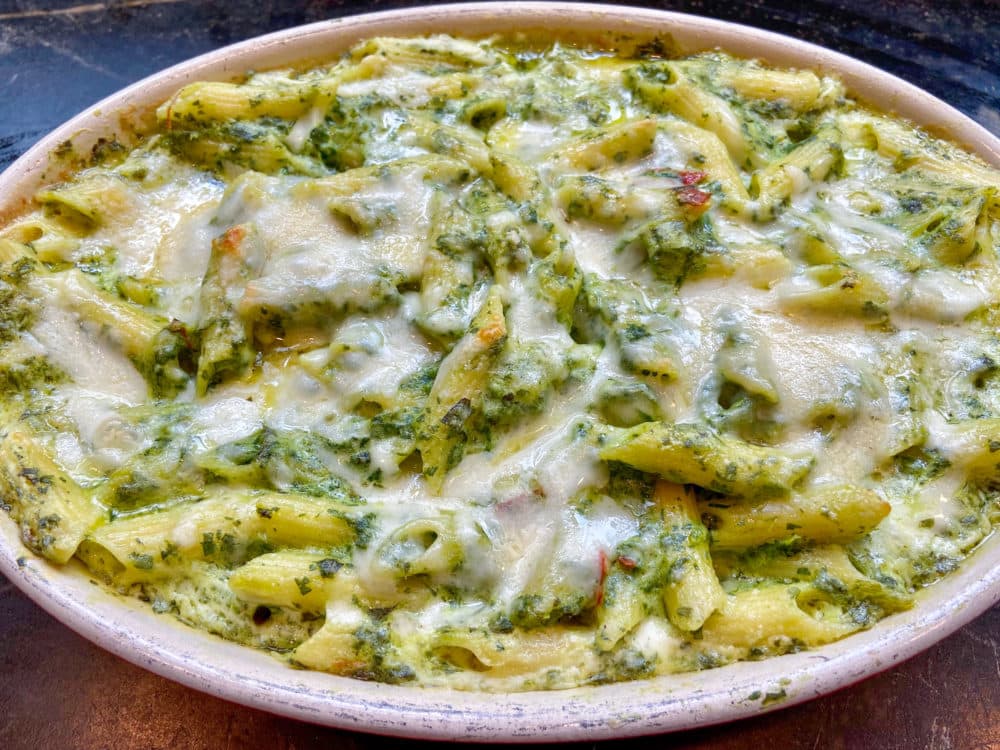 Everyone fires up the grill over the holiday weekend with burgers and sausages, hot dogs and BBQ chicken. But what to serve with your grilled foods? Coleslaw, macaroni and cucumber salads, and a slice of watermelon are considered standards. But I decided to take a new look at some of these classics and rethink them.
Here are four summer favorites with several new twists.
Grilled Cabbage Salad With Caper-Yogurt Dressing
Think of this dish as a hybrid of two favorites: coleslaw and wedge salad. Here the cabbage is cut into wedges, brushed with olive oil and grilled until almost blackened and softened. It's then plated with a yogurt-caper dressing and topped with grated carrots. The cabbage can be grilled several hours ahead of time and the dressing can be made a day ahead of time. Serve at room temperature.
Serves 4 to 6.
Ingredients
The Cabbage and Carrots:
1 green or red cabbage, about 1 1/2 to 2 pounds
About 2 tablespoons olive oil
Salt and freshly ground black pepper
1 cup grated carrots
The Dressing:
1 1/2 tablespoons plain yogurt
1 ½ teaspoons Dijon-style mustard
Salt and freshly ground black pepper
3 tablespoons finely chopped scallions, white and green parts
1 tablespoon capers, with about 2 teaspoons of the brining liquid from the jar
1 tablespoon white wine vinegar
1/4 cup olive oil
Instructions
Preheat a charcoal or gas grill to around 400 degrees. Place a clean vegetable tray on the grill if you have one. If not be sure to clean the grilling racks and lightly oil.
Make the dressing: in a bowl or mason jar, mix all the dressing ingredients. Taste for seasoning. The dressing can be made a day ahead of time, covered and refrigerated.
Remove the outer leaves of the cabbage. Trim the very end of the core off but keep the core intact. Cut the cabbage into 6 wedges. Place the cabbage flat on the hot grill and lightly brush with half the oil, salt and pepper. Grill about 8 minutes. Gently flip the cabbage over, brush with the remaining oil, and sprinkle this side with salt and pepper. Grill another 6 to 10 minutes, or until the cabbage is almost blackened and softened. Remove from the grill.
Place the grilled cabbage on a serving plate. Gently spoon some of the dressing on top and then scatter with the grated carrots. Spoon a bit more of the dressing on top of the carrots and serve any remaining dressing on the side. Serve at room temperature.
Summer Green Mac And Cheese
Mac and cheese is a favorite year round, but it always seemed a bit heavy for a summer celebration. Well, no more. This version incorporates a green puree made from raw kale and spinach (or collard greens or arugula or Swiss chard), garlic, parsley, basil, scallions and green chili pepper. The pasta (think penne, farfalle or traditional macaroni) is tossed with a rich cheese sauce and the green puree is swirled in. The result? The same comforting luscious mac and cheese with a fresh, bright texture and color. Summer, meet mac and cheese.
If serving a crowd, double the recipe. Serves around 6 as a side dish.
Ingredients
The Sauce and Pasta:
2 tablespoons butter
2 1/2 tablespoons flour
2 1/2 cups milk
Salt and freshly ground black or white pepper
1 cup grated sharp cheddar
1/2 cup grated Parmesan cheese, or your favorite hard cheese
1/2 pound penne, macaroni, farfalle, or your favorite small shaped pasta
The Green Puree:
2 scallions, white and green sections, ends trimmed and chopped
1 small clove garlic, chopped
1 packed cup fresh greens (spinach, kale, collards, Swiss chard, or arugula, or a mixture of several types of greens)
1/4 cup fresh parsley
1/4 cup fresh basil
2 tablespoons fresh jalapeno pepper, seeded or not depending on if you like a spicy bite, or hot pepper sauce to taste
1/3 cup olive oil
Salt and freshly ground black pepper
Instructions
Make the cheese sauce: In a medium saucepan heat the butter until melted over medium-low heat. Sprinkle in the flour and stir to create a paste or roux; cook about 3 minutes, stirring. Slowly whisk in the milk; cook about 8 minutes, whisking until the sauce begins to thicken. The sauce should be thick enough to coat a spoon. Season with salt and pepper. Remove from the heat and add 2/3 of the cheddar and half the Parmesan cheese; whisk until melted and thickened.
Make the green puree: in the container of a food processor or blender, whirl together the scallions, garlic, spinach (or greens), parsley, basil, jalapeño and whirl until thick and chunky. Add the olive oil and whirl until combined. Taste for seasoning and add salt and pepper to taste. The green puree can be covered and refrigerated for up to a day.
Bring a large pot of lightly salted water to boil over high heat. Preheat the oven to 375 degrees.
Cook the pasta for about 10 to 11 minutes, or until just al dente. Drain the pasta.
Add the drained pasta to a 10- to 12-inch shallow casserole or gratin dish. Add the cheese sauce and stir to coat.  Stir in the green puree to fully incorporate. Sprinkle the top of the mac and cheese with the remaining 1/3 cup cheddar and 1/4 cup Parmesan. Cover with foil. (You can make the dish a day ahead of time; cover and refrigerate.)
Bake on the middle shelf for 20 minutes. Remove the foil cover and bake another 10 minutes, until hot and the cheese is bubbling.
Cucumber and Pickled Red Onion Salad with Spicy Sesame Oil
Refreshing and bright are the flavors I'd use to describe this simple summer salad. Thin slices of red onion are pickled within an hour in rice wine vinegar, a touch of sugar, salt, and spicy sesame oil. Cucumbers are cut two ways—into spears and thin slices—and topped with the pickled onions and their pickling liquid. The onions can be pickled a day ahead of time. This salad makes a great side dish to burgers, grilled sausages, fish, or poultry.
Serves 4.
Ingredients
1 small red onion, peeled and very thinly sliced, about 1 cup
1 1/2 tablespoons sugar
1 teaspoon fine salt
1 teaspoon hot sesame oil, or 1 teaspoon sesame oil and a touch of hot pepper sauce or red chili flakes to taste
1/3 cup rice wine vinegar, or cider vinegar
1/3 cup water
1 English cucumber, about 1 pound, peeled or not
Coarse sea salt
Instructions
Make the onion pickles: place the onion in a bowl or Mason jar and add the sugar, salt, sesame oil, vinegar and water and stir to coat all the onions. Cover and pickle for 1 hour or up to 24 hours.
Cut the cucumber in half. Cut half of it into small 1-inch spears and thinly slice the remaining half. Place on a serving plate. Spoon the pickled onions on top and spoon some of the pickling liquid over the cucumbers. Sprinkle with coarse sea salt. Serve within an hour. You can make the salad ahead of time but don't add the onions or pickling liquid to the cucumbers until an hour before serving.
Watermelon, Roasted Cherry Tomatoes, Feta, Mint And Green Olive Salad
If this strikes you as an odd combination, hear me out. Sweet, juicy watermelon balls mix with "meaty" salty olives, umami-rich roasted cherry tomatoes, and salty, creamy feta offers up all kinds of textures, colors and flavors that will win you over in no time.
Serves 4 to 6.
Ingredients
1 cup cherry tomatoes
1 tablespoon olive oil
Salt and freshly ground black pepper
2 cups watermelon balls (scooped out with a melon scooper from a seedless watermelon half)
1/2 cup pitted green or black olives
1/2 cup feta cheese, cubed
1/4 cup fresh mint, coarsely chopped
Instructions
Preheat the oven to 300 degrees. In a small ovenproof skillet toss the tomatoes with the oil, salt and pepper. Roast on the middle shelf for 30 minutes. Remove and thoroughly cool to room temperature.
In a bowl or in a serving plate gently arrange or toss the watermelon, olives, feta, roasted tomatoes and the oil from the skillet with a grinding of pepper. Sprinkle with the fresh mint. Serve cold. The salad is best served within an hour or so.
---
Emiko Tamagawa produced and edited this interview for broadcast with Todd Mundt. Samantha Raphelson adapted it for the web.
This segment aired on July 3, 2020.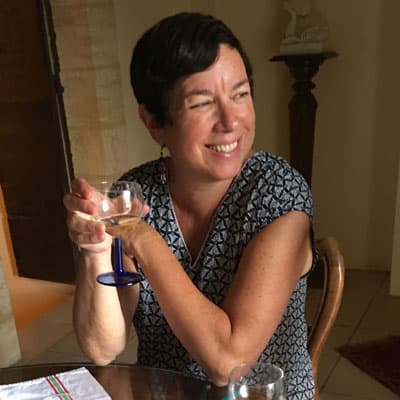 Kathy Gunst Here & Now Resident Chef
Kathy Gunst is a James Beard Award-winning journalist and the author of 15 cookbooks.