Elevate Your Summer Cuisine With Fresh Herbs
Resume
It's herb season — basil, thyme, lemon verbena, borage, rosemary, cilantro, mint, sage, dill, fennel and so many more. Fresh herbs can transform the most basic cooking into something elevated and bursting with summer flavor.
Experiment with herbs and use them in ways that might not seem likely. You just might be in for a happy surprise.
Generally, Mediterranean herbs like basil, rosemary and thyme go with Mediterranean cooking like pasta, pizza and tomato sauces. But why not use basil in Asian stir fries or fresh mint in salads?
Look for fresh herbs at farmers markets and use them in soups, salads, marinades, dressings and desserts.
Herb-Infused Roasted Beets with Herb Butter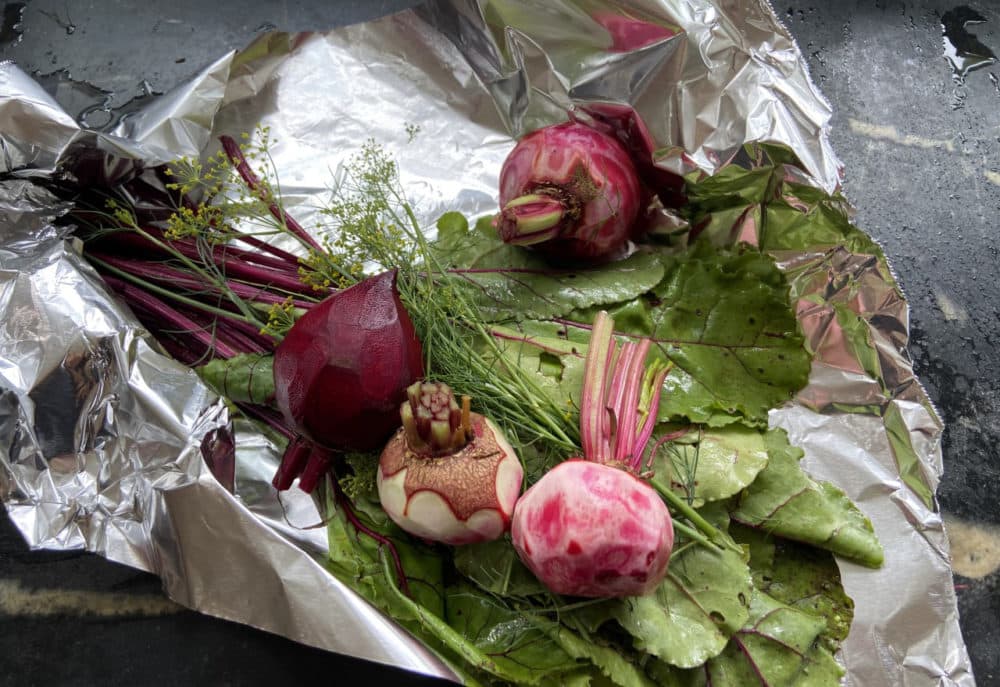 I wondered: If you wrapped beets up in foil, surrounded by fresh herbs, and roasted them would the herbs infuse the beets? Well, the experiment was successful.
I took peeled garden-fresh beets — red ones and striped Chioggia varieties — surrounded them with fresh dill, fennel fronds, and chives and roasted them for close to an hour.
While they were roasting, I made a simple herb butter to toss with them once they were tender and out of the oven. Make the herb butter ahead of time. You can even roast the beets ahead of time and give them a quick sauté with the herb butter right before serving.
Serves 4.
Ingredients
Look for small or medium-sized fresh beets at your local farmers market (or grocery store)
1 pound small to medium-sized beets, red, yellow or striped Chioggia, peeled
About 1 cup fresh herbs, dill, fennel fronds, chives, scallions
Beet greens, optional
Instructions
Preheat oven to 400 degrees.
If the beet greens attached to your beets look young, tender, and fresh, wash them, dry, and lay on the bottom of large piece of foil. Top with herbs and then the peeled beets. Wrap tightly. Bake about 45 minutes to 1 hour and 15 minutes, depending on size and freshness of beets. To test for doneness, place a small sharp knife into the center of the beet. It should feel soft but not mushy.
Remove from oven and let cool in foil for 5 to 10 minutes. Serve hot with the herb butter. If making ahead, you can cut beets into quarters (or in half if small) and sauté in a skillet with a tablespoon of so of the herb butter to heat them up.
Herb Butter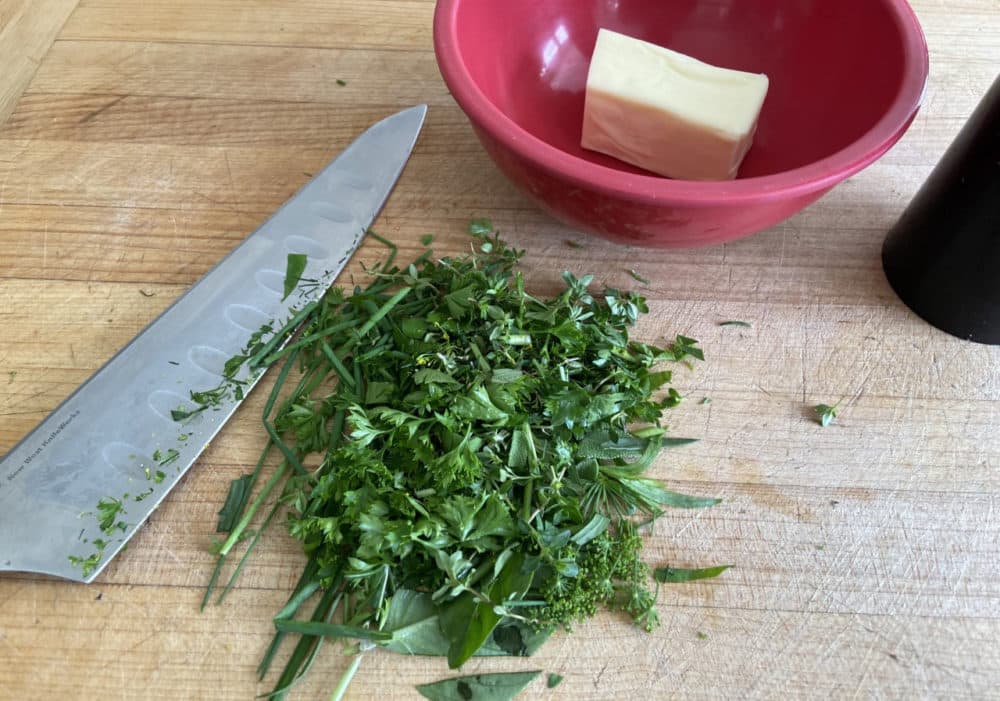 This herb butter can be used in so many ways: add to roasted beets or any other vegetables, sauté spinach or Swiss chard in this aromatic butter, or add a pat to a sweet or baked white potato.
Place a small knob of the butter on top of grilled fish, chicken, or steak just before you remove from the grill. Or spread on biscuits, toast, and savory muffins.
Ingredients
4 tablespoons room temperature lightly salted butter
4 tablespoons mixed fresh herbs, (basil, thyme, rosemary, lemon verbena, tarragon, chives, or any combination)
Freshly ground black pepper
1 teaspoon grated lemon zest, optional
Instructions
In a small bowl mix the softened butter with the herbs, pepper, and lemon zest if using. Roll into a fat cigar and wrap in plastic wrap. Refrigerate for up to 3 days. Slice off the herb butter as needed. The butter can also be frozen for up to 2 months.
Stir Fried Cilantro And Basil Turkey Wraps In Lettuce Leaves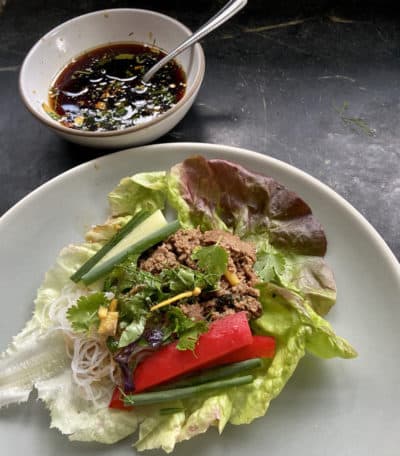 Hot summer nights beg for simple, light dinners. This stir fry is ideal. Ground turkey or chicken is stir fried with ginger, garlic, scallions, sesame oil, soy and lots of cilantro, basil and parsley.
The mixture is served inside a large tender lettuce leaf with chilled cooked rice vermicelli noodles and served with a simple soy dipping sauce.
Serves 2 to 3.
The Sauce
¼ cup soy sauce or tamari
2 tablespoons rice wine vinegar
1 tablespoon fish sauce, optional
1 tablespoon finely chopped fresh ginger
1 tablespoon chopped fresh cilantro
1 teaspoon sesame oil
Ground Turkey, Rice Noodles And Accompaniments
3 ounces vermicelli rice sticks
1 tablespoon vegetable oil
1 tablespoon minced fresh ginger
1 tablespoon fresh ginger cut into very thin strips
1 clove garlic, finely chopped
1 scallion, finely chopped
3 tablespoons chopped fresh cilantro, plus several sprigs for garnish
3 tablespoons finely chopped fresh parsley
2 tablespoons basil or opal basil, thinly sliced
1 teaspoon sesame oil
1 pound ground turkey or chicken
1 tablespoon soy sauce or tamari
1 tablespoon fish sauce, optional
1 1/2 tablespoons hoisin sauce
1 tablespoon rice wine vinegar
6 large soft, tender lettuce leaves, like Bibb or Red leaf lettuce
1/2 cup peanuts, optional
1 cup cucumber spears, cut into 1 -inch pieces, peeled or not
1 cup sweet red pepper, cut into 1-inch pieces
1/2 cup scallions, cut into 1-inch strips
Make the sauce: In a small bowl mix all the ingredients. The sauce can be made several hours ahead of time; cover and refrigerate.
Make the noodles: Bring 3 cups salted water to boil in a medium pot. Cook 3 minutes, stirring. Drain and separate the noodles; set aside.
Stir fry the turkey: In a wok or large, heavy skillet heat the oil over high heat. Add half the ginger, both chopped and the strips, all the garlic and scallion, and half the cilantro, basil and parsley. Add the sesame oil and then the ground turkey and cook, stirring occasionally, for about 5 minutes or until golden brown and there are no signs of pinkness. Add the remaining ginger, the soy sauce, fish sauce, if using, hoisin sauce, vinegar and 2 tablespoons water and bring to boil, stirring. Add remaining cilantro, parsley and basil.
To serve: Place a large lettuce leaf on a plate. Add some vermicelli noodles, stir fried turkey, a sprinkle of peanuts, if using, a few strips of cucumber, red pepper and scallions. Sprinkle with the cilantro sprigs and roll the lettuce up like a taco to eat.
Mint (Or Any Herb) Syrup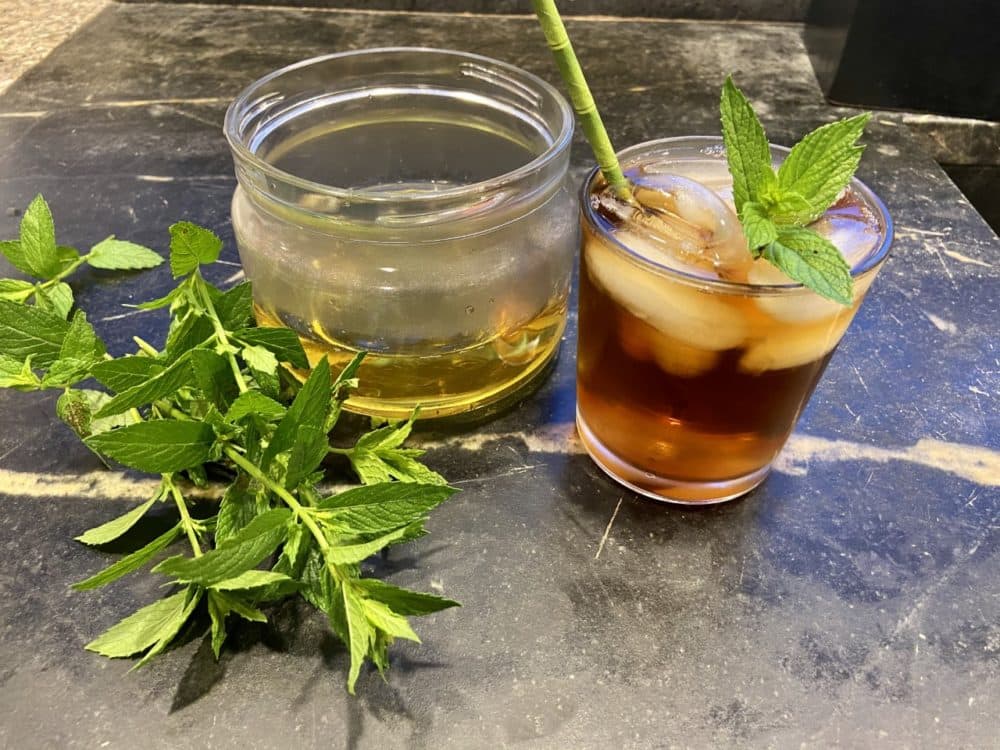 Have an abundance of mint? Found huge bunches of tarragon or basil or lemon thyme at the farmers market or grocery store? Grab a bunch of herbs and make this simple syrup that can be frozen and used in so many different ways — both sweet and savory.
I like to add herb syrups to fruit salad, cocktails, a glass of seltzer and ice, iced tea, marinades, salad dressings, and more.
You can also use the syrup with some pureed fruit to make popsicles. You can also freeze the syrup in old fashioned ice cubes trays and pop out a cube to add to drinks.
Makes about 2 cups.
Ingredients
3/4 cup sugar
2 cups water
Packed 1/2 to 1 cup fresh herbs, washed and dried
Instructions
In a medium pot bring the sugar and water to a boil. Reduce the heat and simmer for 6 minutes. Add the fresh herbs and simmer for another 4 minutes. Remove from the heat and steep for about 15 minutes. Strain the syrup into a jar, cover and refrigerate for up to 5 days or freeze for several months.
Other Quick Ideas For Fresh Summer Herbs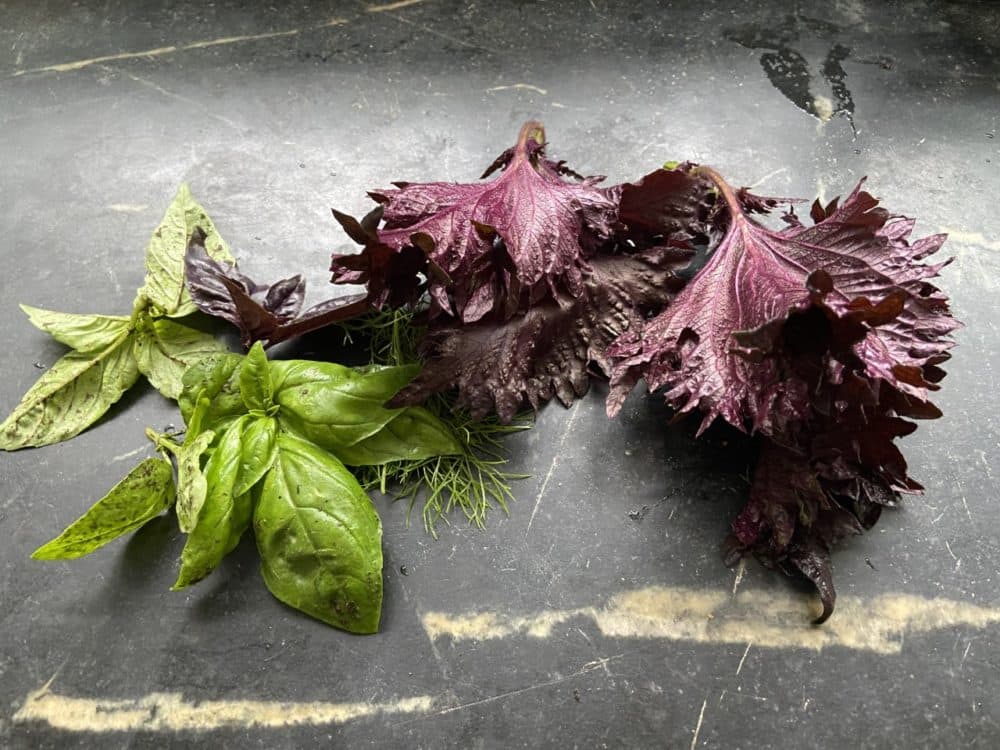 Chop a variety of fresh herbs and add to vinaigrettes and salad dressings.
Try this delicious Green Goddess dressing or dip.
Add the flowers that bloom on dill, sage, borage and other herbs to salads for color, texture and flavor.
Add herbs and herb flowers to smoothies.
Cut a large slice of feta cheese and place in a shallow bowl. Cover with a few tablespoons olive oil and sprinkle with a few tablespoons chopped fresh herbs — think rosemary, basil, thyme — and a grinding of black pepper.
Guide to herbs for your garden and table.
More ideas on how to use fresh summer basil.
This segment aired on July 16, 2020.