Diversifying The Radio Dial: Black Station Owners Demand Action
Resume
Black broadcasters in the U.S. have come together to demand action in the commercial radio industry to expand station ownership opportunities for people of color.
These days when you stumble across a locally owned or minority-owned radio station, it comes as a jolt amid the cookie cutter sounds of corporate stations that now clutter the airwaves.
The numbers tell their own story: Of the 11,000 commercial radio stations across the country, fewer than 180 are owned by Black people.
The National Association of Black-Owned Broadcasters is calling on Congress to pass a bill that would reinstate a tax incentive that would encourage people to sell radio stations to minorities and women.
The legislation introduced by Rep. G. K. Butterfield would bring back a tax break enacted in 1978 to account for the history of racism in broadcast licensing. In the years it was in effect, minority ownership increased. But then in 1995, the tax incentive was overturned by a Republican-led Congress.
Carol Moore Cutting, one of the radio pioneers who has signed on to the action statement, says reimplementing the tax break would encourage existing broadcasters to seek out and sell to Black and other minority broadcasters.
"It would be so much better because during that period when it was in existence, the number of Black and people of color and female owners increased," she says. "And when we lost that incentive, it meant that there was no reason to sell to people of color."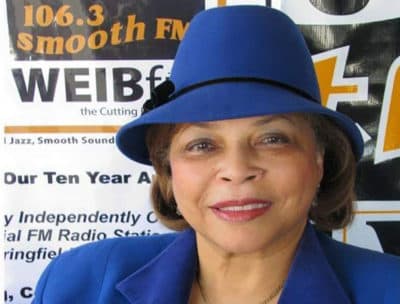 The organization of Black broadcasters is also demanding changes to discriminatory government and corporate policies that hold back minority-owned stations, urging advertisers to invest in Black-owned stations and for people of color to hold corporate board seats at broadcast stations.
Cutting, who owns Cutting Edge Broadcasting, started the jazz station WEIB FM in Springfield, Massachusetts, in 1999 after struggling for years to obtain a broadcasting license. When she came to Massachusetts from the South in the 1970s, she was surprised to find there were no Black-owned radio stations in the area.
"We had no idea where we could find simple things that we needed to connect to the community of color," she says. "And I was surprised because I was sure in progressive New England, it would be totally different."
So in the absence of a Black-owned radio station, Cutting decided to start one herself. She applied for a construction permit to build the station in 1984, but then went through a 15-year legal battle to get the broadcast license.
Cutting was close to giving up, until she saw Gayle King anchoring a television broadcast in Hartford, Connecticut. She called up King, who encouraged her to keep fighting for the license, which she would eventually get in 1999.
This experience inspired Cutting to use her platform to serve as a role model to young people in the community, she says.
"Mentoring is very important because I would not have this radio station if I had not turned on the television and saw another African American woman on the airwaves in Hartford, Connecticut," she says.
Minority-owned radio stations are important for people to connect to their community, Cutting says, which is why she started her own station so many years ago. Cutting says she's hopeful change is possible in this time of racial reckoning in the U.S.
"I certainly hope so, because it's really sad when in 2020, Carol Moore Cutting is the only locally owned commercial radio station, AM or FM, owned by Blacks in this whole New England area," she says. "That is sad."
---
Ashley Locke produced and edited this interview for broadcast with Tinku Ray. Samantha Raphelson adapted it for the web.
This segment aired on July 22, 2020.