Skater Jasmine Moore Says Roller Skating Is All About Black Joy
Resume
During the pandemic, there's been a resurgence in popularity for an old pastime: roller skating.
The demand for roller skates is so high, there's a worldwide shortage with large retailers and popular skate brands like U.S.-made Riedell Skate Company experiencing serious production backlogs. Plus, Riedell's manufacturing plant in Red Wing, Minnesota, was shut down for five weeks starting the end of March because of COVID-19, President Bob Riegelman told Here & Now in May.
Founded in 1945 by Riegelman's grandparents, Riedell is the oldest running company still making U.S.-made and imported ice and roller skates. Since May, Riggleman says his manufacturing plant has been playing catch up with some customers waiting months for their skates to arrive.
The reason for the delay is a "huge spider web" of supply chain issues, he says.
"It's been a struggle because a normal individual doesn't really understand that not only do we have to increase our capacity to meet demand," he says, "but all the suppliers of every material that we put into these skates also has to increase their capacity in order to fulfill our needs."
Riedell roller skate sales are up 10 to 15 times what they were before the pandemic, Riggleman says.
Riedell also owns the skate company called Moxi, which sells pastel-colored skates. And those skates have become something of a cultural phenomenon that Riggleman doesn't see going away anytime soon.
The company is promoting its Moxi brand "not as a fad of outdoor roller skating, more of a lifestyle," he says, "something you can do forever."
Skating is a lifestyle that has taken a new life on social platforms like TikTok and Instagram, with hundreds of videos of mostly women joyfully roller skating, spinning and dancing to music.
And for some skaters like Los Angeles college student Jasmine Moore, roller skating is more than just a fun activity: It's also a form of self-care and a protest for social justice. Moore posts skating videos on Instagram, where thousands of followers tune into her series called Skate Dial to hear her chat with other skaters about fashion, political organizing and skating.
Moore says roller skating saved her life, both literally and metaphorically. When she started skating a couple of years ago, she was a stressed out, overworked full-time college student with a part-time job.
She felt the toll on her mental health but realized she wasn't doing anything to help it improve. After going roller skating with a friend, she decided to invest in her own pair of skates.
"I think as you get older, it's so important to invest not only in yourself, but invest in your passions," she says. "So I went out on a limb and I bought myself skates and I have not looked back since."
The long tradition of roller skating in Black communities is a story of segregation with Black skaters being relegated to so-called adult nights. Moore wants everyone to try skating but emphasized that people need to know the history of the sport — both the good and bad.
Documentaries such as "United Skates" and "Roller Dreams" show the role racial tensions played in roller skating dating back to the civil rights era, she says. Black activists used skate-ins, the roller skating equivalent of sit-ins, to take up space and advocate for their rights, she says.
Social media makes it easy to overlook the origins of skating beyond cute vintage clothes, she says.
"But it's also was a way for Black people to feel liberated. This was a way for Black people to take up space. This was a communal space for Black people to enjoy music, to enjoy their culture," she says. "And I think that's something that can be really overlooked when we see the pace of social media and how we grasp on to different trends."
On her Instagram series Skate Dial, Moore talks about organizing and supporting Black Lives Matter, and how to skating fits into this activism.
The recent roller skating resurgence occurred around the same time that Ahmaud Arbery, Breonna Taylor and George Floyd were killed, Moore says. With these moments resonating within the American consciousness, especially among Black people, roller skating was regaining popularity at the same time.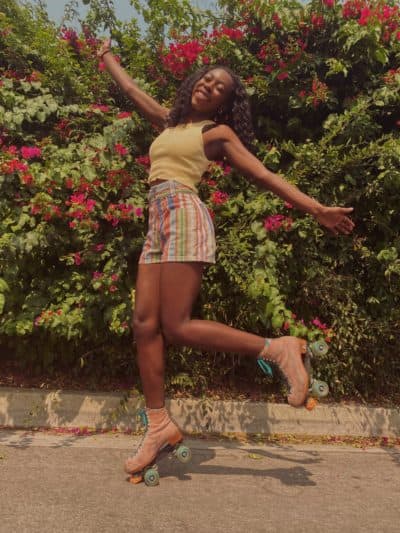 Moore took this as a perfect opportunity to use her roller skating platform to amplify the Black Lives Matter movement. Many people interested in roller skating also want to learn about the movement and how to challenge their implicit biases, she says.
"As I'm using my platform to teach roller skating, I'm also using it to teach about how to be a better ally," she says.
In her skating videos, Moore grooves to music from across decades. She picks the nostalgic music for herself, she says, and it's inspired by the people who influenced her taste such as her parents.
Music is an important part of roller skating culture. The popularity of disco and funk music during the 1960s and 1970s "ignited the roller skating scene," she says.
"For people to be able to go into, you know, this roller rink and be able to dress however they want, skate however they want, listen to whatever music they want," she says, "it's so freeing for someone who feels like they're experiencing all the tensions from the outside world."
Curating the perfect music to accompany her skating routines is one way Moore gives her followers a taste of Black joy — her favorite form of protest.
"So often we only see Black pain and Black struggle and, you know, Black hurt," she says. "And I want people to … look at my happiness, look at my joy. And let me share this with you because I want to share this with you."
---
Cristina Kim produced and edited this interview for broadcast with Todd Mundt. Allison Hagan adapted it for the web.
This segment aired on October 16, 2020.