'The Rise Of The New South': Black Women Organizers Turn Georgia Bluish
Resume
Georgia became a swing state this election after not carrying a Democratic presidential candidate since 1992.
But what's changed in the Peach State? The answer lies in the work of Black women political organizers who have been on the ground getting out the vote and empowering communities for years.
LaTosha Brown co-founded Black Voters Matter in 2016 alongside Cliff Albright. Since then, Brown has been traveling across the country organizing and mobilizing, sometimes in a bus that says "We Got Power" in bold letters.
"All of it really boils down to the organizing," she says, "that the way that you win elections is organized power."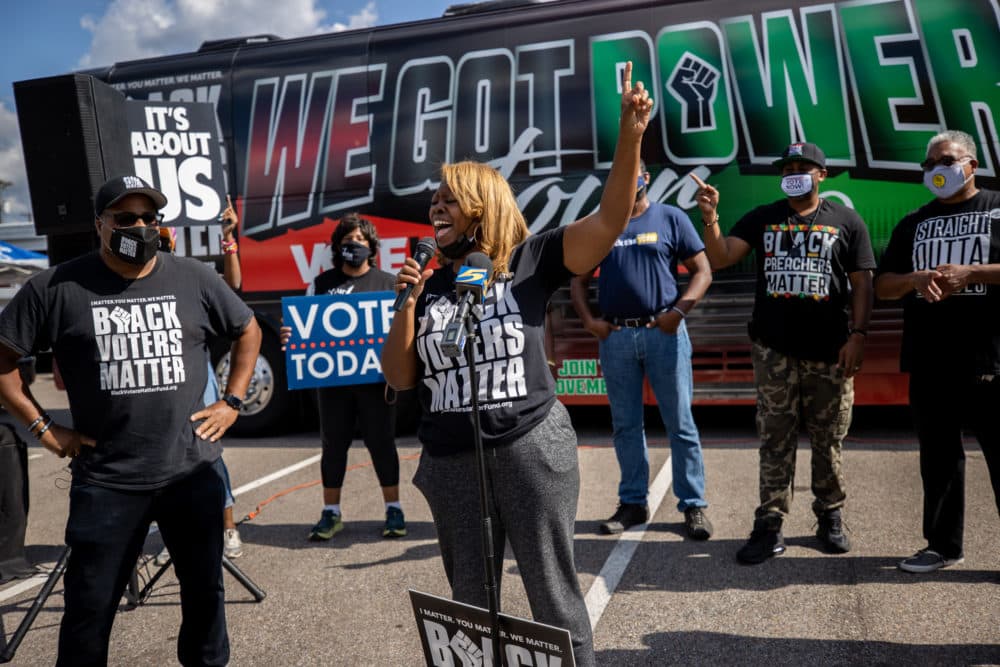 Brown and Albright knew that they needed to build power to make the future they envisioned a reality, she says. Black Voters Matter was founded to organize on the ground and build up infrastructure for Black-led grassroots organizations.
For the past four years, the group has been working with dozens of organizations in every state and investing in local elections. Biden's success in Georgia comes back to grassroots groups with specific messaging, she says.
"I think we had a message that we tailored to Black voters," she says, "that instead of having a message that was rooted in fear, we had a message that said, 'You have power, that you are powerful and that you have agency.' "
On top of messaging, Black Voters Matter invested in more than 600 Black-led groups on the ground because "money makes a difference," Brown says. Adopting a mobilization strategy that goes beyond voter registration is also important, she says.
In Georgia, a recount in the presidential race will likely take place after Joe Biden took a razor-thin lead over President Trump. While Biden didn't need Georgia's electoral votes to put him over the top, the party could use two senators from the state, which is having run-offs in the two races triggered by yet another slim margin of votes.
For Brown, the Georgia Senate races are "incredibly important." People view the South as red, she says, but the reality is that the area has been underinvested.
"My entire adult life has been dedicated to saying the South is not red or blue," she says. "The South are people."
Despite the many voters who were shocked or upset by the results, the Georgia race shows a decade of on-the-ground work coming to fruition, she says. Brown thinks the power these groups have built behind marginalized, overlooked voters will make a significant difference in U.S. politics going forward.
"I think it is poetic justice for that to happen in the Deep South. In Georgia, in a place that most folks in a presidential election they write off, they don't even look at because it's been red for so long," she says. "What I think that Georgia is reflective of is the direction of where America is going."
With the U.S. becoming a more diverse nation, Brown says a multigenerational, multiracial coalition is forming between Black, Asian, Pacific Islander, Latinx, LGBTQ, and progressive white voters. She calls this "the rise of the new South."
Texas will be the next southern state to turn blue, Brown predicts, followed by North Carolina. Southern voters are rising up and responding to the Republican Party's elitist agenda and refusal to help the country's most vulnerable citizens by expanding health care during a pandemic, she says.
"There are some changes that are happening in the South," she says. "And those changes are driven by people, working-class folks, who are tired of being taken advantage of by the Republican Party."
---
Cristina Kim produced this story and edited it for broadcast with Tinku Ray. Allison Hagan adapted it for the web.
This segment aired on November 9, 2020.