More States Propose Legislation To Criminalize Protests
Play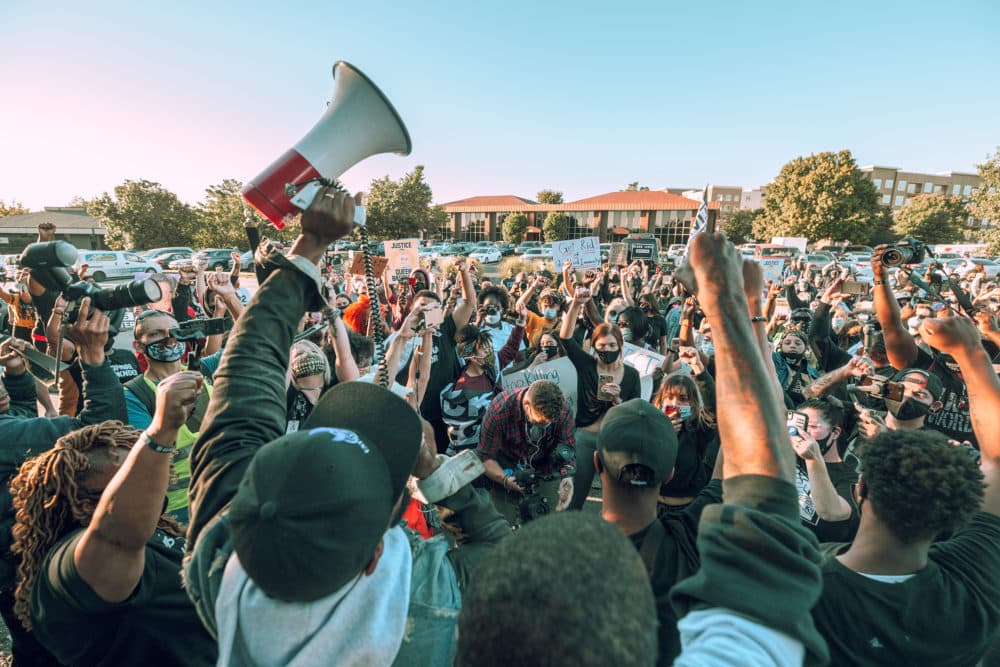 This article is more than 2 years old.
Florida Gov. Ron DeSantis is proposing "anti-mob" legislation that would allow armed citizens to use force against anyone they consider to be engaged in "criminal mischief" against a business.
The move is part of a wave of legislation that seeks to criminalize protesting during times of social unrest. Many of the bills, such as one introduced last week in Ohio, would bring excessive charges, including steep fines and prison time, against protesters.
Civil rights lawyer Nora Benavidez, director of U.S. Free Expression Programs at the nonprofit PEN America, calls this pile of new legislation "troubling." She has been tracking these bills proposed in statehouses around the country.
"Since 2017, we've seen an explosion of almost 120 proposals now that would do something to either increase penalties for people exercising their rights," she says, "such as marching on sidewalks or roadways, or it would actually just create new types of criminal charges, a lot of which is what we see in Florida."
Nearly 25% of the bills introduced have become law, Benavidez says. In some cases, what would have been a low-level penalty for marching near an oil pipeline is now a felony. Other violations could charge more than $10,000 in fines or up to five years in prison.
Much of what has been proposed in Florida and other states would create a "grab bag of harsh measures that would penalize protesters," Benavidez says. The laws are designed to create acceptable and unacceptable ways of protesting — giving law enforcement the discretion to decide when to hand down criminal charges.
"You know, when to find that someone who's crossing a street is actually obstructing traffic and when they are not," she says. "And that kind of discretion could potentially lead to some people having First Amendment rights and others, in practice, being denied their First Amendment rights."
Advocates like Benavidez worry that these laws won't be applied equally "because what they have done is pretty exclusively introduced proposals targeting tactics used by Black Lives Matter and anyone who would protest pipeline constructions."
This means that simply going to a protest could mess up someone's life, Benavidez says. These laws could deter people from expressing their rights because they are worried about not being able to pay the fine or having a felony on their record.
PEN America hasn't seen prosecutions under these new laws yet, she says, but they are watching what happens with the thousands of arrests that have occurred since the George Floyd protests this summer.
"Many of those arrests are for small, low-level misdemeanors, which these laws around the country that we've examined are duplicative of," she says. "So what it really appears to do is simply chill people's sense of what their rights are and really make people think twice about, should I protest and put my body on the line at the risk of maybe being charged with a felony or as a domestic terrorist or can I even face a $20,000 fine?"
Benavidez says she is hopeful the incoming Joe Biden administration will send the message that protesting is a protected right under the First Amendment. But we still need to watch what state legislatures are doing, she says.
"And so I think that we're not going to see those types of bills go away," she says, "and we need people in states who are prepared to advocate on behalf of what our First Amendment rights are and why it's important to protest in the first place."
---
Lynn Menegon produced and edited this interview for broadcast with Tinku Ray. Samantha Raphelson adapted it for the web.
This segment aired on November 20, 2020.