Health Care Workers Strained As Hospitals Reach Capacity In Utah, New Mexico
Play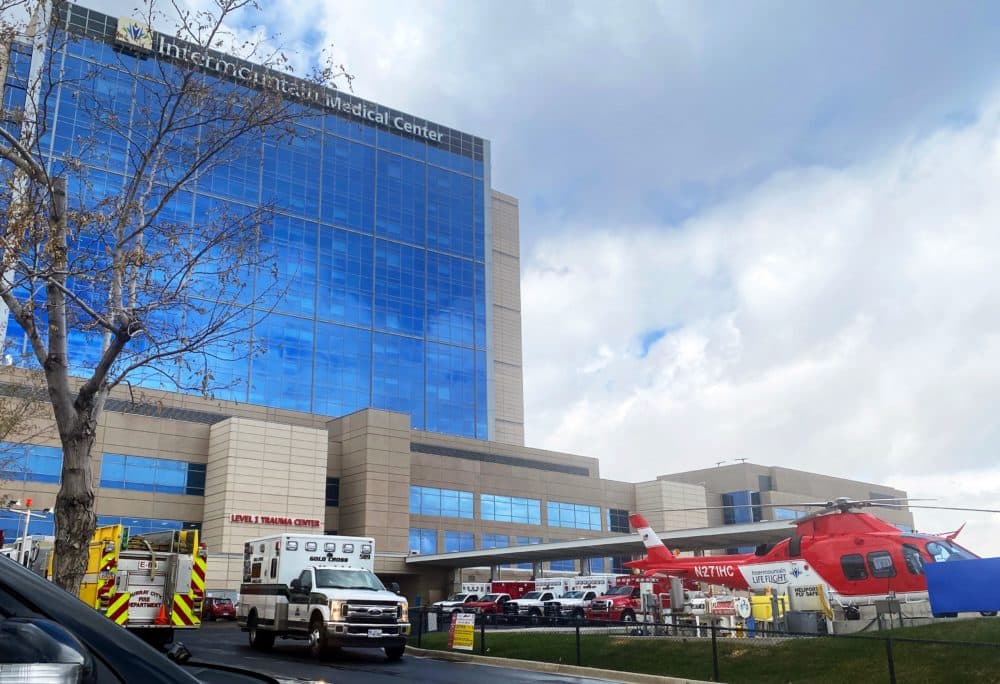 This article is more than 2 years old.
Patients hospitalized with COVID-19 can require long and intensive care, and with this most recent surge in new cases, hospitals and medical providers in parts of the country are strained.
In Utah, intensive care units are at 87% capacity, according to the state, which is well above what's recommended by the Utah Department of Health.
Janine Roberts, a nurse educator with the respiratory ICU at Intermountain Medical Center in Murray, Utah, says of her unit's 16 ICU beds, 12 are outfitted as negative pressure units for coronavirus patients. There are four other speciality ICU units in the hospital that are also nearing capacity, she says.
Patients coming into the respiratory ICU with COVID-19 are often extremely sick and require longer stays, which puts a strain on health care workers, Roberts says.
"Our facility, to serve our community, is getting more creative to provide beds. A bed is not just a bed," she says. "So our physicians have had to pick up more time to work and care for these patients, oversee them. Our nurses have had to pick up extra shifts and even our critical care techs have had to do the same."
The sickest coronavirus patients are staying in the ICU for longer periods of time because they often develop Acute Respiratory Distress Syndrome on top of COVID-19, she says.
"For some reason, these ARDS patients, secondary to COVID, are experiencing so many more complications, and therefore require more time in the hospital, more recovery and more extensive attention from our staff," she says.
Bordering Utah to the southwest is New Mexico, a state which is also trying hard to bring down a record-breaking surge of cases.
The governor has shut down gyms and hair salons, and ordered people to stay home unless it's absolutely necessary to go out. Those rules are the strictest in the country and remain in place until the end of the month.
"The first wave was a little bit different than this one. It was spottier in terms of where the outbreaks were," says Dr. Denise Gonzales, a pulmonary critical care physician and medical director at Presbyterian Medical Group in Albuquerque. "This time we're seeing widespread infection across the entire state."
Through a partnership with Sandia National Laboratories, state leaders and hospitals are monitoring the data to see if those restrictions are helping bring down infections and hospitalizations, Gonzales says.
"It looks like things are improving," she says, "but the governor's using input from those scientists in order to make decisions on a weekly basis."
New Mexico is a fairly rural state, which means it has fewer hospital beds per capita than others. The state's hospitals developed a "hub and spoke model" to help deal with the severe bed shortage, Gonzales says.
"There's a regionalization across our state where there are larger hospitals, which are the hubs that serve various spokes, which are smaller hospitals," she says. "Typically a hub hospital has ICU capacity and most of the spokes are small regional facilities without intensive care units."
Hospitals have had to redistribute bed access, which means moving patients from more rural hospitals to facilities in urban areas to get them the care they need, she says.
"We try to move patients from small spoke hospitals into their regional hub until their regional hub can no longer accommodate those patients, and then we start to move patients from hub to hub," she says.
Native Americans who live on the Navajo Nation are also dying at a higher rate than other groups because they tend to have underlying conditions that put them at higher risk for more severe illness, Gonzales says.
New Mexico is also dealing with a severe shortage of health care staff, particularly nurses and respiratory therapists, Gonzales says. That puts a physical strain on health care workers, but also an emotional one.
"The most impactful thing to me is having to care for patients in such an unusual situation where we can't have families at the bedside, when I can't hug the mom who's grieving because her husband is dying," she says.
Nurse Roberts in Utah agrees that caring for COVID-19 patients has been emotionally taxing for her and her colleagues.
"I was talking to a colleague yesterday about nightmares, and you know, I've always had a casual nightmare here and there about work, but it's different with COVID," she says. "And I think it's because of this added stress of coming home and not being able to see loved ones and friends. And my coworkers are also experiencing this as well."
Health officials are pleading with Americans to stay home, even as millions are packing into airplanes and traveling for the Thanksgiving holiday. Roberts says she understands "the gravity" of asking people not to travel for holidays, but it could save someone else's life who is at higher risk for the virus — someone you might not even know.
"For me, when you wear a mask, when you socially distance, you're being a good neighbor," she says. "I think it's so important, and if people see it as being a good neighbor and not just withholding their right to do, you know, whatever they want, then it'll be a lot easier and it'll help us out so much."
---
Julia Corcoran and Alexander Tuerk produced for broadcast with editing by Tinku Ray and Bruce Gellerman. Samantha Raphelson adapted for the web.
This segment aired on November 24, 2020.