Houston Methodist Administers 50,000 Vaccinations As City Struggles With Rising COVID-19 Cases
Play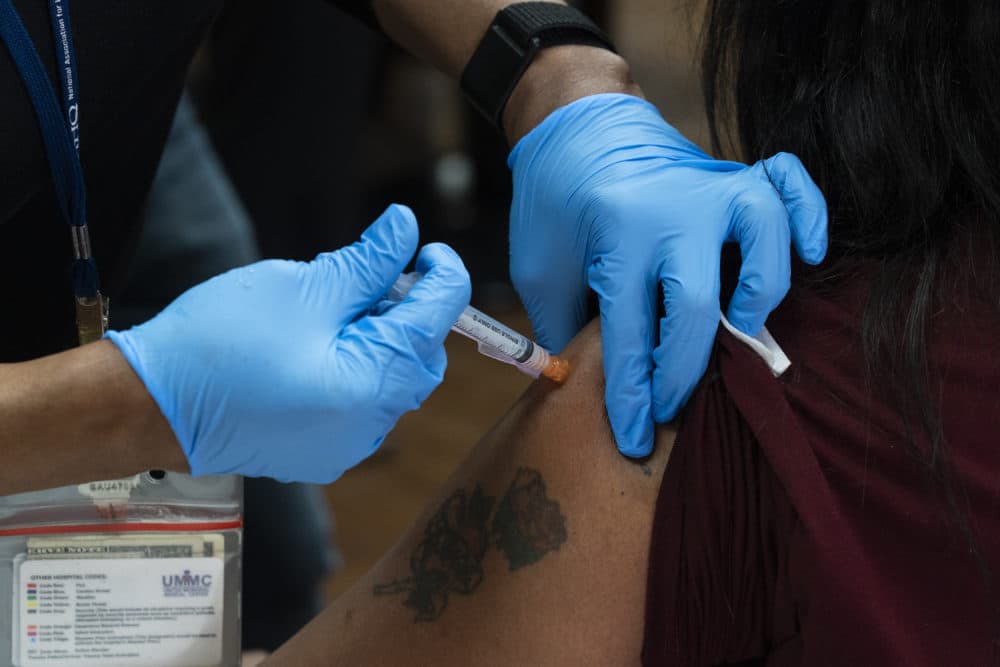 This article is more than 2 years old.
Houston Mayor Sylvester Turner said on Monday that his city is "in the middle of a storm," describing the expeditious spread of COVID-19 infections. Houston's positivity rate is inching toward 18%.
The city's Health Department is ramping up vaccine efforts and hoping to open two vaccine supersites in the coming weeks. So far, the city has delivered a little more than 14,000 of its 22,000 doses.
But that doesn't include doses given by Texas hospitals including Houston Methodist, where 50,000 vaccinations — 40,000 first doses and 10,000 second doses — have been given out, according to president and CEO Marc Boom.
The hospital's rollout now includes what the Center for Disease Control and Prevention defines as Category 1B individuals — people who are 75 years and older.
The entire spectrum of Category 1B is "massive," Boom says. The hospital is hard at work to get the vaccine in the most vulnerable Houston residents' arms while also vaccinating their health care workers.
The undertaking is "not like anything we normally do," Boom says. The main hospital's lobby is currently dedicated to vaccinating employees for their second doses while the conference room serves as a center for vaccinating patients from the outside, he explains.
Over the next week, Houston Methodist plans to pivot these centers to an offsite building to accommodate the increasing scope of their vaccination operations. The new building will have more parking and make scaling up easier, Boom says.
The hospital is organizing a "mega event" this weekend to vaccinate between 4,000 to 5,000 people in the Greater Houston area, he says.
The process of ramping up vaccine distributions hasn't come without complications. Some Houston Methodist patients who fit the criteria for getting the vaccine say they've been unable to actually get it. One man told the Houston Chronicle, for example, that he scheduled an appointment online through a link that a friend had sent him but the appointment was canceled.
Some people were pulled off the schedule because they did not fit the current vaccination requirements, he says. The hospital is doing their best to get patients appointments as quickly as possible while also navigating the "complicated" system and overwhelming demand, he says.
"To put that in perspective, the entire city of Houston, the whole Greater Houston area, is getting about 30,000 doses for vaccinations this week," he says. "The population is 7.2 million people."
Some three dozen state lawmakers signed a letter criticizing Texas Gov. Greg Abbott and public health officials for a system that they say is causing "confusion and frustration." The Texas Tribune reports the state's "vague messaging" on vaccines has impacted supplies in some cases.
The unhurried distribution of vaccines from the federal government has become a limiting factor in the sluggish build up of the community-wide vaccination process, despite a "great collaboration" effort from local officials and health care centers, Boom says.
"The first and foremost issue is we need to figure out how to get more supply to the states because there are many institutions like ours who are able to ramp up far beyond where we are [right now]," he says.
In the meantime, Boom is encouraging his staff in a creative way. On New Year's Day, he unveiled a $500 "Hope Bonus" to staff members who get vaccinated as a way to uplift spirits during a dark winter.
The COVID-19 vaccination part of the bonus criteria was crucial "because we believe that as health care workers, our sacred obligation is to protect our patients," he says. "And we do that best if we're all vaccinated."
Houston Methodist physicians are now 92% vaccinated, he says, while the general employee base is hovering around 65%. Boom says their push to vaccinate sets an example for the community and builds public confidence and says he's thrilled to see the numbers growing every day.
---
Karyn Miller-Medzon produced and edited this interview for broadcast with Todd Mundt. Serena McMahon adapted it for the web.
This segment aired on January 12, 2021.