'The Emoji Story' Chronicles The Campaign For A Hijab Emoji, History Of Picture Characters
Play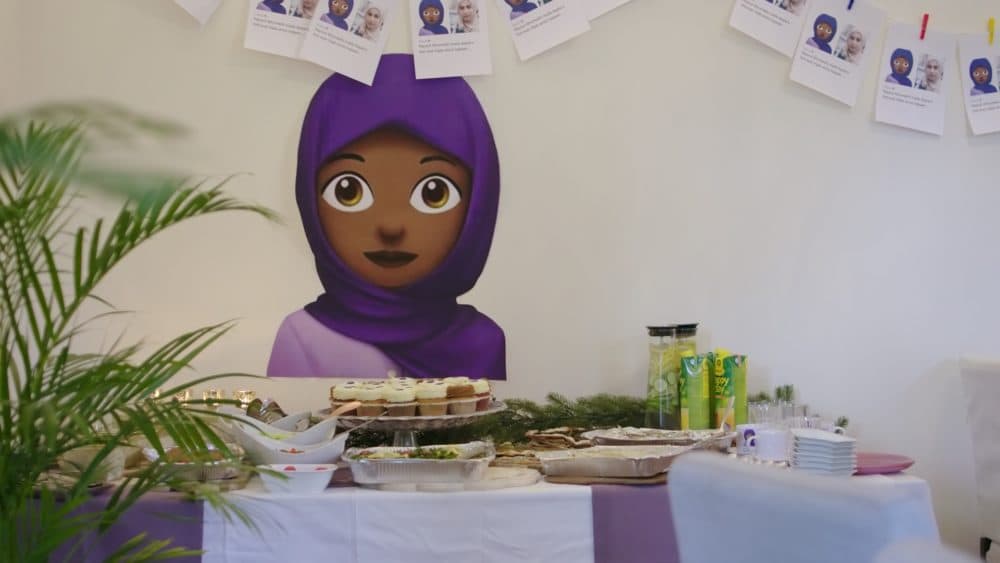 This article is more than 1 year old.
Emojis help people show emotion in digital spaces — but the little, pixelated characters don't always represent the diversity of their users.
And changing that isn't easy, as Rayouf Alhumedhi knows well. At age 15, she campaigned to add an emoji depicting a woman wearing a hijab, the head covering donned by many Muslim women.
"If there are four emojis to represent four different stages of a mailbox. Why isn't there one to represent half a billion Muslims who wear a headscarf?" she questioned when she presented her case in 2016.
Alhumedhi's story is told in the documentary, "The Emoji Story." She started the campaign to make Muslim women part of the conversation around how they're represented in technology.
"Quite simply, it was just the need to feel represented in a time where living in Europe, I was witnessing the increased Islamophobia," she says. "And I felt that any representation of myself was always misconstrued, misrepresented."
The film explains that the Silicon Valley organization Unicode officially recognizes emojis. Unicode decides which new emojis get included every year, which companies like Apple, Microsoft and Google later adopt.
As her dad cheered her on from outside the room, Alhumedhi appeared in-person to argue her case for a new emoji, which requires several rounds of approval.
"The most I'd ever done in terms of presenting was biology lab reports," she says. "So I was definitely taken aback because like everyone, I would never think that creating an emoji would be such a bureaucratic process."
Alhumedhi's campaign received both support and criticism from the public, with some people saying a hijab emoji would represent a repressive culture. For Alhumedhi and millions of Muslim women, wearing a hijab is an empowering choice — though she doesn't assume that's the case for everyone.
Many people who consider a hijab a symbol of oppression often do not engage with Muslim women, she says, and instead form their opinions based on sensational headlines.
"I never really took it to heart because I know that these rhetorics aren't motivated by actual knowledge of what it's like to be a Muslim woman," she says, "but what they're reading and making assumptions about."

"The Emoji Story" also shows that emojis are a language of their own for many people who use them the same way as words. This has drawn attention from linguists, such as Michael Everson. Everson has contributed several emojis of his own that are approved by Unicode, including one with the middle finger. He shares a different position on inclusive emojis from Alhumedhi.
"The user community seems to feel that 'I need to express myself, and this doesn't show me properly, and so, you know, we should add more things,' " Everson says in the documentary. "The problem is that it's impossible to achieve because somebody is always going to be left out."
But Alhumedhi questions why there's space for idle objects that people don't use such as the four mailboxes she mentioned in her argument to Unicode, but not room to represent everyone.
Assessing which emojis deserve space on our screens requires a complex socio-linguistic analysis, she says.
The emoji keyboard should include items that people feel represent their day-to-day lives and make sense in a digital space, she says. She's seen the hijab emoji appear in the bios of hijab fashion bloggers and regular women, and used as a storytelling tool.
Working on the user experience of making a hijab emoji sparked Alhumedhi's interest in product design. Now an economics and product design student at Stanford University, she doesn't know exactly what she wants to do after graduation just yet but thinks her curiosity about technology and its social impact will persist.
---
Emiko Tamagawa produced and this interview for broadcast with Chris Bentley. Allison Hagan adapted it for the web.
This segment aired on January 14, 2021.