Program Prescribes Music Lessons To COVID-19 Health Care Workers
Resume
COVID-19 has put a huge strain on frontline health care workers.
But Massachusetts General Hospital and the New England Conservatory in Boston have teamed up to give them a bit of a respite. The Boston Hope Music Teaching Project connects music teachers with COVID-19 health care workers for private music lessons.
Dr. Kathy May Tran of Mass General Hospital is learning to play viola with Luther Warren, a teaching fellow at the New England Conservatory in Boston.
Tran first studied violin and viola when she was younger. Now, she finds that practicing music gives her moments of peace and concentration that her busy life didn't previously allow.
"A decade away from my instruments had kind of left me with a space in my heart that was empty and I didn't really know why," she says. "But coming back to music has been a great joy for me."
Warren, Tran's teacher, says he's grateful that the project provided him an opportunity to support health care workers during the pandemic.
"[The project] also gave my own work a meaning that, even in the best of times, it can be difficult to find that meaning in my work," he says.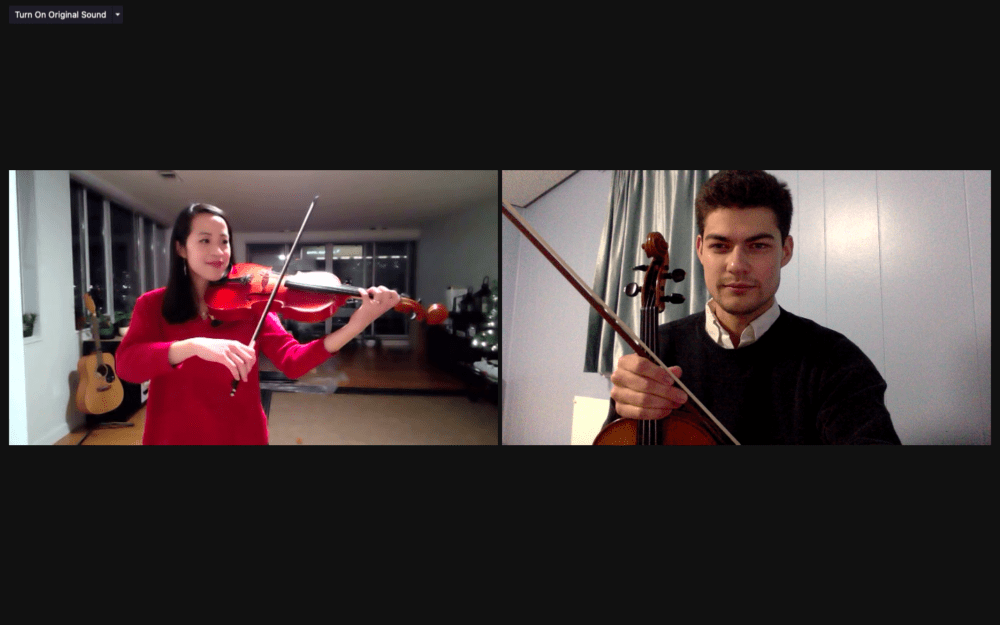 Interview Highlights
Dr. Kathy May Tran on the significance of the piece that she's studying, "Meditation" from the opera "Thais" by Jules Massenet
"As I hear it, I actually feel all this emotion too, so it's playing it, it's hearing it, it's feeling it. There's so much that, in my work and in my life, that I can't say. And I think through this music, you know, during these lessons that we have together and during my practice, it's my way of expressing myself. It's my way of funneling all that energy that I feel that I can't usually share into music.
"This was my mom's favorite piece, and my brother actually played this piece for her and he learned it because it was her favorite piece. And he would play it for her all the time. And she sadly passed away from colon cancer six years ago. And I remember sitting when she [was] in hospice, sitting next to her bed and she passed away and that was a time where I didn't know how to navigate my own emotions. I remember sitting there in shock and my brother, as vividly as it was yesterday I remember this, he stood up and walked over and picked up his violin and he played this piece for her just minutes after she passed away."
Tran on witnessing the death of COVID-19 patients
"The death that we see is not families surrounded by the people who love them the most. It's families waiting on Zoom and watching and not knowing what to do, not knowing what they're seeing, it's patients who are passing away alone without their family members but with only doctors and nurses and therapists to be by their side. It's heartbreaking."
Luther Warren on participating in the program as a teacher and musician, especially at a time when many musicians lost work due to the pandemic
"Even in the best of times, [a] classical musician's life can feel very isolating. It's a very small community of people that are very obsessively practicing an art form which has undeniably lost a lot of relevance to the broader world in the past decades. And especially when this pandemic hit last March, I think a lot of us were just looking around feeling completely helpless, as everyone was, but also our, our professional life virtually vanished overnight."
Warren on teaching students who may be beginners on their instruments
"I don't think that the level of experience, previous experience actually is so important. I think it has much more to do with the willingness to be very analytical, to be constantly seeking for perfection, to be constantly trying to better yourself. That's a lot of what it takes to study music effectively and I think that those are qualities that clinicians tend to have in spades. No matter what the level of experience is for the healthcare workers that are coming into this project, everyone has just been so floored by the dedication and the professionalism even in this work which is, it's not at all what their primary profession and primary concerns are."
Tran on bringing music to COVID-19 patients and their families
"As an extension of this program, or as an evolution, we've been participating in a program at Mass General Hospital called 'Virtual Bedside Concerts.' And the idea is, to bring in music for patients who are isolated, so it's a treatment for loneliness. So many of the teaching fellows, including Luther, participate in that. For special concerts, we invite family members, so it's a little private concert, a time of togetherness in which we can share the gifts that these amazing teaching fellows have. These hugely relevant gifts I would like to add, Luther, these hugely valuable, valuable, relevant gifts to patients."
---
Emiko Tamagawa produced and edited this interview for broadcast with Tinku Ray. Tamagawa adapted it for the web.
This segment aired on January 21, 2021.