Patagonia CEO On Aligning Company Values And Taking Activist Stances — No Matter The Cost
Play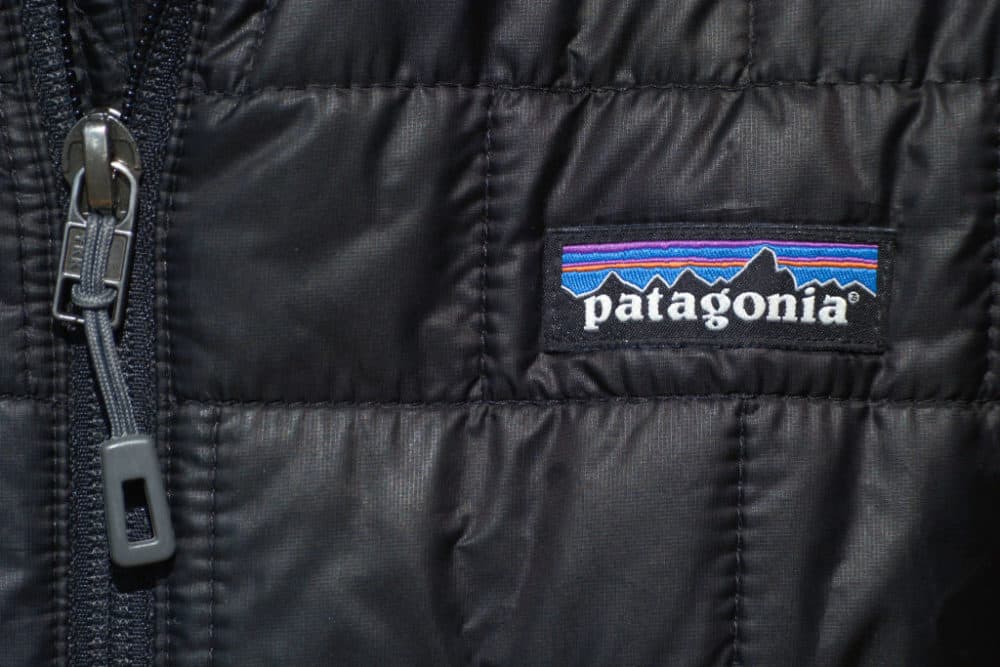 This article is more than 1 year old.
If you're traveling to Jackson Hole, Wyoming, this winter, you won't see any Patagonia gear at the Jackson Hole Mountain Resort stores.
The company has pulled its vests and jackets after a co-owner of the resort hosted a right-wing fundraiser with, among others in attendance, Rep. Marjorie Taylor Greene.
Patagonia has long taken activist stances to encourage what the company says is a new brand of capitalism. The move to cut ties with a business owner who gave a platform to "anti-democratic conspiracy theorists" aligns with other decisions the company has made, CEO Ryan Gellert says, such as turning off paid advertisements on Facebook and Instagram for the last year and a half.
"I know that there's this temptation to make it about politics or one politician," he says. "It's really about standing up to misinformation and hate speech."
The decision turned away many long-time Patagonia customers. Gellert received letters and products back in response. He wants people to understand the company's motivations.
"We're not an extension of the Democratic Party. We're not anti-Republican Party," he says. "But there are elements that we feel like are just totally incompatible with our values."
Years ago, Michael Jordan famously chose not to take sides in a political issue. And at the time, he said "Republicans buy sneakers, too."

Patagonia has outgrown this outdated business model that focuses solely on maximizing profit for shareholders, Gellert says. He believes businesses need values and a greater purpose.
"If you are a business and your sole reason for existing is making money and offering product to as big a slice of humanity as possible, I suppose that does make sense," he says. "That's not our reason for being."
In a seminal article from 1970, economist  Milton Friedman argues that, "The discussions of the 'social responsibilities of business' are notable for their analytical looseness and lack of rigor."
Gellert says the company spends a lot of time considering what's at stake in deciding to take a particular stance.
"We really try to challenge ourselves not to run from tough decisions when we feel like they need to be made," he says.
Over the past 48 years, Patagonia has taken positions on environmental issues and recently more social issues that play a role in protecting the planet, he says. The company joined others such as Lyft and Madewell in opposing Texas's new abortion law in a statement from the American Civil Liberties Union.
Though Gellert doubts the statement will change minds in today's polarized world, that's not all that matters to him. Patagonia employees in Texas expressed frustration and anger about the law, so he says the company felt obliged to take a position.
"We were shocked by a law that is effectively trying to restrict women's rights," he says. "And the way they've done it, I think, is particularly disturbing."
Gellert believes Patagonia is espousing a better capitalism through its consistent efforts to protect the environment.
The company vocally supports voting rights because of its critical role in protecting the planet, he says. Patagonia co-founded a campaign in 2018 that targets low voter turnout called Time to Vote.
"These issues — even if they're a little bit further removed from the obvious place for us to contribute — I think are foundationally important to the broader mission," he says.
Patagonia encourages customers not to buy too much on Black Friday and instead spend time outside. But economists say the impact of decisions by individual consumers aren't comparable to changes in policy and finance when it comes to climate change.
The scale of the climate crisis requires government leadership to find solutions, he says, but individuals also need to do what they can as a part of society. And the business sector needs to step up in ways such as Patagonia's support for the environment-focused parts of the budget reconciliation and raising corporate taxes to fund climate initiatives.
"Ultimately we've created problems that are large enough, complex enough and existential in their threat to humanity that I think we're going to have to use all the levers in society to get there," he says. "And I think business is arguably the biggest lever."
Business has seen a sea change around its approach to and investment in the climate crisis — something that encourages Gellert. But these shifts only represent a small portion of what's needed to save the planet, he says.
And for Gellert — a lifelong nature lover and father of two young kids — the issue of climate change is a personal one.
"It's hard for me to imagine anybody that's not lying in their deathbed with no heirs that find this anything but personal," he says.
---
 Julia Corcoran produced and edited this interview for broadcast with Jill Ryan. Allison Hagan adapted it for the web. 
This segment aired on September 24, 2021.