This article is more than 1 year old.
Story continues below
Subscribe to the podcast
With money, power and political standing at stake, America's relationship with China is tenuous. But it wasn't always that way.
On the 50th anniversary of Richard Nixon's historic trip to China, NPR & WBUR's Here & Now brings you The Great Wager, a five-part series that tells the story of the extraordinary encounter that brought these two countries together, the secret collaborations born from that meeting — and the reverberations we're still feeling today. Find out more here. 
The Great Wager episodes
Episode 1. Richard Nixon's 'crazy' idea: Make befriending the Chinese Communist Party his legacy
President Richard Nixon has a plan: He wants to go to China. The only problem? The U.S. and China have had zero contact since the Communist Party took over China two decades before. The Great Wager host Jane Perlez digs into the beginning of Nixon's improbable diplomatic mission.
Episode 2. Plots and private planes: How Henry Kissinger pulled off a secret trip to China
Nixon and his national security adviser Henry Kissinger make contact with China. But in the midst of the Cold War, they don't want anyone to know. How will Kissinger get to Beijing without alerting anyone — and what's Frank Sinatra got to do with it?
Episode 3. Grip and grin: When Nixon met Mao
The news of Nixon's trip to China is public, and he's getting credit for pulling off such a historic event. Now, he and his advisers have to work with the Chinese to forge a relationship between two very different countries.
Episode 4. Shared secrets: How The U.S. and China worked together to spy on the Soviet Union
The relationship between China and the U.S. is off and running — and now the two countries are collaborating on secret, sensitive intelligence. This installment of The Great Wager includes exclusive information about how Chinese and American intelligence officials agreed to work together against their common rival of many years.
Episode 5. The break-up: Richard Nixon's great wager reverberates from the '70s to today
All of a sudden, it's less clear if Nixon's wager is paying off. After years of collaboration and mutual economic benefit, relations between China and the U.S. are at a low point. What does the start of this important relationship reveal about its next chapter?
---
How to listen
Radio
Each week starting Friday, Feb. 18, listen to an installment on your local NPR station during Here & Now.
Podcast
On Friday, Feb. 18, you'll be able to find the series on Here & Now's podcast feed, wherever you listen to podcasts.
---
Upcoming event: Join the conversation
On Thursday, Feb. 24, join Here & Now co-host Scott Tong and former New York Times Beijing Bureau Chief Jane Perlez as they discuss the political impact of President Nixon's 1972 diplomatic trip to meet Mao Zedong and the imaginative and creative journeys it inspired.
This WBUR CitySpace event is free and takes place virtually and in person. Click here for tickets.
About the hosts
Jane Perlez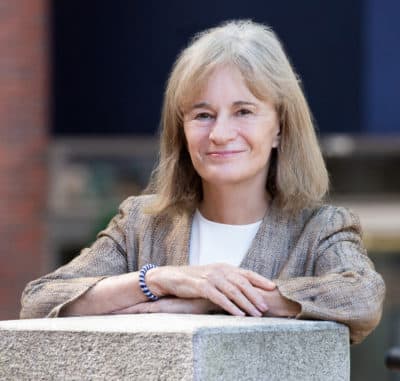 Jane Perlez is a Pulitzer Prize-winning journalist, fellow at the Belfer Center for Science and International Affairs — a research center located within the John F. Kennedy School of Government at Harvard University — and most recently the China bureau chief for The New York Times.
A long-time foreign correspondent for the Times, she's also reported from East Africa, Central Europe, Southeast Asia and Pakistan. She was a member of the team that won the Pulitzer Prize in 2008 for coverage of Pakistan and Afghanistan. Perlez, who began reporting in China for The New York Times in late 2011 and was named Beijing bureau chief in 2016, has filed hundreds of stories on China's foreign policy and led a newsroom of reporters, researchers, interpreters and editors. Her first visit to China was in 1967 as a university student, and she described her experience spanning the decades in an essay for the book, "The Beijing Bureau," chronicling China's evolution.
Scott Tong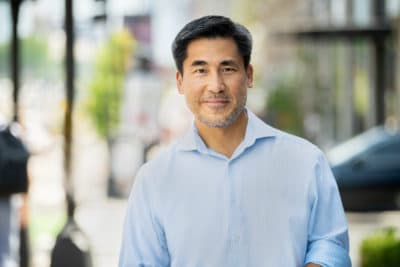 Scott Tong joined Here & Now as co-host in July 2021. Before that, he was a senior correspondent at Marketplace and has reported from more than a dozen countries — from refugee camps in East Africa to shoe factories in eastern China. He was the China bureau chief based in Shanghai for Marketplace from 2006 until 2010.
A highly-regarded public speaker and author, Tong has appeared on the PBS NewsHour, at the Aspen Ideas Festival and at TEDxFoggyBottom. He's been a guest host of the Make Me Smart podcast and KQED's Forum. In 2017, he published "A Village with My Name: A Family History of China's Opening to the World" — a critically-acclaimed narrative nonfiction account of China's economic opening, told through the lives of five people across five generations in his own family.
This project is funded in part by a grant from the Henry Luce Foundation.
The Great Wager series collage artwork is created by WBUR. Images used are from www.archives.gov, www.alamy.com and www.istock.com. Photo credits: iStock.com: mphillips007/ Ensup / bndart / traveler1116 / sinopics / andDraw / Kateywhat. alamy.com: The Color Archives / Shim Harno / 360b / INTERFOTO. National Archives: 194412 / 194759