What should you do if you catch COVID on vacation?
Play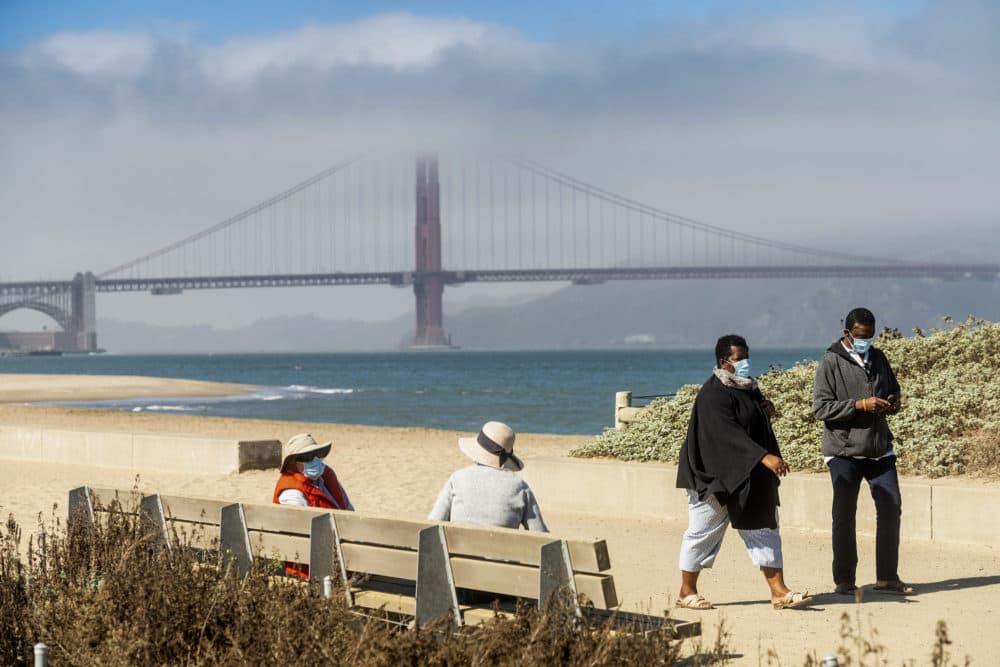 COVID-19 infection rates are spiking with the new dominant BA.5 subvariant — and travel rates are also on the rise as the weather warms.
So what do you do if you contract COVID while you're vacationing, unable to quarantine at your home like you normally would when exposed to the virus? Editor of NPR's global health blog Goats and Soda Marc Silver shares six pieces of advice for those who catch COVID on their summer travels.
Prepare in advance
Silver says that on a trip for a wedding, he and his wife both woke up on the day they had planned to fly home with COVID.
"We didn't prepare as fully as we should have, but we did bring a supply of home tests, which was very valuable to have handy," he says. "We brought high-quality KN95 masks. What we didn't have were a thermometer and a pulse oximeter, so we ordered those from a pharmacy."
If you test positive on a home test, assume you're positive
"You can pretty much assume if you've got symptoms coming on, that you are positive," Silver says. "My wife had developed a little cough. I woke up in the middle of the night and my head felt like it was going to float away off my body, like how you feel when you get the flu."
Take precautions to reduce harm while flying
The Centers for Disease Control and Prevention recommends waiting 10 days before flying after testing positive. But, as Silver explains, many factors can complicate your ability to postpone a flight for a full 10 days last minute.
"If you are thinking of flying home earlier than the 10-day cutoff, first of all, your symptoms should be pretty much diminished if it's been five to seven days," he says. "What you want to do then is take measures to reduce the possible harm you could cause to others. So mask up. Make sure it's a good-quality mask and keep the mask on for the duration of the flight. If you want to grab a bite to eat or drink before the flight in an isolated corner of the airport, that's better than dropping your mask while you're sitting next to somebody for a drink or a snack on the plane."
Take antiviral COVID-19 pills if you can
Silver says that because he and his wife were high-risk patients, they were able to obtain Paxlovid, an anti-viral therapy in pill form authorized for emergency use and shown to reduce the risk of hospitalization and severe symptoms drastically.
It's best to plan ahead and ask your primary care physician before you leave whether they can prescribe Paxlovid to you should you need it. But it's possible to find telehealth portals where you can request the drug after you'd tested positive, Silver says.
"You have to start taking it within one to five days of diagnosis," he says. "You do need a prescription under the emergency authorization rules for Paxlovid, but a doctor can't prescribe it as a preventative measure. It has to be that you've got COVID at this point.
"It's important to have a list of other drugs that you're taking because parts of Paxlovid can sometimes interact with other drugs," he says.  "The [Food and Drug Administration] has just authorized pharmacists to prescribe. Not everybody's doing it yet, but there is an HHS website where you can put in your location and find the name of a nearby pharmacy where you could get this drug from."
If your spouse or travel partner tests positive, keep your distance
"If you can sleep in a different room and just keep that mask on when you're in contact with your spouse or a friend who has COVID, that's the best precaution," Silver says. "Being outdoors is a good thing. So if your spouse who has COVID is feeling up to it and you take a walk outdoors and you're both wearing masks, that would be a good thing. So really masking and distance are good things to do. Keeping six feet or so away reduces your risk."
See what accommodations businesses can provide
Before Silver and his wife had come down with COVID, they rented a car that needed to be returned. Silver says that he called the company and easily authorized a friend to return the car for him so he could avoid putting anyone else at risk. At this point in the pandemic, many companies are aware of the uncertainty COVID-19 brings and allow flexibility.
"Hotels are often willing to let you quarantine in a room if you tell them," he says. "They won't give you housekeeping services in the room, but you can ask for towels or amenities or service to be left outside your door."
---
Thomas Danielian produced and edited this interview for broadcast with Todd Mundt. Grace Griffin adapted it for the web.
This segment aired on July 11, 2022.