Making the holidays greener — and cheaper — by reducing trash, toxins and waste
Play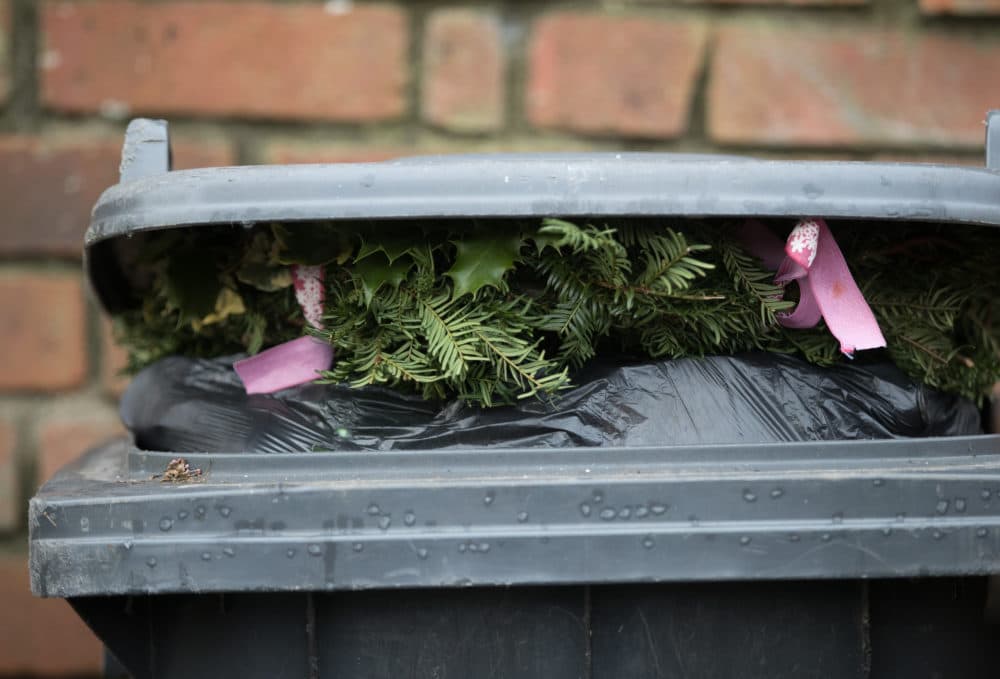 The holiday season has begun. Think parties. Decorations, families — and lots of trash.
Americans toss out about 25% more garbage during the holidays. That includes food waste, wrapping paper, shopping bags, and more. In fact, a study on Stanford University's website notes that the 2.65 billion Christmas cards sold each year in the U.S. could fill a football field 10 stories high.
The good news is that a few changes can reduce your eco-footprint — and you don't have to do them all to make a difference.
Here & Now's Robin Young talks to Dawn Gifford, author of "Sustainability Starts at Home" who also runs the Small Footprint Family website.
Tips to have a greener holiday
Use recyclable or reusable wrapping paper. Newspaper, decorated craft paper, an old map or a fabric item like a scarf can make the perfect gift wrapping.
If you buy wrapping paper, make sure it doesn't have metallic, foil or glitter. If you can crumple it and it holds its shape, it's likely recyclable.
Use LED lights for your decorating to conserve energy and cut down on costs and greenhouse gas emissions.
When purchasing string lights, look for a tag that says they're RoHS compliant. That means they'll contain the least amount of heavy metals which can become toxic over time.
Make sure any artificial trees are well-dusted and vacuumed around regularly so their PVC materials don't shed heavy metal dust. Try to keep your tree as long as possible to avoid waste.
When purchasing a live tree, look for an organic or potted one so you can avoid toxic fertilizers and pesticides.
Give handmade (like knitting, woodworking or baking) or experiential gifts (like concert tickets or a museum membership) to cut down on waste.
Offset your travel emissions by donating to organizations that plant trees.
---
Karyn Miller-Medzon produced and edited this interview for broadcast with Todd Mundt. Grace Griffin adapted it for the web.
This segment aired on November 28, 2022.