Celebrate the Year of the Rabbit with these Lunar New Year delicacies
Resume
Get this story, and more like it, on our podcast. 
Jan. 22 marked the beginning of Lunar New Year celebrations for the Year of the Rabbit.
Billions of people across the globe — including many in America, China and other East Asian countries — observe the 15-day holiday. A key part of the festivities is the food. Many dishes have symbolic meanings or are reserved for these occasions.
Lunar New Year is "about new beginnings," says Megan Zhang, senior culture editor for Saveur Magazine."It's important to buy and wear new clothing … people will also clean out their homes and try to start the year on a fresh note."
She notes the importance of acknowledging and honoring ancestors and spending time with family.
"The highlight is the food and gathering with friends and family around a table of delicious dishes and just having a banquet," Zhang says.
Families often spend all day preparing food for dinner, which is the most important meal of the day during Lunar New Year. Once the meal starts, it can last hours and usually stretches past midnight.
Zhang explains the importance of each highlighted dish in the Lunar New Year meal.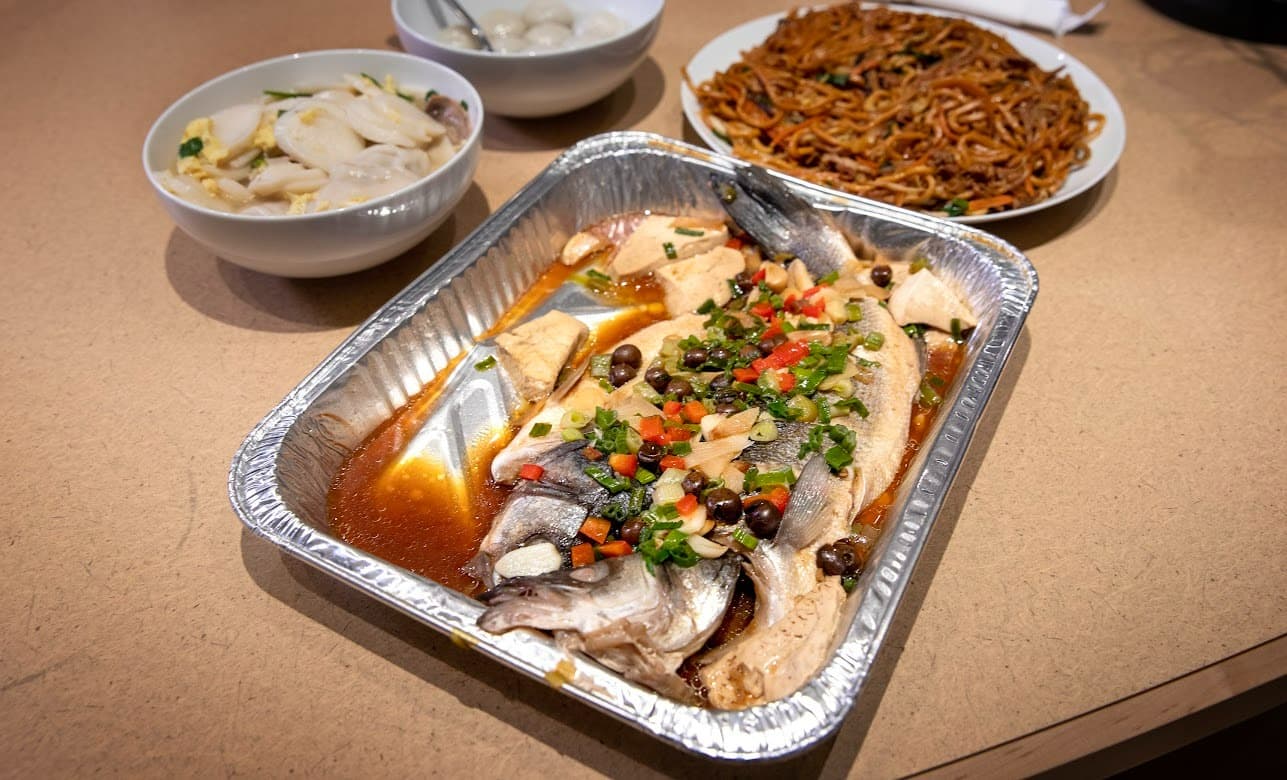 Pan-fried noodles with pork
Noodles represent longevity in a number of Asian cultures, so they are eaten during the New Year celebration for good fortune, Zhang says. It's important that the noodles are long. It's also customary to eat them on birthdays for the same reason, trying to invite longevity into the next year of your life.
Alongside the noodles, the dish features pork and cabbage, which give a strong savory taste.
"The primary seasoning is soy sauce, so you're getting a lot of that umami. The pork and the cabbage also bring a lot of savoriness too, so it's a really tasty dish. which adds to the savory flavor and gives the dish a sense of umami," Zhang says.
Whole fish with sauce
In the Chinese language, fish is pronounced: "yu." It's a homophone for another character pronounced the same way; "yu" means surplus or abundance. A lot of dishes that are considered auspicious in Chinese culture are rooted in these linguistic homophones.
"Traditionally, the fish is served whole, with the head and tail intact," Zhang says. "Growing up, I remember my parents telling me that we ate the whole fish on the eve of Lunar New Year, we would have to save a little bit to enjoy after midnight, or the next day, because that would symbolize bringing surplus and abundance into the new year."
The fish is garnished with scallions, peppers, olives and garlic. The fish is steamed, giving it a light, aromatic taste and soft mouthfeel.
Sticky rice balls
Sticky rice balls are traditionally eaten on the 15th and final day of Lunar New Year celebrations.
"That's the day when the moon is going to be very full," Zhang says. "The sticky rice balls, which I grew up calling tangyuan, are said to resemble the full moon."
Their roundness also represents family gathering round together. They are sweet with a tangy sesame center — and Zhang's favorite New Year dish.
Rice cakes
Korean rice cake soup — or tteokguk as it is traditionally known — is eaten because of its white color.
"Color is very significant in Korean culture," says Zhang. "The color white is said to symbolize new beginnings and clean starts".
The rice cakes are made from glutinous rice flour in a log shape and sliced into flat spheres. The shape, which is said to represent coins, symbolizes wealth and prosperity in the new year. The cakes are cooked in a light beef or chicken broth.
"It's a nice and refreshing first meal for the new year," says Zhang.
Spring rolls
Spring rolls have a cross-cultural and important role in Lunar New Year celebrations. In the Philippines, there's a fried version called lumpia. Lumpia is traditionally a party food in the Philippines and a staple at any festive gathering in Filipino culture.
"They're finger foods, which is always nice for parties, and you can make them ahead in big batches," Zhang says.
Filipino spring rolls developed out of influence from Chinese culture, which traditionally includes similar spring rolls during Lunar New Year. They are called spring rolls because of the vegetables in the filling that represent springtime. Other cultures including Vietnamese enjoy similar variants too.
---
Thomas Danielian produced and edited this interview for broadcast with Julia Corcoran. Danielian also adapted it for the web.
This segment aired on January 20, 2023.