Master 'The Simple Art of Rice' with recipes and tips from chef JJ Johnson
Resume
Chef JJ Johnson fondly remembers jubilant Sunday dinners at his grandparents' house in Pennsylvania's Pocono Mountains. After dinner, they'd leave the table to dance along to the Afro-Cuban sounds of Tito Puente's music.
One constant in those happy memories? Rice. Whether in the form of soupy asopao, seafood paella or basic chicken and rice, it always appeared on the table to be shared with loved ones.
"It always connected us," Johnson says. "There was grains falling off the tables on people's chins, you name it. There was a rice grain in every corner of my grandparents' house."
Johnson authored the cookbook "The Simple Art of Rice." In it, he details recipes of personal significance — like his grandmother's asopao, or 'Bebe's soupy rice' — along with dishes customary in a myriad of other cultures.
Johnson says he took a trip to Ghana that changed his outlook on cooking entirely. When he tried jollof rice there, he drew similarities to Spanish rice and red rice from Charleston, South Carolina. On that trip, he realized just how universal and versatile the simple grain can be.
"A lot of these dishes allow a new culture to come to your table," Johnson says. "That's the beautiful thing about rice. It takes you on a journey."
JJ Johnson's tips for cooking rice
Always wash rice before cooking 
Make sure your pot is large enough for the rice to double in size when cooked
Don't stir or shake the rice while it cooks
Use the finger trick to measure water: Pat the dry rice into a flat surface in the pot, then put your third finger on top and fill with water up to your first knuckle
Rice is supposed to stick to the bottom of the pot and get crispy
Book excerpt: 'The Simple Art of Rice'
By JJ Johnson
Arroz con gandules
Active cook time: 60 minutes
Serves: 6 to 8
3 cups long-grain white rice
3 tablespoons vegetable oil
3 tablespoons canned green sofrito (aka recaito)
½ cup canned tomato sauce
½ pound smoked ham, cut into small pieces
⅓ cup whole green olives stuffed with pimentos
One 5 g packet Sazón with achiote
1 teaspoon adobo seasoning
1 teaspoon garlic powder
½ teaspoon ground cumin
½ teaspoon ground oregano
1 teaspoon kosher salt (preferably Diamond Crystal)
One 15-ounce can pigeon peas, rinsed and drained
5½ cups water
Arroz con gandules, rice with pigeon peas, is the signature dish of Puerto Rican culture! It's eaten on weekdays and weekends, at parties, and on holidays—any and every time of the year. My great-aunts, Tía Candy and Tía Con, made this dish all the time when I was growing up, and I still love it. The rice has a lovely yellow hue from the achiote, and it is studded with briny green olives—you absolutely cannot make arroz con gandules without the olives, or it won't be authentic. Adobo seasoning is a spice blend popular in Latin American and Caribbean cooking. Sazón con achiote (a seasoning blend made with the vibrant red annatto spice, also called achiote) and green sofrito (a seasoning base that typically consists of spices, peppers, onion, and garlic cooked in olive oil; it is also called recaito) are available in the Latin section of the grocery store. The key is to gently sauté the sofrito, letting the flavors bloom, before adding the rice. Now that I'm an adult, I love arroz con gandules as a side dish with lamb; it also goes well with chicken or pork.
Rinse the rice in a large bowl with cool running water until the water runs clear. Drain in a fine-mesh sieve and shake off the excess water.
Warm the oil in a Dutch oven or other large heavy-bottomed pot over medium heat. Add the sofrito and gently sauté it, stirring occasionally, for 3 minutes; it will become very fragrant. Stir in the tomato sauce, ham, and olives and cook for 3 minutes. Add the sazón, adobo seasoning, garlic powder, cumin, oregano, and salt and stir until all the seasonings are incorporated. Cover the pot, reduce the heat to low, and simmer the mixture for 5 minutes.
Stir in the rice and pigeon peas, then add the water. Bring to a boil and give the pot a good stir, reduce the heat to low, cover, and simmer for 30 minutes.
Remove from the heat and let the rice steam, covered, for 15 minutes.
Fluff the rice with a fork and serve.
Nutella-filled rice crepes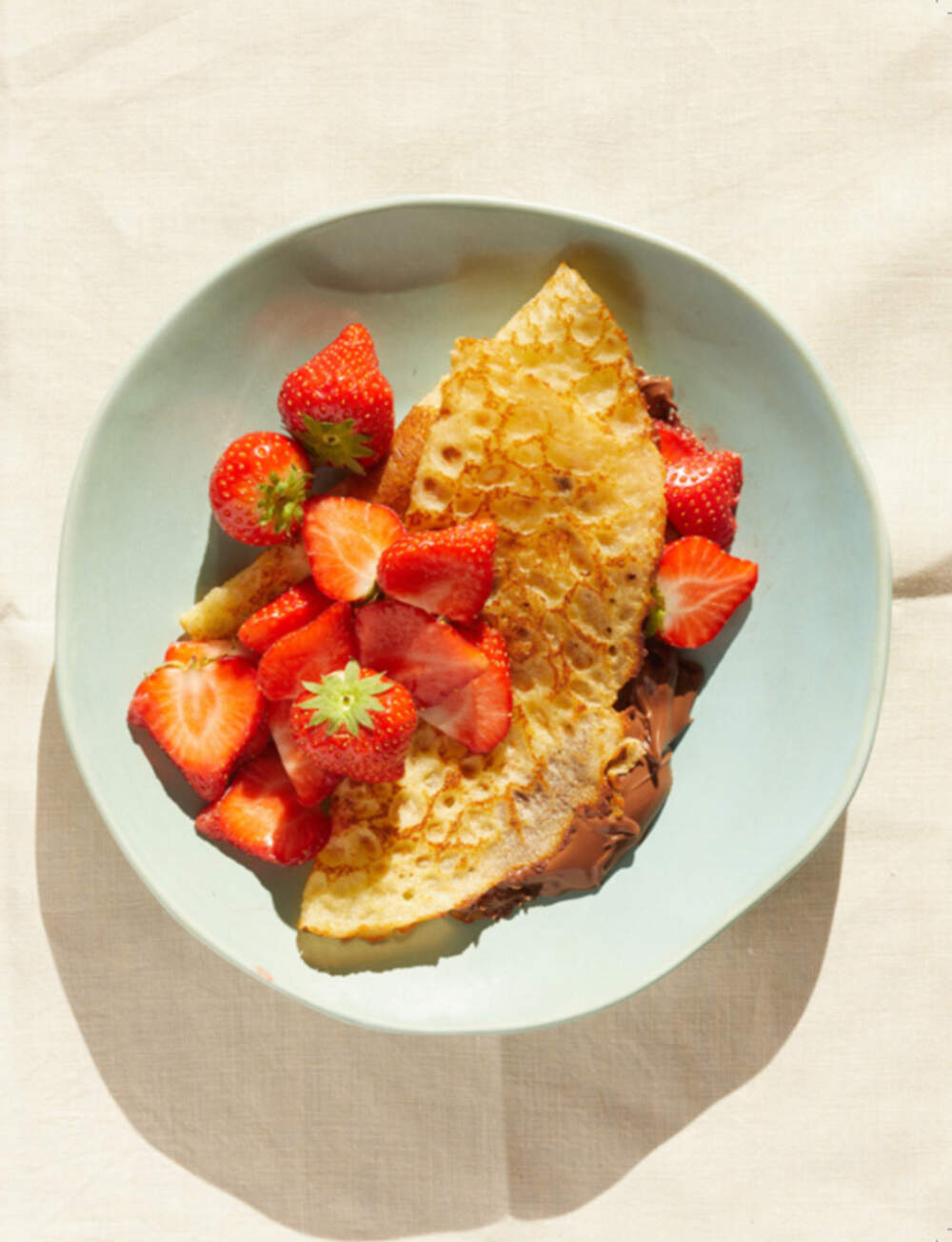 I love rice crepes because they're lighter and airier than crepes made with wheat flour, with a nice crispiness at the edges. Plus, they're gluten-free! To get that airy texture, it's best to whip up the batter in a blender jar or food processor after you've combined the ingredients. A nonstick pan makes it easier to flip the fragile crepes without tearing them. The rice flour tends to settle at the bottom of the bowl as the batter stands, so give it a quick stir before you add it to the pan for each crepe. The crepes have a golden caramel color and serve beautifully with fresh berries. My daughter's favorite part is grabbing a strawberry by its green top and dipping it in the Nutella while we're making this recipe.
Active cook time: 25 minutes
Makes: 8 crepes
1 cup rice flour
2 tablespoons granulated sugar
¼ teaspoon kosher salt (preferably Diamond Crystal)
2 large eggs, at room temperature
1½ cups milk, at room temperature
½ teaspoon vanilla extract
6 tablespoons unsalted butter, melted
½ cup Nutella or other hazelnut chocolate spread, plus more if desired
1 pint fresh strawberries, hulled and sliced.
Combine the rice flour, sugar, and salt in a blender jar.
In a large bowl, beat the eggs with a whisk. Whisk in the milk, vanilla extract, and half of the melted butter. Pour the mixture into the blender jar and blend with the dry ingredients for 2 to 3 minutes, until you have a nice, airy batter. Pour the batter back into the large bowl, scraping down the sides of the blender jar to remove it all.
Heat a nonstick crepe pan or 8-inch nonstick skillet over medium heat. Brush the bottom of the pan with melted butter. Give the batter a quick stir to incorporate any rice flour that has settled at the bottom of the bowl. Pour about ¼ cup of batter into the pan, then quickly tilt and rotate the pan to evenly coat the bottom with a thin layer of batter. After about 30 seconds, the crepe should be set on the bottom and starting to bubble on top. Flip it with a thin, preferably offset, spatula and cook on the other side until golden, about 30 seconds longer. Using the spatula, transfer the crepe to a serving plate and cover with an upside-down dinner plate to keep warm. Repeat the process until you've used all the batter, adding more butter to the pan as necessary and slightly overlapping the crepes on the plate as you make them.
To serve, spread one half of each crepe with Nutella and fold the other half over it. Transfer the crepes to individual serving plates and arrange the strawberries alongside.
Collard greens and rice soup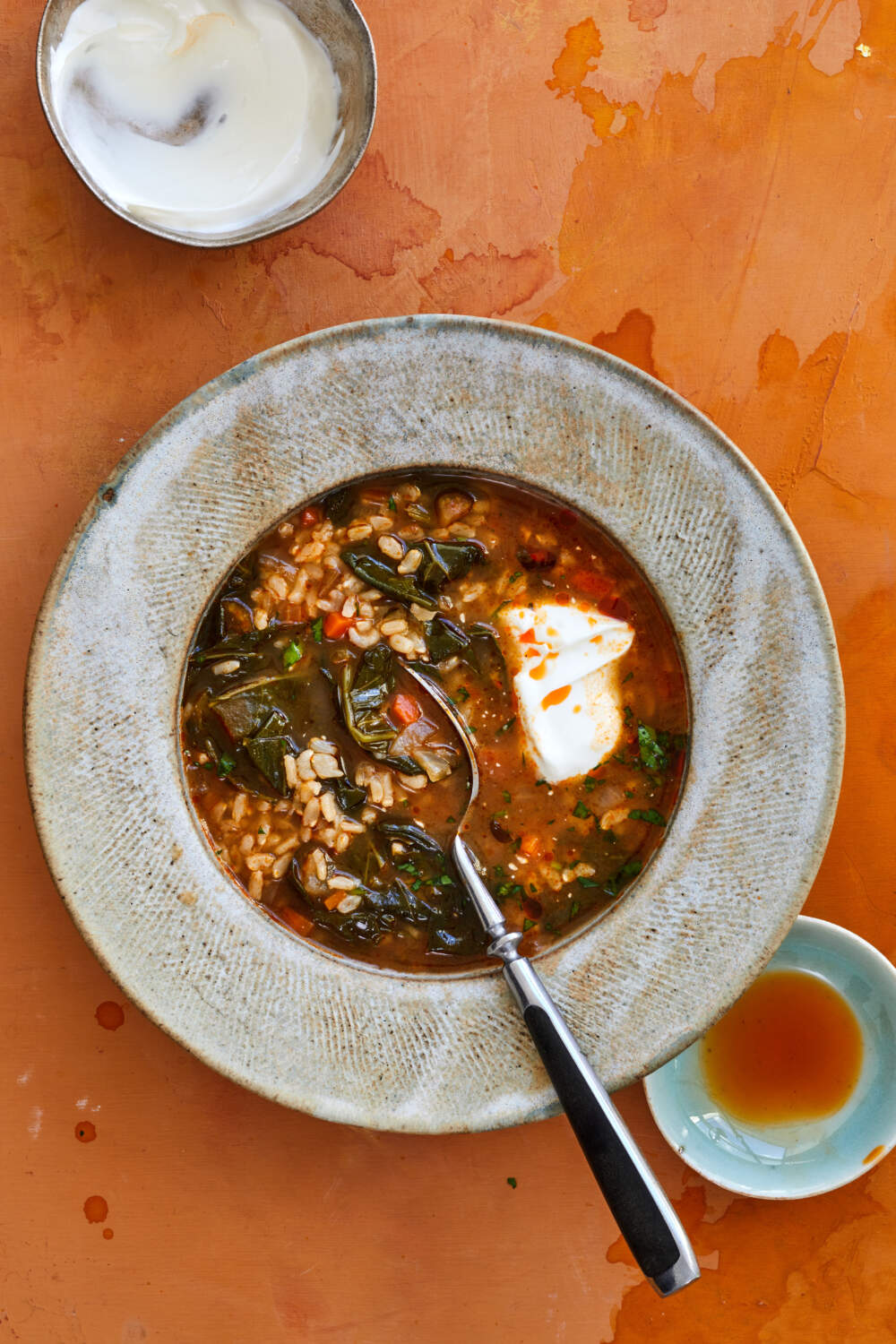 I created this soup so that I could incorporate some of the most basic ingredients I love in one pot. Potlikker is the term for the juice left from cooking seasoned collard greens, and that's what I use here to build the broth. Revered in Southern cooking, potlikker is super-flavorful and packed with vitamins and minerals. It was originally eaten for its nutritional value by enslaved people on Southern plantations, and to this day some people drink it straight! The paprika adds a hint of smokiness, and finishing it with sherry vinegar gives the soup a bit of tang. You can find bunches of collard greens at the grocery store or farmers' market, or buy it pre-cut in a bag to make this simple recipe even quicker. After you add the collards and rice, the soup becomes thicker and less brothy. Any leftovers freeze well for future meals.
Active Cook Time: 50 Minutes
Serves: 4
¼ cup extra-virgin olive oil
1 medium white onion, finely chopped
2 large carrots, finely chopped
2 stalks celery, finely chopped
2 tablespoons tomato paste
1 tablespoon garlic, minced
2 tablespoons smoked paprika
1 teaspoon ground coriander
1 teaspoon ground cumin
5 cups trimmed and sliced collard greens or one 12-ounce bag precut collard greens
6 cups chicken stock
2 teaspoons kosher salt (preferably Diamond Crystal), plus more to taste
3 cups cooked long-grain white rice
¼ cup chopped fresh Italian parsley
1 tablespoon sherry vinegar
Chili oil, for serving
Sour cream, for serving
Add the olive oil to a large pot set over medium heat. Add the onion, carrots, and celery and sauté until golden, about 5 minutes. Stir in the tomato paste and garlic and cook for another 2 minutes, until the tomato paste has darkened slightly.
Add the paprika, coriander, and cumin and cook, stirring, for 2 minutes, or until fragrant. Add the collard greens, chicken stock, and salt and bring to a boil, then reduce the heat, cover, and simmer, stirring occasionally, for about 30 minutes. The collard greens should be tender to the bite.
Add the rice, parsley, and sherry vinegar, stir well, and season with salt to taste. Simmer until the rice is heated through, 2 to 3 minutes.
Serve the soup in individual bowls, topped with chili oil and sour cream.
From" The Simple Art of Rice" by JJ Johnson with Danica Novgorodoff, Flatiron Books 2023.
---
Julia Corcoran produced and edited this interview for broadcast with Peter O'Dowd. Grace Griffin adapted it for the web.
This segment aired on September 27, 2023.