Featuring WBUR Reporter Bruce Gellerman
This article is more than 2 years old.
WBUR is adapting to remote work to ensure you still have the timely, reliable and relevant news you need throughout this pandemic. As we all work to make sense of the new normal, we want to share how the WBUR community—reporters, members, donors, corporate partners and so many more—is #makingitwork!
---
Over the years, award-winning senior environmental reporter, Bruce Gellerman has covered many challenging stories—from being the first witness and reporter on the scene of the Watertown manhunt of the Boston Marathon bombers to his collaborative investigative reporting that led to the exoneration of Darrell Jones after he served 32 years in prison for a crime he did not commit.
He continues to tell extraordinary stories, overcoming the challenges posed by COVID-19 to bring us both serious, hard-hitting pieces and joyful must-listens such as his feature on a professional bass player entertaining neighbors with a Sousaphone he got off eBay. Here's more from Gellerman on how he's #makingitwork:
Gellerman: Things at WBUR's remote World Headquarters in Watertown are fine—if you don't mind the neighbor using a leaf blower when you're trying to do an interview.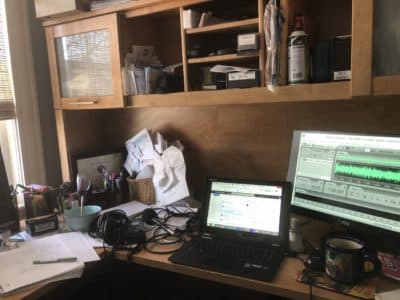 My commute is great and I'm about 40 feet from the refrigerator. We have a large multi-family house so everyone can find a place of their own. We're thankful and grateful, though the novelty wore off long ago. I think we're learning how to maintain psycho-social distancing so we don't get on each other's nerves...too much.
As for work, I am a lot more focused and organized. You have to be since there are so many more intermediary steps in getting something done from assignment to finish. My studio is a bedroom closet. My laptop with edited scripts is supported by a stack of WBUR T-shirts, and I think the audio sounds reasonably good. I'm finding I sort of like hearing different tonal qualities from reporters.
Let me take you through a bit of the rigamarole of producing a simple newscast spot:
I get the assignment and deadline, figure out the angle, find sources and make calls, hopefully, someone responds and not everyone at the same time. Ideally, they can record themselves during the interview and send me the file, so the audio quality is better than a phone... but, just in case, I run a back up using a new app called 'Tape a Call'—it works remarkably well, though you're never really sure you've recorded until it's done so insecurity breeds stress. I then download the audio to a computer and convert the .mp3 into a .wav file.
Then slice and dice the audio to find a cut, write the spot, send the script and audio via the Slack app to the editor. The script returns with changes that sometimes need to be re-written and re-edited, repeating the process. THEN, take my digital recorder to my closet studio, record my tracks, download the audio to a computer, edit the audio, label and "slack" it to the editor who sends it to a remote broadcast technician for mixing and voila—radio magic—it airs.
Then rinse and repeat, while balancing three other stories in various states of disrepair.
It's actually great fun and as I say requires a degree of organization skills I never thought myself capable of. But my desk, like the one at the station—is also a mess. Thankfully, some things never change.
---
#MakingItWork: We're featuring people and businesses in Massachusetts who are adapting and inspiring us all while figuring out ways to navigate this global pandemic. Some of them work here at WBUR too. Here are a few great examples of some initiatives:
'My COVID Economy': Stories from the community highlighting experiences of how the coronavirus has affected our work or financial life. Check out more stories like these from our newsroom here. You can submit your story here too.
#CoveringCovid: A virtual series of one-on-one interviews with our reporters, where we pull back the curtain to better understand how they do their jobs and how the pandemic has changed it all. Subscribe to WBUR CitySpace's YouTube channel to get the latest in the #CoveringCovid series.
WBUR Town Halls: Broadcast live on WBUR's YouTube channel every Tuesday at 6 p.m., the free virtual town hall series, brings together our journalists and experts to discuss a weekly topic—and also answer your questions live.