Global perspectives, West Coast sunsets and Wordle challenges: Behind the mic with Here & Now host Deepa Fernandes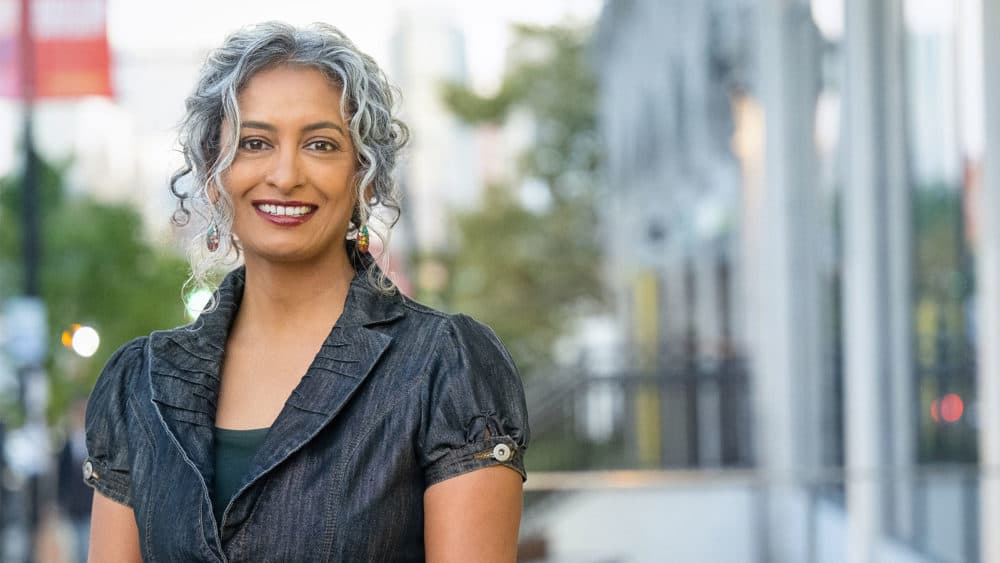 As she takes her place in front of the camera, Deepa Fernandes, the newest Here & Now co-host, glances up and calls out: "Wait, where's our music?" When La Lupe's "Fever" streams out from the speakers, Fernandes shimmies and sways.
She's literally dancing into her tenure at NPR and WBUR, joining Robin Young and Scott Tong for a team photo shoot and kicking off the show's ambitious fall season of news, interviews and special events.
Deepa pauses for a beat to share a bit more about herself and why she's excited to join the show.
The interview below has been edited for length and clarity.
Before you took the co-host chair, you were a Here & Now listener. Can you speak to the show's influence in your personal and professional lives?
Deepa Fernandes: Here & Now has always struck a different tone in the public radio landscape that really spoke to me. Despite being a longtime public radio reporter, sometimes I've felt kind of excluded – like public radio didn't see me, and people in my communities, as part of its audience. Yet that rarely happened with Here & Now. The diversity of the voices and, just as importantly, the different angle the show would take on stories of the day often made me stop and listen.
One recent example: On Monday, Sept. 19, it was Queen Elizabeth's funeral. While it was top NPR news all day, I so appreciated that in the hour of Here & Now that I caught, Robin acknowledged the funeral had just happened and said they would come back to it – but they were beginning with the devastating hurricane that had struck Puerto Rico.
Because I was born in a country that British colonization destroyed, and I grew up in a country that British colonizers took from Indigenous peoples, I had a realization when the Queen died that her legacy was not a positive one for me. Constant coverage of her funeral was not top of mind for me, nor for many people in the various communities I am part of. I felt glad to hear Here & Now start the hour with the important news in Puerto Rico.
You're joining Robin Young and Scott Tong behind the mic. What about their work inspired you to join the Here & Now family?
DF: Robin and Scott, and Tonya Mosley before me, well, they are just mesmerizing radio hosts. The way they really listen to the guest, and always seem to ask the question that brings out unexpected human moments, is just magical as a listener. They do it differently from each other, but each has such a gift of helping us listeners really connect to people who may be very different from us. I'm still pinching myself that I'm following Tonya, and that I'll get to two-step with Robin and Scott every day. What an honor!

What's something new that our listeners can expect from you?
DF: Despite living my entire adult life in the U.S., I still have my Aussie accent and my Indian-British English. So I won't pronounce my "r's," and I'll probably make you chuckle with the way I say some things. But I hope to bring more people with accents, who speak different languages, and with different life experiences and "outsider" perspectives onto the air. NPR doesn't have many first-generation immigrants in prominent positions, and I've immigrated twice in my life: once as a baby from India to Australia, and once as a young adult from Australia to the U.S. I lived for stints in Ecuador, Cuba and Mexico, where my worldview broadened so much. I'm really excited to bring my global citizen perspective to all the stories we cover at Here & Now.
What's the "why" that drives your journalism?
DF: I've always been a part of communities that the mainstream often excluded. Too many people are only ever talked about – if they rate mentioning at all – and not talked to directly. I truly believe, as we try to solve complex societal issues, our public conversations must include the voices, experiences and perspectives of those most excluded to get us to the best place possible. It's up to us journalists to center those voices.
Though it will be tough to narrow your collection of impressive reporting, what coverage are you most proud of?
DF: I'm very proud of my last year of immigration reporting for the San Francisco Chronicle. My editors allowed me to rethink how we cover this critical beat and really center the people experiencing the broken system. I also spent years investigating the extremely broken child welfare system in Los Angeles, looking at it as a stark example of how systemic racism can harm families. I found that DCFS in LA takes children mostly from mothers of color, some of whom may never get them back. My reporting discovered Black and Latinx babies who died in foster care; their removal from their mothers was suspect, and their deaths were quietly stashed away in a pile of paperwork with few answers or justice for their mothers.
But, honestly, the work I'm most proud of is the hour-long radio documentary I co-produced with my husband, music journalist and photographer Matt Rogers, about the life of a brilliant soul singer: the late Sharon Jones. Matt had followed Sharon for years – writing about, photographing and recording her. To take his mountains of tape and be able to cut a non-narrated, 50-minute radio piece was like a long walk in this incredible singer's shoes, from her birthplace to the weeks before she passed.
How do you approach diversity and equity in your reporting?
DF: I have always sought to center the voices of the people most impacted, to make them the experts and tell their stories so their full humanity is presented. Too often, stereotypes and tropes and dog whistles about certain communities are what we're given as news. I always strive to let people tell their own stories the way they want to tell it.
What's your personal definition of "public media"?
Public media is our media. Media that speaks to all of us, about things that matter to us, with voices we learn from and can relate to.
Give our listeners a glimpse into the morning routine of an award-winning journalist.
DF: It's probably not too different from most parents! I start the day with a cuppa (tea), as together with my kids and husband we do the morning kitchen dance of sliding around each other to get our respective breakfasts and make lunch for the day. There's lots of chatter and reminding kids of things to take to school, to brush their teeth properly, to feed the dog – you know, all that good stuff.
But since starting at Here & Now, I get up hours before everyone else, creep to the kitchen for my tea and enjoy the silence of our home as I get to work.
What about your evening routine?
DF: My evening routine usually consists of preparing dinner with my husband – it's the one time of day we get to catch up together. Then, we gather to eat and listen to the kids recount the ups and downs of their school days. We have a multi-generational household, so my mother-in-law always joins us for dinner. Conversations are always lively with multiple cries of: "Wait! I was talking!" and "Don't talk with your mouth full!" After dinner, I try to steal a few minutes by myself to indulge in Wordle and messaging with my mum and aunties on WhatsApp. I don't have as much evening time now, as I go to bed early with my kids because I have to be up early for Here & Now.
What's lifting your spirit right now?
The sunsets. Where I live – it's a little island called Alameda, just off of Oakland in the San Francisco Bay Area – we get a magical sunset almost every night. Now that the days are getting shorter, the setting sun and the spectacular sky it leaves behind happen as we're eating dinner. It's something I look forward to all day.