A Respite Center Helped Her Heal. Now She's Helping Other Refugees Overcome Their Trauma
Play
Editor's Note: This story contains details about sexual assault that may be disturbing to readers. 
SAN BENITO, Texas — Nestled next to 10 empty acres of land are four small houses that make up the respite center called La Posada Providencia.
The staff here houses up to 40 people at a time, sometimes more if they lay extra mattresses on the floors of offices. Perhaps the most noticeable feature of the property is just how quiet it is. For many of its residents who've fled wars, turmoil or noisy detention centers, that sense of peace is invaluable.

In the main building, where there's a modest kitchen and dining room, we're greeted by a warm and friendly 35-year-old woman.
We've agreed to identify her as Shalom, the nickname she adopted when she arrived at La Posada. Her U.S. immigration papers are still being processed, and she worries being identified could endanger her status.
As we arrive, Shalom had just finished tucking in her 1-year-old son, Emmanuel, for an afternoon nap. When she came to the center a little more than a year ago, she says she never imagined living in America, much less with a baby on the way.
'Wanted To See Change'
Shalom is from Zimbabwe, a nation grappling with extreme economic problems. In 2013, she joined the political opposition movement as an activist. She says being from a minority tribe, rather than the ruling majority Shona tribe, means constantly struggling for equal access to jobs and resources.
To make matters worse, over the last 30 years, Zimbabwe has been hit with a series of droughts that have depleted the nation's resources and increased tensions between the tribes.
"The reason why I joined the movement is because I saw what was happening to my own people," says Shalom. "I wanted to see change for my kids and for the generations to come."
Publicly siding with the opposition made Shalom a target. In December 2017, strange men followed her home, where she lived with her 14-year-old son and 4-year-old daughter. At first, she thought they were robbers but when they asked about her activism, she realized it was political. Shalom was beaten, raped and left on the floor, unconscious and barely breathing.
"We had to leave the house 'cause we're not sure whether those people were coming back or not," she explains.
Shalom says she decided it would be safer for her whole family if she left the country — alone.
She first fled to South Africa, where she was advised by members of her political group to go farther and seek asylum in Ireland. So for the first time in her life, she boarded an airplane and took off for Europe. But when she landed in Dublin, officials there wouldn't let her enter the country. She didn't have the right papers. All she could do was get back on the plane and tell the crew what happened.
"They said, 'OK, we're about to leave in 10 minutes time,' " she recalls. "You are going to LA ... So, I remember myself going just blank. I was like, 'Where is LA? Why are they taking me there?' "
After an 11-hour flight, Shalom landed in Los Angeles with no one to call to come get her.
American officials took her to a detention center, where she stayed for two months. There, she found out she was pregnant. The father was her attacker.
Finding Respite
Shalom says she wasn't allowed to leave the detention center without a sponsor, so the only thing she could do was write letters — to immigrant groups, to shelters, to anyone who can help.
Only one letter came back with a promise to help. It was from the Catholic respite center in San Benito, Texas.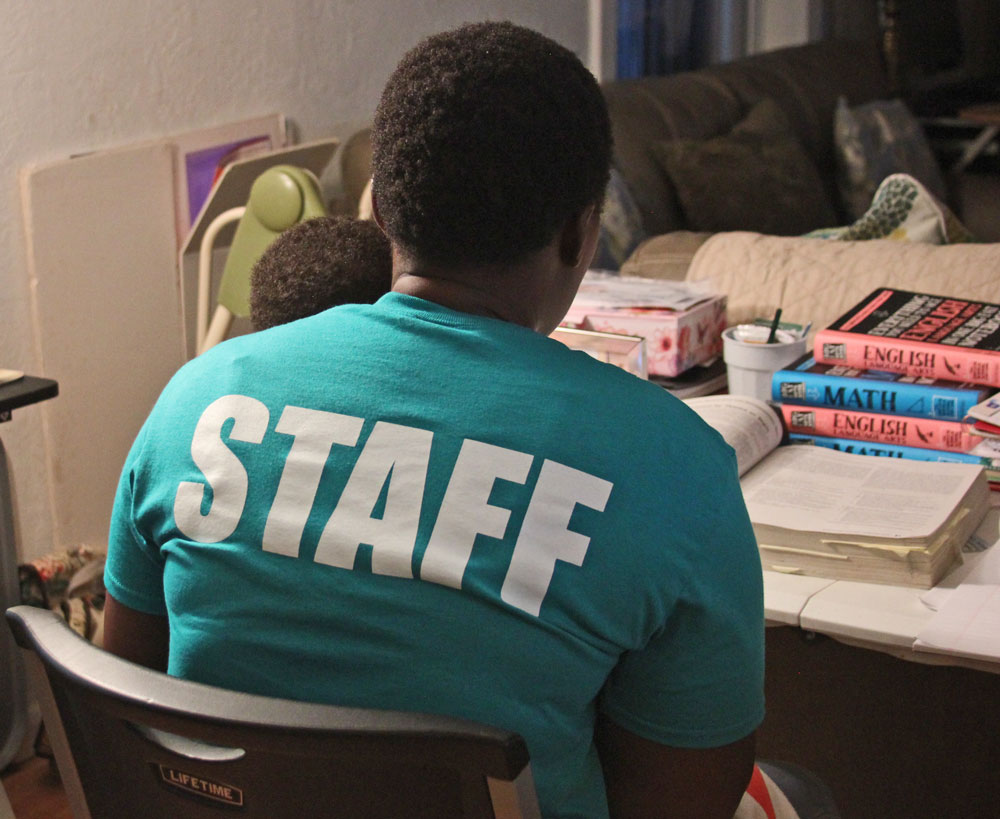 "La Posada is the one that responded," she says. "By the grace of God, they paid for the ticket, and here I am."
Sister Zita Telkamp, 85, has been serving at La Posada since it started 30 years ago and has seen 10,000 immigrants come through its doors. She remembers that Shalom immediately tried to find any kind of work — like selling newspapers or ironing clothes — when she arrived. Even though she was pregnant, Sister Zita says, Shalom tried so many ways to earn money for her family back home.
"The week before she delivered, she was out selling newspapers," says Sister Zita. "And just to see ... how much she loved her family and how she was able to sacrifice, was just so powerful."
Shalom doesn't just want to help her family, though. She also has sought to help the other immigrants living at La Posada. Like her, many have had harrowing experiences that forced them to leave their countries. Shalom has realized that sharing her story has helped as she heals from her own trauma, and so she started encouraging other immigrants to share their stories, too.
Together, immigrants talk to each other about their journeys, their struggles and their hopes. Shalom calls these sessions the "Journey Project."
"People are broken," she says. "So it's kind of like I said, 'cause I've been there. I know what it's like ... that's not easy."
Recently, Shalom worked with La Posada staff to bring in a licensed counselor for those who need to talk to an expert. She says helping others through trauma is her way of giving back to the center.
"If it weren't for La Posada," Shalom says, "I don't know what was going to happen, and for what they're doing for my brothers and sisters, we really thank God."
Shalom adds she has a lot more to look forward to at the center. Recently, Sister Zita taught her how to drive, and now Shalom says she plans to get her license once her immigration papers are processed. She dreams of a day when she can drive her mother, who's back in Zimbabwe, around America.
Shalom is now an assistant and one of 11 full-time staffers at La Posada. When she's not working, she's buried in a large stack of books at her desk with her smiley toddler, Emmanuel, by her side. As of now, he's her only family here.
Shalom wants to get her GED and then a nursing degree. She wants to build a stable life for her son. It's a life she hopes will also help her one day reunite with the family she was forced to leave behind.
---
Resources: You can reach the National Sexual Assault Hotline at 800-656-HOPE (4673). You can also visit online.rainn.org to receive support via confidential online chat.
This segment aired on October 21, 2019.