Live From New York | With Lauren Molina, Amirah Vann and Michaela Watkins
55:40
Play
Modern Love: The Podcast recently produced an episode at Werk It, a women's podcast festival from WNYC. This week's episode gives you a taste of the live experience.
Three actors participated including Lauren Molina, Amirah Vann and Michaela Watkins. Molina read Rosemary Counter's essay "A Craigslist Missed Connection Lure," Vann performed Elizabeth Fitzsimons' essay "My First Lesson in Motherhood," and Watkins read Amy Sutherland's essay "What Shamu Taught Me About A Happy Marriage."
This episode also features a conversation between Iris Adler, the executive producer of the podcast, and Dan Jones, editor of Modern Love for the New York Times.
Lauren Molina appeared on Broadway as Regina in "Rock of Ages" and Johanna in "Sweeney Todd." Off Broadway she played Her in the revival of "Marry Me A Little" (Drama League nomination); Megan in "Nobody Loves You"(Second Stage, Old Globe) and Regina in "Rock of Ages." She most recently performed as Audrey in "Little Shop of Horrors" at the Cleveland Playhouse and the "Countess in A Little Night Music" at the Huntington Theater in Boston. Other roles include "Candide" (Goodman Theatre, Huntington and Shakespeare Theatre; Helen Hayes Award for Best Leading Actress), Sara in "Murder Ballad" (TUTS Houston) and Janet in "The Rocky Horror Show" (Bucks County Playhouse). Her most recent television appearance was on "The Good Wife." She is half of the comedy-pop duo The Skivvies, and can be found performing in NYC and on tour across the country.  In July, she will co-star in the off-Broadway production of "Sex Tips For Straight Women From A Gay Man."

Amirah Vann plays 'Ernestine' on the hit WGN Series "Underground." She pursued undergraduate study in acting at Fordham University at Lincoln Center and attending the NYU Tisch graduate acting program. Soon afterward, she began work with The Continuum Company under the direction of Jim Calder. She traveled with the company to Florence, Italy, performing in "A Midsummer Night's Dream" (Hermia), while collaborating as a vocalist with Jonathan Batiste (newest band leader for "The Late Show") to develop original music for the production. She also performed in the company's production of "Pericles," directed by Mark Wing Davey.

Vann made her Off-Broadway debut in "Laughing Pictures" at the Flea Theatre, and continued her stage career performing off-Broadway and regionally in pieces such as "Trouble In Mind," "The Mountaintop," "Vanya and Sonya and Masha and Spike," "Wax Wings" and "Blueprint." She began her television career in roles on "Girls" (HBO), "Believe" (NBC) and "Mozart in the Jungle" (Amazon). Her film credits include "And So It Goes", "Don't Worry Baby", "Once More with Feeling" and "Three and a Half Thoughts". She was most recently seen in "Tracers", opposite Taylor Lautner, which premiered in the spring of 2015.

Michaela Watkins will reprise her role on the second season of the hit Hulu show "Casual," which premiered on June 7th, 2016.  She recently wrapped production on the film "The House" starring alongside Will Ferrell and Amy Poehler. The comedy is about parents who accidentally spend the money set aside for their daughter's college tuition. Upcoming, Michaela can also be seen in "How To Be A Latin Lover" set to release in 2017. Additionally, she stars in "Human People" alongside Michael Cera and Abbi Jacobson. The film follows a variety of New York characters as they navigate personal relationships and unexpected problems over the course of one day. Watkins will also star as "Mel" in the feature film "Lazy Eye," set to release in 2016.

Watkins can recently be seen in the first and second season of Amazon's Golden Globe winning show, "Transparent." Additionally, she can be seen in the Netflix limited series "Wet Hot American Summer" opposite Bradley Cooper, Amy Poehler and Paul Rudd. Prior to that, she was last seen playing the eccentric and loveable 'Jackie' on the ABC critically-acclaimed series "Trophy Wife" opposite Bradley Whitford and Malin Ackerman.

On the creator side, Watkins recently executive produced, created and wrote the comedy series "Benched" with Damon Jones, which aired on the USA Network. This series starred Eliza Coupe. She produced with Andrea Shay and Mark Gordon.

Watkins is quickly becoming an indie film darling from her memorable performances in Lake Bell's "In A World" and Jill Soloway's "Afternoon Delight." Other past feature film credits include her stand-out roles in Universal Pictures comedy "Wanderlust" opposite Jennifer Aniston and Paul Rudd. She also made appearances in David Wain's film "They Came Together," opposite Amy Poehler and Paul Rudd and Nicole Holofcener's film "Enough Said."

Watkins hails from the Los Angeles main stage company, The Groundlings Theater, where many distinguished SNL alum have performed. Watkins joined the "SNL" cast mid-season of the 2008-09 season and made her mark with spot-on impressions of Arianna Huffington, Barbara Walters and Kathie Lee Gifford's sidekick Hoda Kotb.

Born in Syracuse, N.Y., and raised in Boston, Watkins pursued a career in regional theater before moving to Los Angeles. She studied acting and theater, and received her B.F.A. from Boston University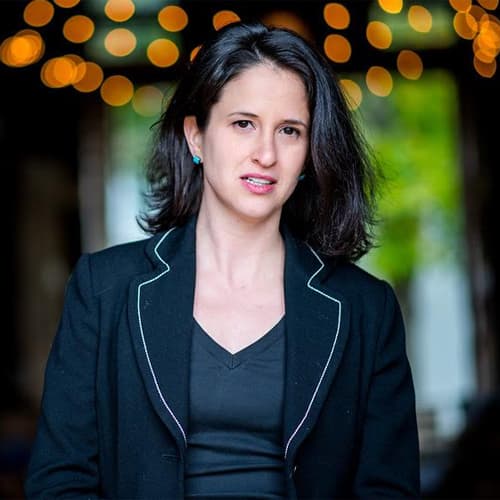 Jessica Alpert Managing Producer, Program Development
Jessica Alpert is the managing producer for program development at WBUR. In this position, she develops new podcasts and programs while also launching and nurturing WBUR's newest projects.