Dorchester Cyclists Call For Better Bike Infrastructure In City's South
Resume
For William Young, the bicycle takes the place not only of the car, but also the bus and the train. The way he sees it, biking is easy on the atmosphere, a way of getting your daily exercise and "nine out of 10, you're beating traffic too."
The rewards of biking are many, explains the 52-year-old Dorchester resident. But so are the dangers.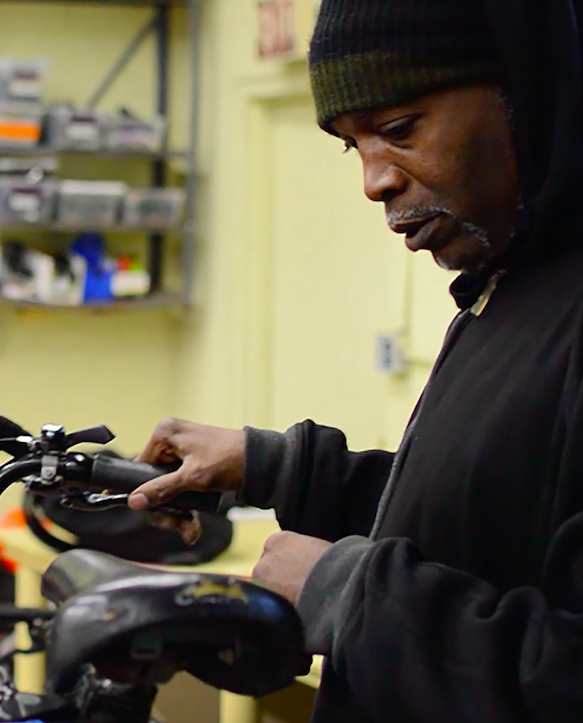 "I kind of feel like Daredevil in the streets," Young said with a grin. "We have the bike lane that I think we share with the buses here. They cut into that a lot. Just trying to dip and dodge."
But dip and dodge doesn't always do it. Across Boston in 2014, 555 cyclists were injured in reported accidents, a number that dipped to 512 last year.
Of the three biking deaths in Boston last year, two happened in the south of the city: one in Dorchester and another in Mattapan. The crashes involved a teenage boy and an 8-year-old girl.
Some advocates say the construction of cycling infrastructure in Boston — dating back decades — has treated some communities better than others, and they want it to change.
Neighborhoods Seem 'Worlds Apart' In Cycling Infrastructure
Noah Hicks, a cycling advocate and entrepreneur, is owner of the grassroots Bowdoin Bike School in Dorchester. He believes there's an infrastructure gap between lower and higher income neighborhoods in the city.
"Unfortunately, all cyclists are not treated equally," Hicks said.
"When you look at the disparities between how cycling is approached in a neighborhood like Dorchester versus how it's approached in a neighborhood like Jamaica Plain, we're worlds apart."
Dorchester isn't without bike infrastructure. Dorchester Avenue and Colombia Road have painted bike lines, for example, while paths like the Neponset River Greenway offer bikers a way off the street. But Hicks points to the Southwest Corridor — nearly five miles of paved paths from Forest Hills in Jamaica Plain to Back Bay station — as a luxury bikers in Dorchester don't enjoy.
"There's no one, contiguous, safe off-road path that's going to take you from Dorchester to downtown, to your doctor's appointment or your job, or any of the other things that you need to stay healthy, stay alive and stay paid," he said.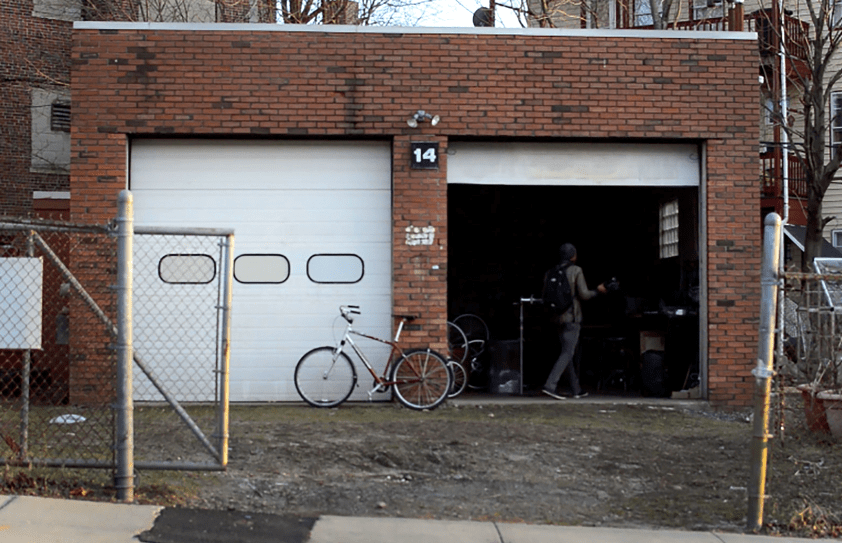 Hicks opened his bike school in a brick and mortar building in Codman Square last summer. While he's active on the city level, his main struggle is to get "more butts on bikes" in his neighborhood. Hicks sees bikes as a tool of economic empowerment, especially in working class neighborhoods and communities of color.
City officials don't publish crash data broken down by race. But a report by the League of American Bicyclists found a significant gap between the fatality rates of whites and people of color in the United States. The 2013 study suggested that Hispanic and black cyclists were 23 and 30 percent more likely to die in a bike crash than whites.
The study also suggested that immigrants are twice as likely to travel by bike, while people earning "less than $35,000 and living in dense residential areas are more than 10 times as likely to travel by bike."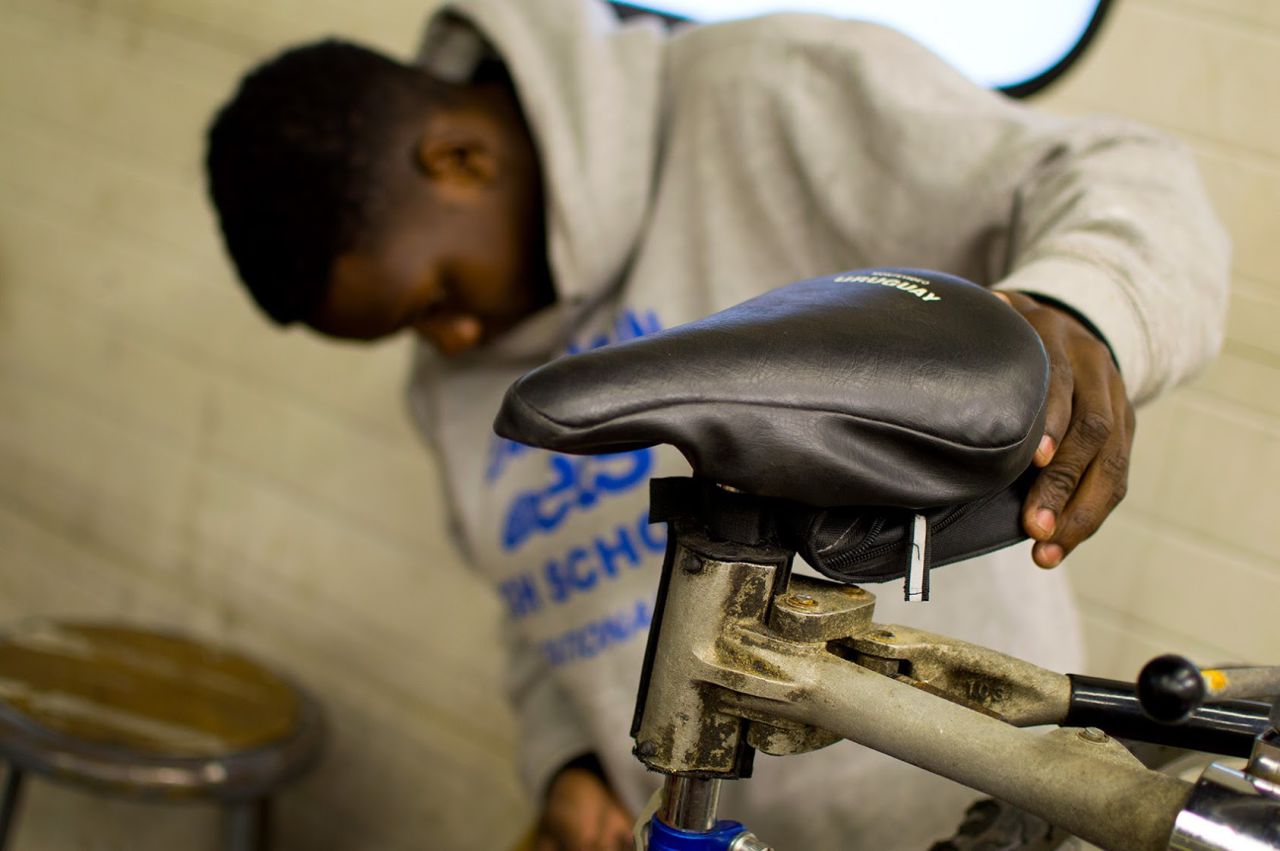 Cyclists In City's Southern Neighborhoods Are 'Underserved'
"There are many, many places in this city ... spaces for pedestrians and for bikes to get from one point to the other without having to be on a road with cars," said Vineet Gupta, director of policy and planning at the Boston Transportation Department.
Gupta said some neighborhoods are not as well served by transportation infrastructure, but those places are distributed throughout the city.
"Some areas that are underserved in our analysis in terms of the availability of travel options [include] areas like North Allston, areas that are in Dorchester, portions of Charlestown, sections of West Roxbury," he said.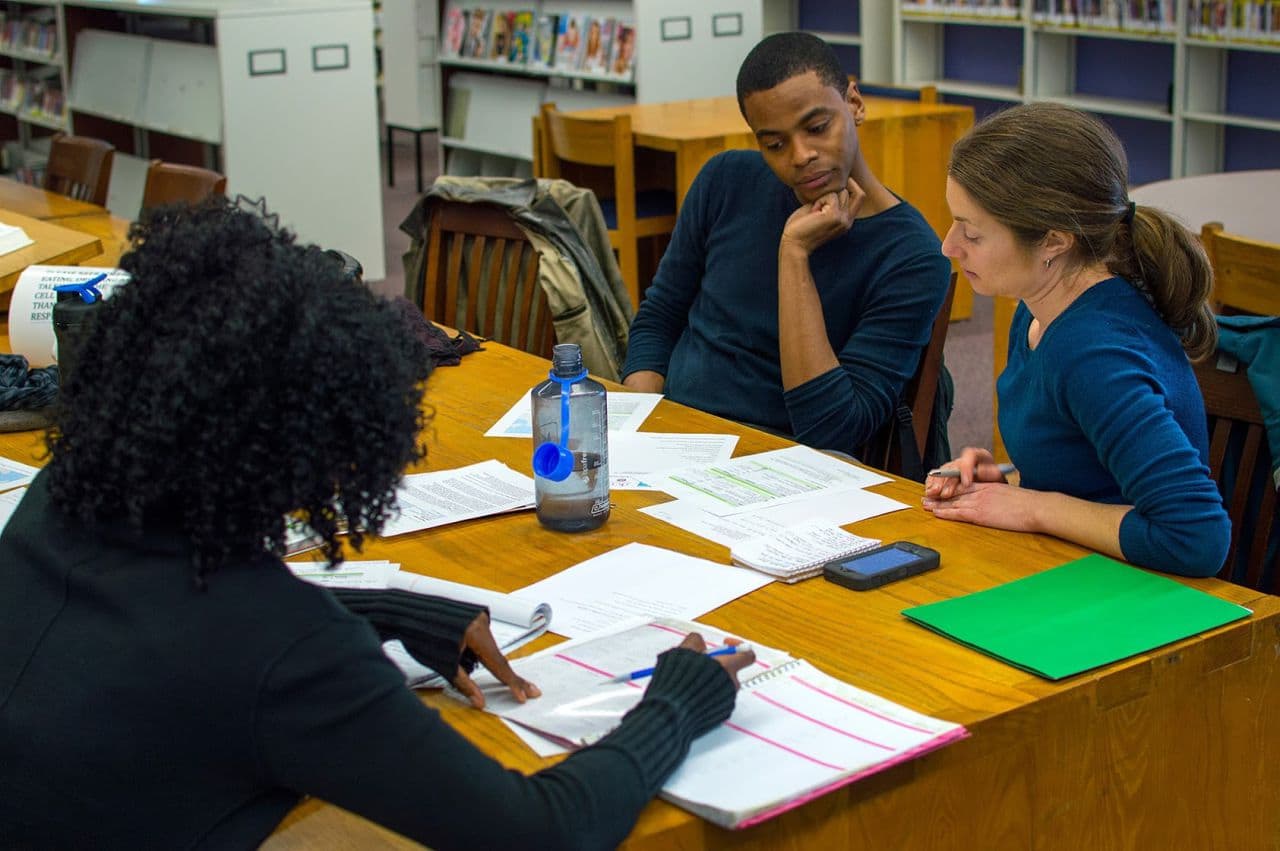 Anne Lusk, a researcher at Harvard's School of Public Health, studies biking trends in low-income communities and said she sees similar trends in Boston.
"There is inequality in cycling infrastructure in the Boston area, because in the past we have built bike facilities based on counting the numbers of cyclists," Lusk said, adding that this is a flawed model.
One way to look at the distribution of infrastructure in Boston, Lusk said, is Hubway stations. Concentrated in the north of the city, Boston has more than 90 bike-sharing stations, while much of the south of Boston — including Dorchester, Hyde Park, Roslindale and Mattapan — is a Hubway desert. City transportation officials said they're committed to expanding Hubway southward.
"If we're going to put the bicycle facilities that are safer in the communities where many of the people are already healthy, we should first put them in the communities where there are fewer opportunities to be healthy as a routine part of the day," Lusk said.
"There's no one, contiguous, safe off-road path that's going to take you from Dorchester to downtown to ... any of the other things that you need to stay healthy, stay alive and stay paid."

Noah Hicks
The Push For More Cycle Tracks
In the minds of cycling crusaders, the whole of Boston leaves much to be desired when compared to more bike-friendly cities.
Cambridge and Somerville beat Boston: In both cities, 7.4 percent of the population commutes by bike — that's the fourth and fifth highest in the U.S. — while in Boston just 2.4 percent of commuters ride. (On another level entirely is Copenhagen, where about half of commuters use bikes.)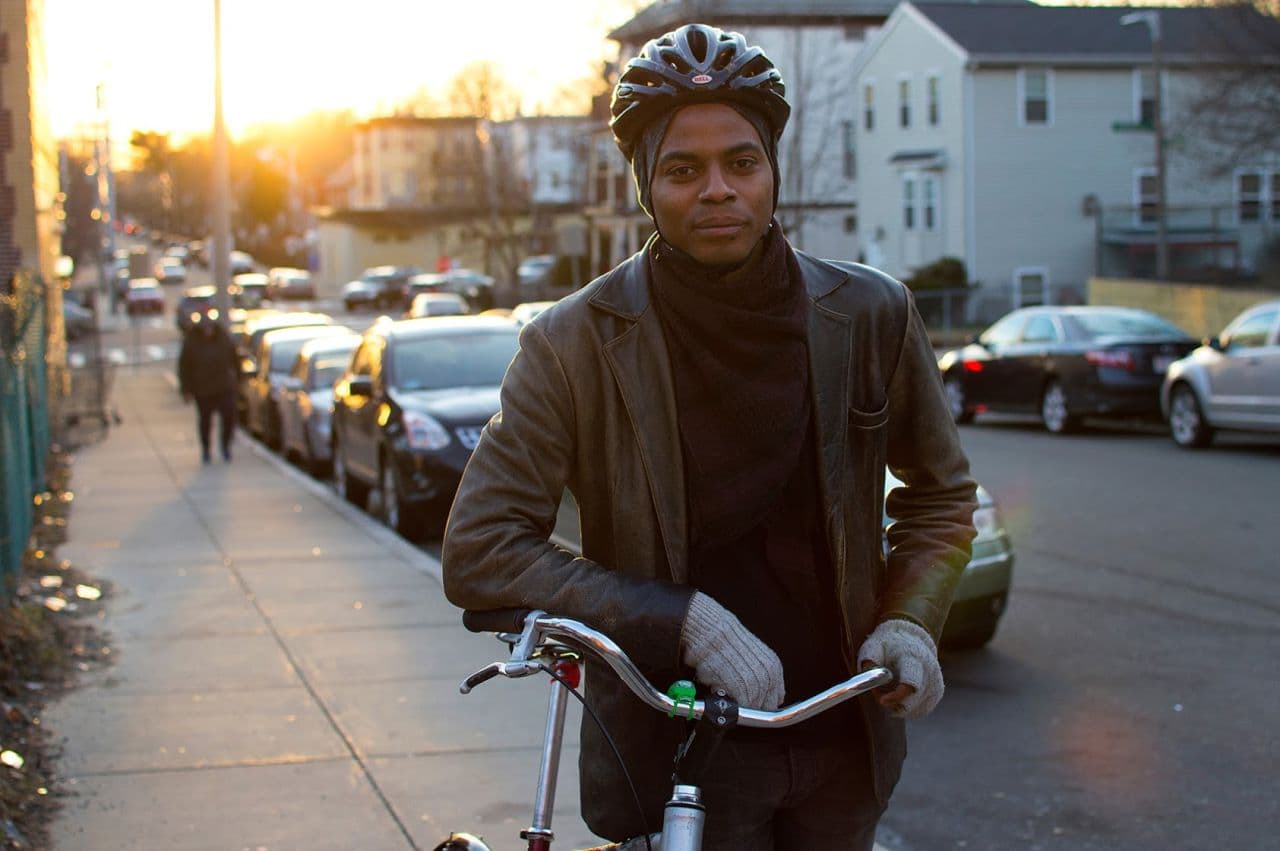 Advocates are calling on the city to build isolated cycle tracks on main thoroughfares, cordoned-off lanes that give bikers an exclusive share of the asphalt.
In 2013, former Boston Mayor Thomas Menino answered the call, declaring that the car was no longer king in Boston. Menino laid out an ambitious Boston Bike Network Plan, envisioning the construction of 21 miles of cycle track by 2018.
City officials said Menino's plan is still in place, but halfway through the five-year plan, none of the streets cited in it have cycle tracks completed.
At least two cycle track projects are in the works, however, including a stretch along Commonwealth Avenue and the Connect Historic Boston bike trail.
Active Transportation Director Stefanie Seskin -- whose job includes the responsibilities of former city bike czar Nicole Freedman — said these two projects will help the city understand how bike infrastructure can work in Boston.
"When projects come up, that's the opportunity to then figure out how can we get the best bike facility based on what [the Boston Bike Network Plan] envisions us having," Seskin said. "We are actively looking at other locations to do a similar level of protection for people who are riding bikes."
Gupta said that includes plans to build cycle tracks in the south of the city.
"We are looking at doing new projects that look at protected bike lanes on Dudley Street, on Melnea Cass Boulevard, on Malcolm X, and these are all roads in the heart of Roxbury, making connections to Dorchester," he said.
The city is putting money behind these initiatives; the current budget has $6.6 million set aside for bike infrastructure improvements.
Quality Transport Within 10 Minutes Of Every Home
Under the Go Boston 2030 plan the city lists an array of bike achievements, including the establishment of a women's cycling initiative, a bike share program that saw a 30 percent increase in ridership and the distribution of 1,132 bikes to low-income residents in 2014 through the Roll it Forward program.
Gupta said the goal for 2030 is to provide quality transportation services within a 10-minute walking distance of every household. And at this point, he said, Boston is 42 percent of the way there.
There's also the Vision Zero plan, which includes a "slow streets" pilot program to slow down traffic in Dorchester's Talbot Norfolk Triangle (just blocks away from the Bowdoin Bike School) and Stony Brook in Jamaica Plain (which is blocks from Bikes Not Bombs, one of the inspirations for Hicks' school).
The city also plans to increase "blind spot awareness," building off the momentum of an ordinance that requires city trucks to use blind spot mirrors and side guards.
Gupta said the city is "absolutely" moving toward a European-style bicycle environment — which is to say more biking amenities to support more bikers — but it won't happen overnight.
"Bicycle accommodation will always be in the picture," he said. "How that is done depends on all the other competing uses. So sometimes when you're redesigning a street you might say: 'We need a wider sidewalk or an exclusive bus lane,' and so the decisions that we take as to what to prioritize [are] always taken with the community."
This segment aired on March 28, 2016.