Gloucester Police Mark 1 Year Since Launch Of 'Angel Program' To Combat Opioid Crisis
05:46
Play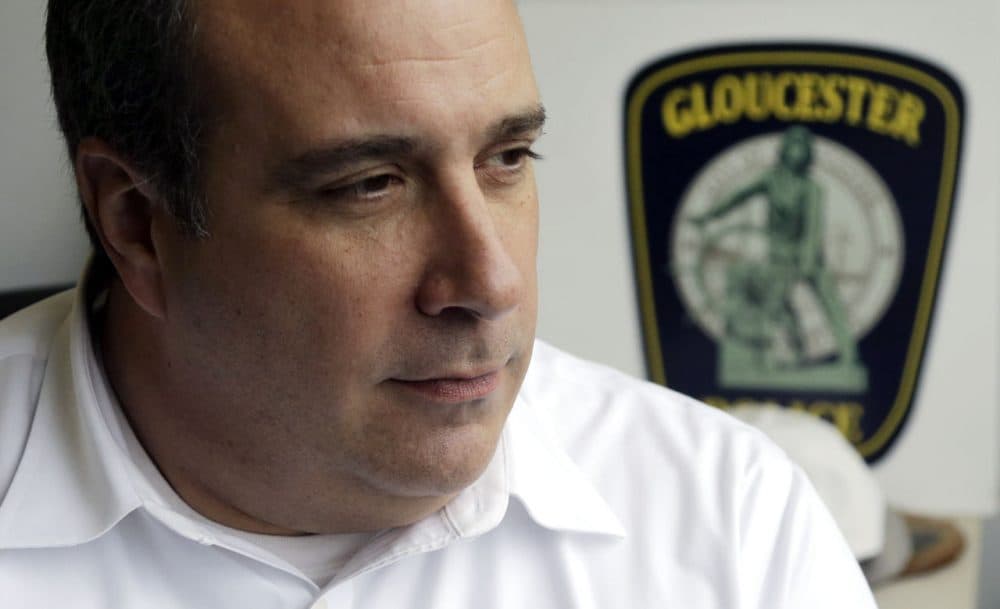 This article is more than 4 years old.
It was a year ago this week that police in Gloucester said they wanted to try a new approach to dealing with the opioid epidemic.
A lot has happened in the past year. Even Gloucester Police Chief Leonard Campanello is surprised by the level of national attention for his so-called "Angel program."
The program allows drug users to come to police for help getting into treatment. Campanello started the program after repeatedly witnessing the ravages of the opioid epidemic: skyrocketing overdose deaths, increasing drug-related crimes and officers often arresting the same people over and over again.
"We certainly didn't expect the attention that it's gotten. We wanted to create something that would be a safe haven for the city of Gloucester, but we feel very responsible for where it's gone and how it's grown," Campanello said.
Changing The Conversation
More than 400 people have gone to Gloucester police for help and more than 100 police departments around the country are implementing similar programs.
"We had to stop trying to arrest our way out of this problem ..."

Gloucester Police Chief Leonard Campanello
Campanello is pleased. He said not only have lives been saved, but the conversation has changed about law enforcement's role in dealing with opioid use.
"We had to stop trying to arrest our way out of this problem," Campanello said. "We're an entity that — right, wrong or indifferent — has a very loud voice in this right now and that people seem to be paying attention. Our job is to lend that voice to people who are suffering from this disease and their support groups."
Campanello also says preliminary data show the program is working. In the first five months of 2015 he says there were five fatal drug overdoses in Gloucester. In the first five months of this year there has been one. The chief also said his program is cheaper: It costs $220 to take a low-level drug offender to court versus $55 to get a person into treatment. And, Campanello says, that $55 is not taxpayer money, but drug forfeiture money. He also said since the launch of the Angel program, there has been a 27 percent reduction in drug-related crimes.
"It appears that crimes that are ancillary to the disease of addiction -- the crimes of desperation: shoplifting, larceny, smash and grabs — have declined since the beginning of the program," Campanello said.
'More Likely To Be Successful'
Boston University School of Public Health researchers are following up with the program participants. So far they've reached about 200 of the more than 400 people who have gone to Gloucester police for help over the past year.
The early numbers suggest that almost 70 percent of the participants completed a treatment program, but 40 percent of the 100 people who would answer the question say they used drugs after first contacting police.
BU public health professor David Rosenbloom said those numbers are still an improvement.
"I think we are ultimately going to see that people who receive the kind of help that they've received by going into a police station, of all places, where people have treated them with respect and dignity — we think that people going through a program like that, with continuing support, are more likely to be successful in entering recovery than people who don't get this kind of help," Rosenbloom said.
Rosenbloom said the program has already achieved its goals of saving lives, shedding light on the weaknesses in substance abuse treatment and changing the conversation about law enforcement's role in the opioid epidemic.
But the program has hit some bumps and has made some changes over the year.
For example, Campanello said police no longer take patients to a hospital emergency room first — they now go directly to treatment — and he's partnered with dozens of treatment providers around the country; many are offering scholarships.
Essex County District Attorney Jonathan Blodgett remains skeptical about the Gloucester program. He maintains that police don't have the legal authority to promise amnesty to those in possession of illegal drugs — to which Campanello said police have always had discretion.
Then in March, Salem District Court Judge Matthew Machera criticized Gloucester police, saying they misled him when he released a woman to the department thinking she was going into drug treatment, and she overdosed in a restaurant bathroom the next day.
Machera has declined to comment, and Campanello said he can't talk about specific cases, but addiction is unpredictable.
"The only guarantee we've ever made is that we'll be here for the rest of a person's life who becomes a participant. Whatever period of recovery they're in, even if it's relapse, we'll continue to be here," Campanello said.
One Year Later
That support was crucial for 31-year-old Steve Lesnikoski of California — the first person to go to Gloucester police seeking help. He had been abusing opioids for 13 years, after he was prescribed Vicodin for a high school sports injury.
After he lost several jobs and was living in his car estranged from his family, he read an article about the Gloucester program. He noticed in the comment section that a woman — who he says wants to remain anonymous — offered to bring people to Gloucester for help. Lesnikoski had been to treatment before and to jail so he was apprehensive, but he said within days he found himself at the Gloucester police station.
"I never had an interaction with police like that where I was treated humanely — no handcuffs — as I sat in the squad car and talked as best as I could, because I was coming off drugs," Lesnikoski said.
After a few days in detox treatment, Lesnikoski's insurer sent him back to his native California for 30 days of treatment.
"I ended up getting high the night I left treatment," Lesnikoski explained. "So I was back in the same position, and I had no idea how I got there."
Soon Lesnikoski was living in his car, and he said he was suicidal. Campanello was trying to check in on Lesnikoski since he left Massachusetts, but Lesnikoski was ignoring the chief's calls.
"I heard the message he left me and he said, 'I don't care where you are or what you're doing I just want to know that you're OK,' " he said. "I ended up calling him back, and I broke down crying on the phone and told him what was going on and that I was in the same position again and that I needed help. He asked me, 'What do you want to do?' and I said, 'I don't really know.' He offered a treatment bed out here. I've been here since Aug. 7 of last year."
Lesnikoski went to treatment and then sober living at a program that abruptly closed in December. So he and some of the other residents found an apartment together and still live there in East Boston.
Lesnikoski said the past year was a whirlwind, and it's difficult to believe the changes and the life he has now — an apartment, a girlfriend, a car and he's enrolled in college this fall.
"This life that's kind of come together is beyond anything I ever dreamed. It's amazing. I think back to where I was this time last year, and I can't describe the amount of gratitude that I have. All I can do is show people and be available and help," Lesnikoski said.
And his future plans involve just that: working in the recovery community — maybe even with police — to assist others struggling with opioid use.
This article was originally published on June 02, 2016.
This segment aired on June 2, 2016.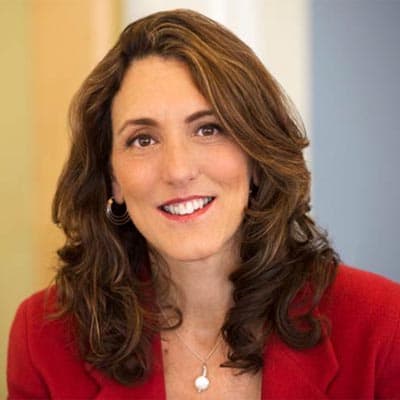 Deborah Becker Host/Reporter
Deborah Becker is a senior correspondent and host at WBUR. Her reporting focuses on mental health, criminal justice and education.