Worcester High Schoolers Take A Knee During National Anthem
03:25
Play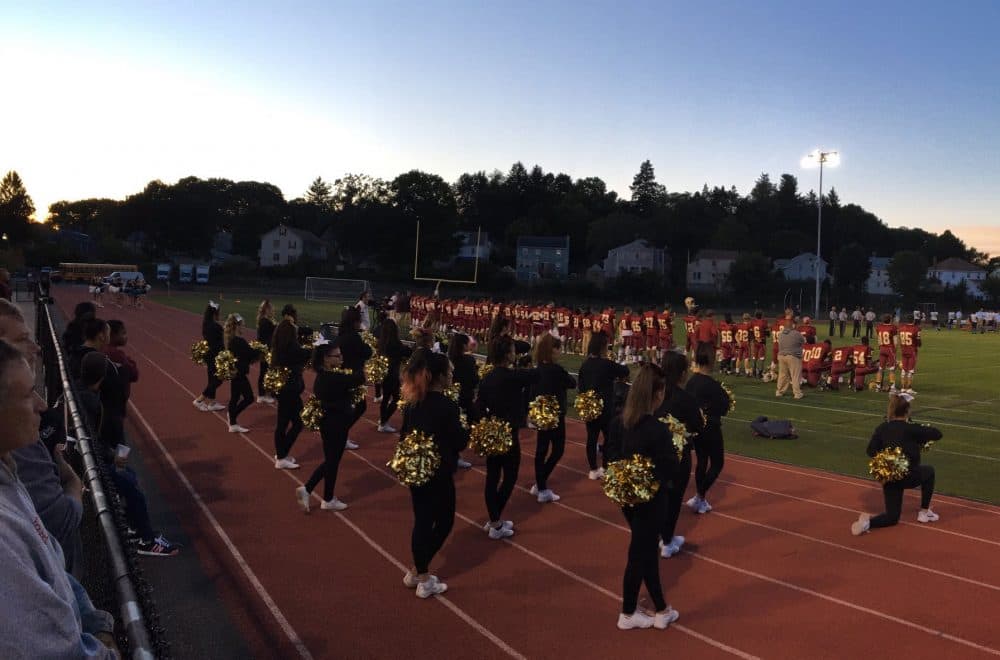 This article is more than 4 years old.
A high school football player whose silent protest went viral last week was joined by three teammates and a cheerleader before Friday night's game.
Mike Oppong, a junior at Doherty Memorial High School, took a knee during the national anthem. He says he is protesting injustice faced by African-Americans.
Doherty High School's second game of the season — against Holy Name, a Catholic high school in Worcester — started with a plea from Worcester Schools Superintendent Maureen Binienda.
"I want everyone to know that at the national anthem tonight, we'd like everyone to stand, but if you choose not to stand, you must do so peacefully," Binienda said to the crowd.
Last week, Mike chose to take a knee instead of standing for the anthem, following the lead of San Francisco 49ers quarterback Colin Kaepernick. After the game he tweeted that school officials gave him a one-game suspension, but school officials quickly denied that.
This time, three teammates joined his protest and knelt. All four protesters were African-American. All the white players stood, though one held hands with a protester.
"It takes a lot of courage to be a young man, to be a student, to be an athlete, to stand out and be one out of a few dozen to do that. And now there were four, and they're supporting him, that's great," said Worcester activist Isabel Gonzalez-Webster.
Gonzalez showed up for the game with her wife and her 6-month-old — all three in Kaepernick jerseys. She herself knelt in the stands and turned her back to the flag.
"Next time they have a game, maybe half of the team will [kneel] down," she said.
Not everyone at the Friday night game agrees. Ryan Rutkiewitz of Worcester says people are welcome to protest in a country with freedom of speech, however says he would stand during the anthem.
"As for me, I stand for the national anthem. I believe that this country is the greatest country, and I'll stand in support of our flag, our country and our troops, and anything else our country stands for," he said. "If other people don't believe that, that's up to them."
David Legare came from Clinton to support the visiting team. He says the protest is especially disrespectful to veterans like him.
"I think it's wrong. I think half these kids don't even know what they're doing, first of all, and what they're protesting about," Legare said. "They have no respect for the American flag, the veterans. I feel they should either not play in this game, or the coaches should somehow discipline them. I know they have a right to do whatever they want in this country, but that, to me, is just so disrespectful."
Doherty High took the lead early in the game, but had to fight off a fourth-quarter comeback by Holy Name to win their first home game of the season. The stands erupted as Mike intercepted a pass for a long touchdown run in the third quarter.
After the game, the Highlanders ran to their bus and headed home, celebrating their narrow victory. Mike didn't comment to reporters on the field, but he spoke to WBUR earlier in the week.
"Black people don't get a lot of equality, and are judged more by the color of their skin than their actions," he said. "The national anthem is basically a celebration of our rights as Americans, and if I'm not getting my rights as an American, then I don't feel like I should be celebrating."
He says he plans to continue to his protest.
"The fact that they're now allowing me to protest peacefully, that means that we're getting somewhere."
WBUR intern Joe Walsh contributed to this story
This segment aired on September 17, 2016.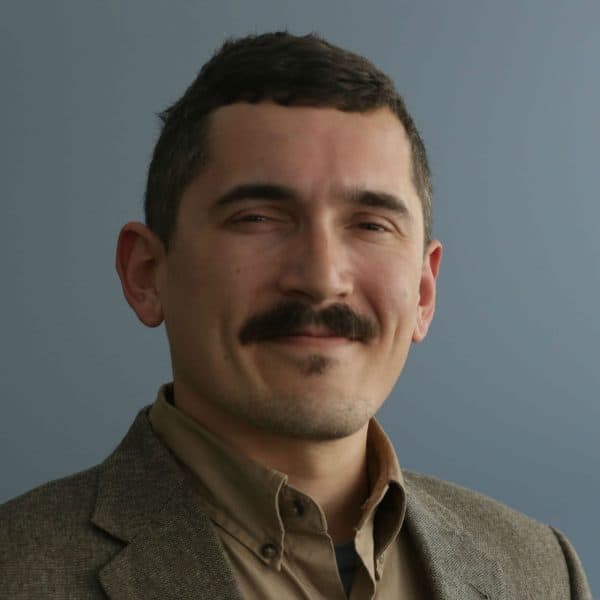 Simón Rios Reporter
Simón Ríos is an award-winning bilingual reporter in WBUR's newsroom.