The '50s Were 'Far From Heaven'; SpeakEasy's Production Is Closer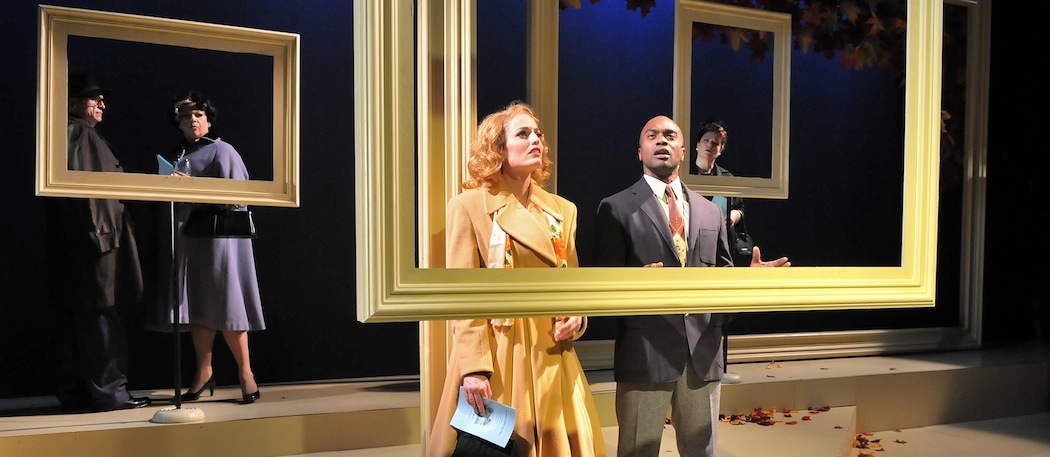 This article is more than 7 years old.
The 1950s. The grandfatherly Dwight Eisenhower in the White House. Norman Rockwell on the Saturday Evening Post cover. Korea winding down. Peace and prosperity. Everybody was happy. Just look at the lush, color-drenched movies of Douglas Sirk — "All That Heaven Allows," "Magnificent Obsession" and "Imitation of Life."
Critics over the years did just that, taking a closer look at Sirk's films and finding that beneath his melodramatic, seemingly celebratory veneer lay an ironic, maybe even jaundiced view of the mores on display in his films. The reevaluation of Sirk reached its apex with Todd Haynes' brilliant homage to his films, "Far from Heaven," with Julianne Moore, Dennis Haysbert and Dennis Quaid.
Haynes' equally lush film dealt overtly with the dark side of the '50s, the three main characters representing women trapped in stifling marriages; blacks who were constantly demeaned and degraded even in "enlightened" Connecticut; gay men who had to live closeted lives and do all they could to be straight, or at least pretend to be.
Given the operatic nature of the film it was almost inevitable the movie would be set to music, particularly now that theater looks to film for inspiration instead of the other way around. (The '50s had some things going for it.) Composer Scott Frankel, lyricist Michael Korie and book writer Richard Greenberg adapted the film in 2012 and their music now comes to Boston in an excellent SpeakEasy Stage Company production that does full justice to the lushness of its source material.
I'm not a huge fan of Frankel's and Korie's — their musical reaction to dramatic subject matter like "Grey Gardens" is relentlessly pedestrian. As with other contemporary musical writers, like Adam Guettel, there will be a germ of a melody that has potential, only to dissolve in a dull dissonance.
As in "Miro":
So why do I like a musical so much when the music isn't very good? First of all there's the Haynes film, so smart, imaginative and soulful in making these three symbols such fully realized human beings that they never seem like symbols, even if the gay husband is kind of a drip.
And then there's the stellar SpeakEasy production (at the Boston Center for the Arts through Oct. 11) that brings out all the virtues of the story while making its musical flaws almost insignificant. Director Scott Edmiston brings his ever-sharp sensibility to the proceedings, bringing an operatic scope to the show that the music itself is lacking. The design team is right there with him, beginning with Eric Levenson's evocative sets. You can practically smell the New England fall, feel the '50s heading toward "Mad Men."
And if Leigh Barrett, sparkling in the New Repertory Theatre's "Closer Than Ever," is the best musical-theater singer of her generation, Jennifer Ellis and Aimee Doherty are two of the best of theirs and having them on the same stage together is a treat.
Ellis was sensational in Gloucester Stage Company's "Jacques Brel Is Alive and Well and Living in Paris" last summer. She doesn't have Brel's sharpness to work with as Cathy (the Julianne Moore role), but she gets the most out of her arias as she tries to come to terms with her husband's homosexuality and her growing interest in her African-American gardener. The secrets and lies she has to live with are as palpable here as in the movie, though Richard Greenberg's ("Take Me Out") dialogue is surprisingly stilted. You don't have to be banal to mock banality.
Doherty doesn't have the songs to show all that she's capable of, but she's a fine actor as well as a singer, as is Maurice Emmanuel Parent as the gardener. Jared Troilo doesn't fare as well as the husband, even more of a drip than in the film, but Troilo doesn't have the presence here of Quaid to pull it off. (And he has plenty of presence, as he proved in Fiddlehead Theatre Company's "A Little Princess.") His character doesn't deserve the grief he gets, of course, for being gay, but I'd give him 5-to-10 for the dopey way he wears his hat.
Edmiston doesn't try to redo the movie, but he does walk that same line between melodrama and tragedy. There's the colorful start with the fall leaves and the almost-neon red of Cathy's coat underlining the beauty of "Autumn in Connecticut," one of the better songs in the score. Cathy believes she's close to heaven. She'll find out differently, though she'll be striving for a different kind of nirvana by "Heaven Knows," the final song.
We hope she finds it. She can't do much better than the SpeakEasy's production in guiding her there.