Report: UMass Amherst Will Spend $8M On Football Team This Year
02:07
Play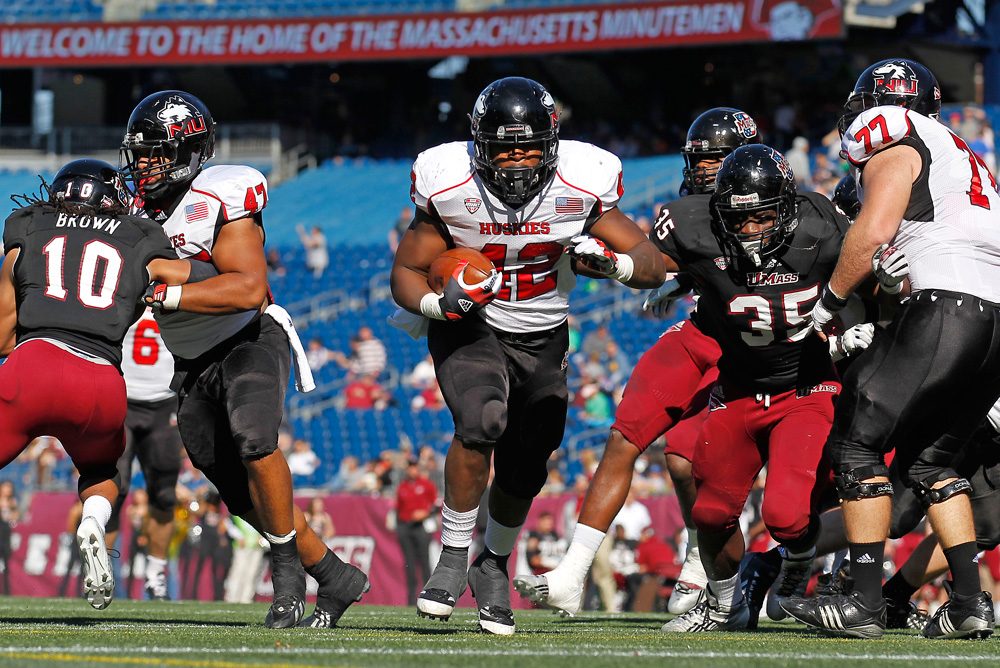 This article is more than 5 years old.
A report projects that the University of Massachusetts Amherst will more than double its net spending on its football program this fiscal year over what it spent in fiscal year 2011, the last year before the university moved up to the highest football level.
In fiscal year 2011, UMass spent a net $3.1 million on football. This fiscal year, it's projected to spend $8.6 million.
The figures matter because of the controversy on campus about the university's move to the Football Bowl Subdivision, the highest Division I level for collegiate football.
The controversy at UMass is not about how well the team is doing. After it hired Mark Whipple as head coach of the Minutemen this year, the team improved by almost every measure. It won three games, compared to one last year; it scored 328 points, compared to last year's 140; and it scored 45 touchdowns, compared to the previous year's 15.
But the argument is not about what's going on on the field. It's about the money — and how you count it.
The UMass Athletic Department projects $5.1 million will be spent on the team this year.
But a report by a Faculty Senate committee, released Thursday, says once you count the cost of marketing; buses to send students to Gillette Stadium for some home games; scholarships; debt payments for improvements to McGuirk Stadium in Amherst; and the costs of a new football training facility there, the university is actually projected spend $8.6 million on the team this year.
"The university, in the way it operates, isn't focused on making a profit for any of its operations," said Ed Blaguszewski, a university spokesman.
Blaguszewski said UMass would have improved the stadium and built the training center even if the team had not risen to FBS level.
The release of the report led to a tumultuous Faculty Senate debate. Chancellor Kumble Subbaswamy said the faculty has no power to decide what to do with the football program. That decision is for him and for the university system's Board of Trustees to make.
The Faculty Senate ultimately defeated a motion Thursday to poll the entire faculty on whether UMass should pull out of FBS football.
Correction: An earlier version of this report used inaccurate language in describing university expenditures on the football team. We regret the error.
This article was originally published on December 12, 2014.
This segment aired on December 12, 2014.