Mass. Braces For Potentially Historic Snowstorm
Massachusetts is preparing for what could be a record-setting blizzard.
Gov. Charlie Baker has declared a state of emergency and instituted a statewide travel ban starting at midnight ahead of a storm that is forecast to drop up to 3 feet of snow on parts of the state, with at least 20 inches of snow expected across most of eastern Massachusetts.
The "major, perhaps historic winter storm begins [Monday] afternoon and continues overnight and through much of Tuesday before winding down Tuesday evening," WBUR meteorologist David Epstein wrote in his Monday morning forecast. "Snow will become heavy with accumulation rates of 1 to 3 inches per hour late tonight and early Tuesday morning."
With a blizzard warning in effect for much of eastern Massachusetts as of 7 p.m. Monday, Baker wants all non-essential travel off the roads after midnight.
"Driving will be virtually impossible in many areas," Baker said at a midday news conference. "I can't stress this part enough."
Baker said state offices will be closed Tuesday and the MBTA is suspending all modes of service for the entire day.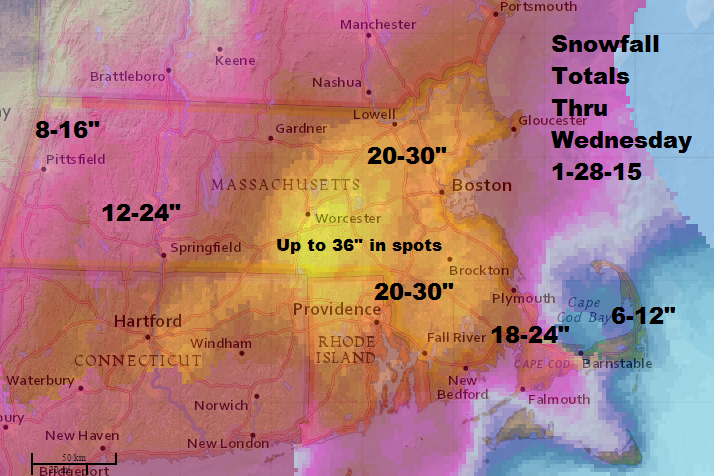 With strong winds — hurricane force in some areas — and heavy, wet snow, particularly in southeastern Massachusetts, Peter Judge, of the Massachusetts Emergency Management Agency, says people need to prepare to lose power.
"There is certainly a potential for hundreds of thousands of outages, and for extended periods of time, so we want people to bear that in mind as they get ready to prepare for the storm," Judge told our Newscast Unit.
Coastal flooding is also a concern. "[High] tides will likely bring moderate to perhaps major coastal flooding to the area," Epstein wrote in his forecast.
Baker has put 500 members of the Massachusetts National Guard on standby, to be quickly deployed if needed.
Logan Airport officials say no flights will leave the airport after 7:30 p.m. Monday. The airport will remain open Tuesday, but there will be no air traffic.
Amtrak has suspended all service Tuesday between New York and Boston, as well as other New England routes.
Boston public schools are closed Tuesday and Wednesday, Mayor Marty Walsh announced midday Monday. School closings were piling up statewide.
"I would suggest that once you park your car [Monday night], you leave your car there and you do not leave your house," Walsh said.
Boston's snowstorm record is from 2003, when 27.6 inches of snow fell.
With reporting by WBUR's Abby Elizabeth Conway and Benjamin Swasey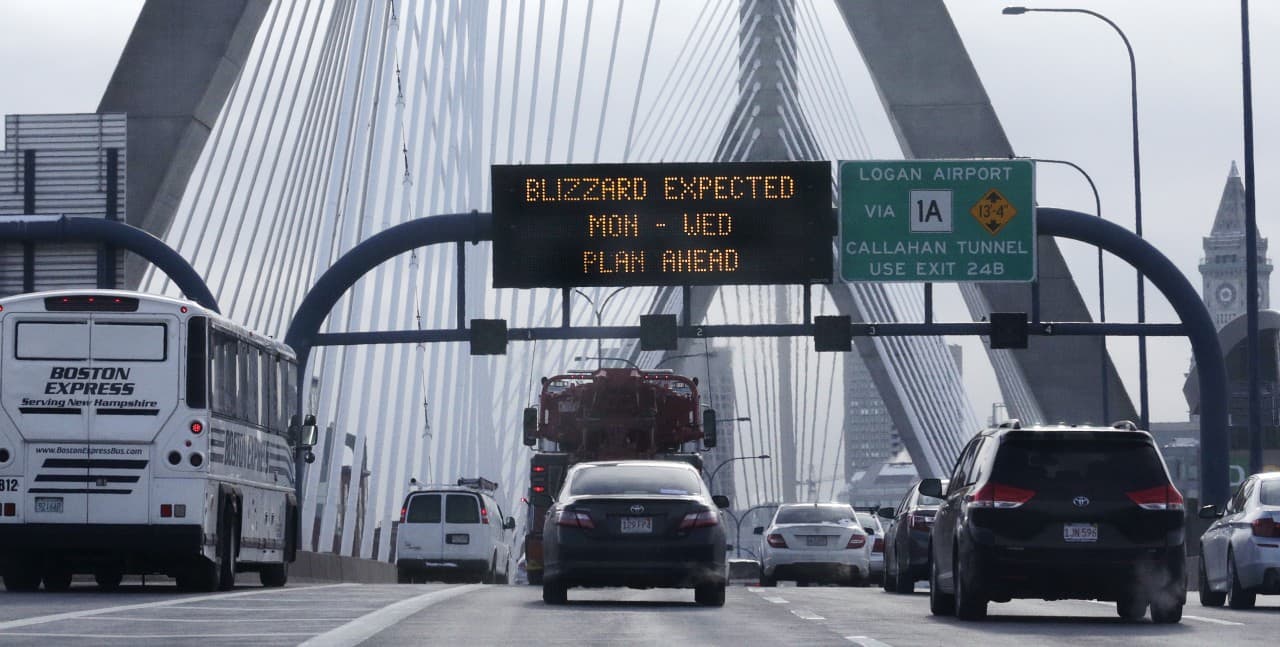 This article was originally published on January 26, 2015.