Another Tough Commute In Boston Wednesday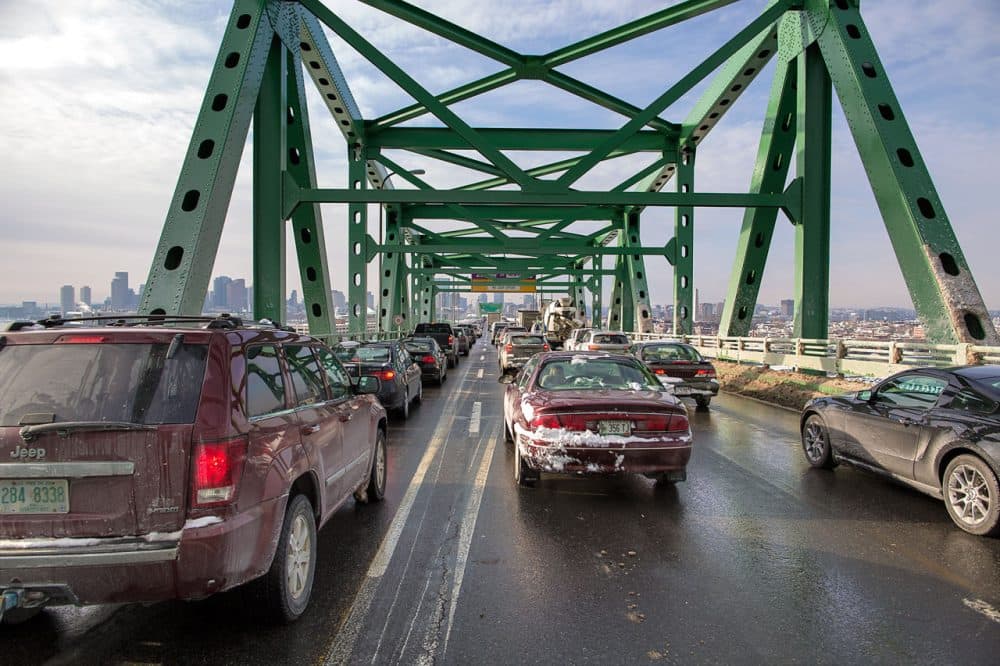 This article is more than 6 years old.
After a nightmarish commute Tuesday following a record-breaking week of snowfall in Boston, there were still delays across the MBTA Wednesday morning but transportation officials said things were beginning to improve.
"We are still working on it, but when you got so much to dig out of, you have to take it car by car, switch by switch, station by station," MBTA GM Beverly Scott told WBUR's Newscast Unit Wednesday morning.
Scott said the T was able to add 100 more subway cars since Tuesday, but that the system's aging fleet was still suffering from mechanical problems caused by the snow and cold.
"Yesterday we said severe delays, today we're saying delays across the system," Scott said. "But there is a significant improvement."
All subway lines reported delays Wednesday, as well as most commuter rail lines. Buses are still replacing trolley service on the Mattapan line.
Plenty of riders took to Twitter to unleash their ire over the continued service issues, while others expressed relief that their commute had improved.

total @MBTA commute time #BrooklineVillage to #SouthStation: 2hrs. Could've walked faster. With my boots on the wrong feet #doyourjob

— Reese Lichtenstein (@thelastlstein) February 4, 2015
Commute today... 2 hours. That's 30% faster than yesterday. Reach for the stars, #mbta: http://t.co/TeeKWYEVXg

— MBTA Instagrams (@MBTAInstagrams) February 4, 2015
For the record, my commute this morning was great. Two trains in five minutes, and no stops between stations #mbta #redline

— Ashley (@almostpolitical) February 4, 2015

T officials warned in a statement Wednesday that delays would be compounded by the hordes of fans attending the Patriots' Super Bowl victory parade in Boston Wednesday.

No additional service was provided for parade-goers, and officials said trains would be crowded.

Boston Mayor Marty Walsh on Tuesday defended his decision to hold the parade Wednesday, despite commuter complaints and continued snow clean-up. He said if the parade were further delayed, players would not have been around to participate.

Why yes, a parade on one of the worst weeks of traffic in Boston would be great! The more the merrier! #paradedaycommute

— Liz Smith (@LizSmithNH) February 4, 2015
Never seen Hyde Park Ave backed up like this. Go Pats!!! #traffic #Patriots #Boston pic.twitter.com/iMaK9sJyd3

— Miles Howard (@MilesWHoward) February 4, 2015

Some people tweeted that they felt the commuter congestion over the past two days indicated that the city should not be tapped to hold the 2024 Summer Olympics.

I think the issues with the MBTA and traffic in Boston over the last 2 days is the exact reason the city is not ready to host the Olympics

— Ryan Hamilton (@ryhams) February 4, 2015

The roads Wednesday morning were not nearly as bad as Tuesday's gridlocked evening commute. But traffic was still at a standstill in some areas and on major roadways.

So much traffic in Boston. Been this way for miles & still have 4 mi to go before we are in the city #patriotsparade pic.twitter.com/lVPg0sHV7V

— Jessica Gagne (@JessicaGSports) February 4, 2015
I saw at least five people taking quick naps while stuck in the #Boston traffic this morning...Now that's what I call efficient. #goodforyou

— K M (@kmisra43) February 4, 2015

After two days off, Boston students had to wait extra time in freezing temperatures as a number of school buses were delayed due to the tough road conditions. Other school districts opened late to allow more time for snow cleanup Wednesday.