Boston MFA Names Matthew Teitelbaum Its New Director
Play
This article is more than 8 years old.
The search took more than a year, but the Museum of Fine Arts, Boston has found a new director. His name is Matthew Teitelbaum, he hails from Toronto, and he will succeed Malcolm Rogers, who departs after leading the MFA for two decades.
The MFA's Board of Trustees sealed the deal with the 59-year-old museum world veteran, who currently directs the Art Gallery of Ontario (AGO), Thursday morning.
MFA board Chair Lisbeth Tarlow also co-chaired the 13-person search committee, and said the trustee vote on Teitelbaum was unanimous.
"He's intellectual, he's smart, he's passionate about art, and he is also extremely people-oriented," Tarlow said. "That's exactly what we want to see going forward, that's what we're all about."
Transformation In Toronto
Teitelbaum has directed the AGO since 1998, and Tarlow says he transformed that institution. Teitelbaum raised hundreds of millions of dollars, oversaw a $300 million expansion by Toronto-born architect Frank Gehry, and added about 60,000 new works to the museum's permanent collection. There have also been a string of hit exhibitions, including explorations of Pablo Picasso and King Tut.
Dig a little deeper and Tarlow says you'll find art in Teitelbaum's DNA.
"Everything from that spectacular Gehry building, and the way he diversified audiences and brought in programming," she said, "and it probably was a little bit of a reflection of being a son of an artist who believed in art and that artists should be in the door."
"It's true, I did grow up with art all around me," Teitelbaum confirmed in an interview, "and I used to come home from school and there would be paintings leaning up against the wall — it was just part of life."
And his big-picture goal is to make art a part of everyone's life — first in Toronto, now in Boston.
"I do think we as institutions exist in the service of audiences, but also in the service of artists."

Matthew Teitelbaum
Internalizing Lessons From An Artist Father
In the 1980s Teitelbaum's father, Mashel Teitelbaum, was a provocative, fearless contemporary artist. He once picketed outside the Ontario museum where his son would ultimately become director.
"My father had many points of view about many things," Teitelbaum said with a laugh, "about notions of authority, about institutions and concepts of power. And his protest against the Art Gallery of Ontario for not representing the lives of artists and the work of artists was deeply felt, and he felt that the artist's voice was often silent."
Teitelbaum internalized his father's views and put them into action when he became director of the AGO 17 years ago. He and the staff became advocates for Canadian artists.
"I do think we as institutions exist in the service of audiences, but also in the service of artists," Teitelbaum said. "And I think that's an obligation and a responsibility."
Teitelbaum is also interested in integrating museums more fully into their communities. He calls the institutions "cultural meeting places" where people can "gather with purpose," and he believes in art as an agent of change. Teitelbaum wants to infuse the MFA with these ideas and looks forward to building on his predecessor's accomplishments.
"I don't think it's a radical reinvention. I think it's a matter of standing on his shoulders and seeing what the view is like," said Teitelbaum, who then shared a conversation he recently had with the retiring Rogers, in which he used that very phrase.
"I said, 'I will stand on your shoulders and I admire extraordinarily what's been achieved, and we'll just go maybe a bit further.' " Then he added, "I certainly feel that Malcolm's spirit is going to be around for a long time."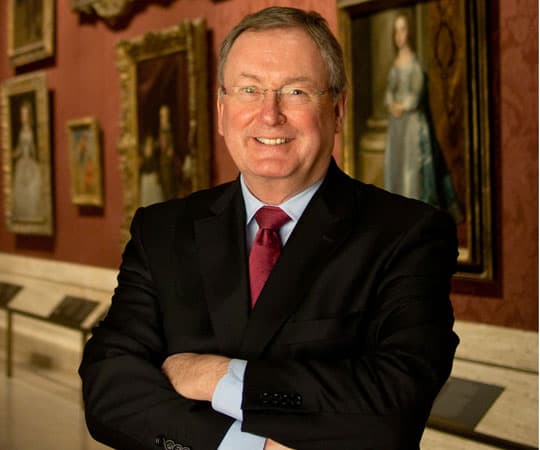 Rogers: MFA 'In Good Hands'
Rogers called Teitelbaum "a star."
"I know the museum is in good hands," he said. "He has a passionate commitment to art, to contemporary art, and to the social roles that museums can play in society. He has all the background as a wonderful administrator — so what more could you want?"
But Rogers did point out differences between the Canadian art institution and the MFA, where raising money is a huge part of the job.
"There's going to be a difference in scale, and obviously a difference in country, though he's worked in Boston before [as a curator at the Institute of Contemporary Art]," he said. "But it is going to be very different, it's a museum that's fundamentally privately funded as opposed to supported from public sources. It's a different climate."
When asked if he'll stick around to help Teitelbaum transition into his new job at the end of the summer, Rogers replied, "If he'd like to talk, or needs advice, I'm there as a resource," then the outgoing director jokingly added, " I wouldn't use the phrase 'stick around.' "
Rogers' last day at the MFA is July 31. Teitelbaum starts his job as the 11th director in the MFA's 145-year history on Aug. 3.