<em>Finally</em>, 9 Signs Of Spring Around Boston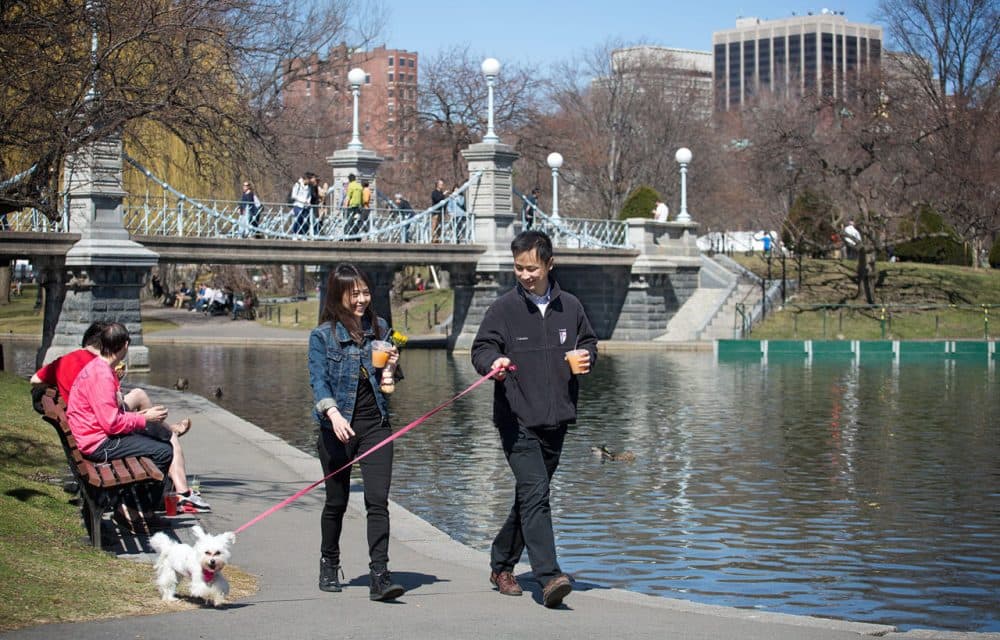 This article is more than 6 years old.
Spring has finally sprung in Boston. And with the sun shining and temperatures in the 60s, Bostonians have busted out the short sleeved shirts and are taking to streets and walkways around the city. Here's a look at several signs of spring:
1. It's Opening Day At Fenway Park!
Perhaps the biggest sign that winter is officially behind us: The Red Sox will take on the Washington Nationals for Opening Day at Fenway. The game starts at 3 p.m. and Wally the Green Monster is ready to go.
[asset]2015/0413_facebook-wally-video/[/asset]
---
2. Flowers In Bloom
After months of gray skies and record amounts of white snow blanketing the ground, beautiful bursts of orange, yellow, red and purple are beginning to appear as flowers start to bloom around town.
Spring has officially arrived in Boston... Time to bring out the cargo shorts! Beautiful weather today. pic.twitter.com/wvv23Vli9J— Br. Andrzej ن (@AndrzejSkon) April 12, 2015

---

3. Make Way For Spring Ducklings
On the Boston Public Garden, even the famous Make Way For Ducklings statues are dressed up for spring.

---

4. Biking To Work
This winter it seemed only the most hardcore cyclists took to the streets. Now, the warmer temperatures are drawing out more cyclists and some are changing their commutes to bike to work. And, in another sign of spring, Hubway is officially reopening with system-wide service this Friday.

Mr.TinDC via Compfight

---

5. Sails Up
While some are pulling out their bikes, others are taking to Boston's waters as the warmer temperatures arrive.

---

6. Outdoor Dining
The warmer temps also mean it's al fresco dining season.

the sun is shining and I'm eating lunch outside. forgot what it feels like to be a human outdoors! last three days in #Boston. — Elizabeth Gerrity (@strawberifield) April 13, 2015

Cheers to Spring!! #PatioSeason #Cafeteria #Boston #BackBay #CityLiving @CafeteriaBoston @geaboujaoude pic.twitter.com/OrlLQDRsrI— KK (@KathrynLynHam) April 11, 2015

---

7. Pothole Season
Potholes may not be a welcome sign of spring, but they certainly are a sign of the season. As the area thaws out, potholes are an inevitable reality.

---

8. Melting Snow Piles
With all the wonderful signs of spring all around us, there are still a few remnants of winter left — namely, snow piles. Boston did have record-breaking snowfall this winter, after all. But the good news is that those remaining piles of snow are finally disappearing.

---

9. Marathon Monday
In exactly one week, the 119th Boston Marathon will take place with runners from around the world and the country. Preparations for the annual spring event are well underway — security guidelines were announced Wednesday and the Boston Athletic Association said 30,000 runners will run the race.

It's official. I've been presented with the incredible privilege of running the 2015 Boston Marathon. Hopkinton, see you in 11 days. — Jonathan Levitt (@JWLevitt) April 10, 2015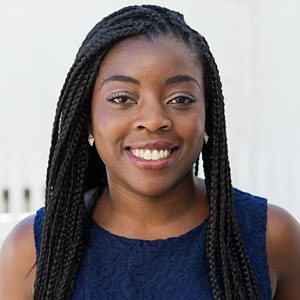 Zeninjor Enwemeka Reporter
Zeninjor Enwemeka is a reporter who covers business, tech and culture as part of WBUR's Bostonomix team, which focuses on the innovation economy.