Mr. Popular: Baker Starts Term With Highest Approval Rating Among New Governors
04:29
Play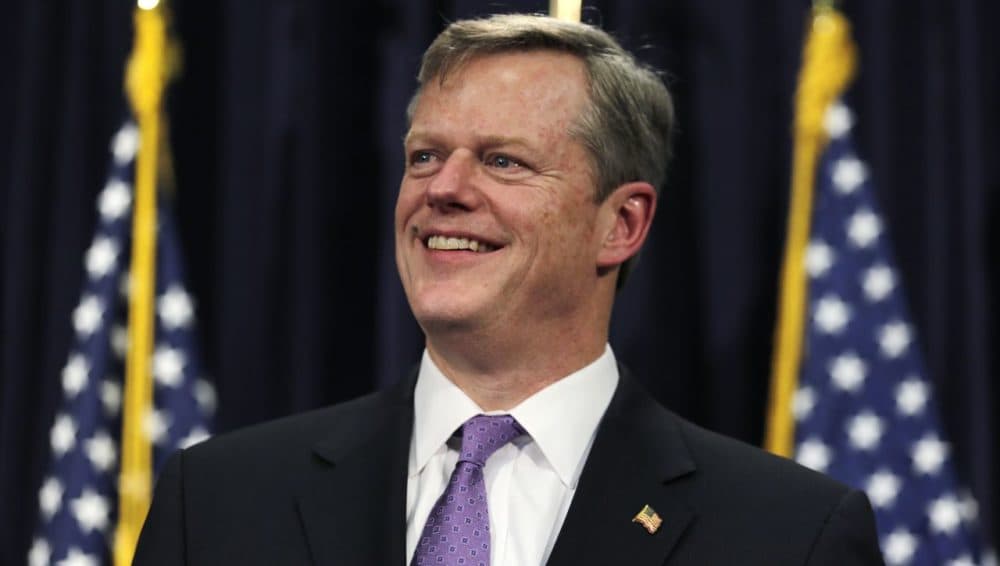 This article is more than 7 years old.
There's a lot of fluctuating political polling out these days, but one data point is consistent: Gov. Charlie Baker is a popular guy.
He's got the highest approval ratings of any new governor in the country. And political analysts say his popularity is more than just the usual honeymoon.
He Barely Won His Office, But Remains 'Wildly Popular'
The most recent WBUR poll found nearly 70 percent of voters have a "favorable" opinion of the governor.
"At this moment, he's seen as favorably among Democrats as Elizabeth Warren is — that's quite remarkable," said pollster Steve Koczela, of The MassINC Polling Group, which conducted the survey for WBUR. He adds that Baker is not just popular compared to other politicians around town. He's also way more popular than both the last two governors — Deval Patrick and Mitt Romney — were at this point.
Michael Widmer, a longtime observer of the Massachusetts political scene, said what makes Baker's story really interesting is that he's a Republican in Massachusetts who barely won the election.
"He won by a bare 41,000 votes and now a few months into his administration he's really wildly popular," Widmer said.
The governor faced a winter that could have literally been a trainwreck for him. The MBTA broke down. Baker said the mess was unacceptable. And he quickly proposed a legislative fix.
Widmer said the governor handled the crisis well.
"The public saw him in operation, and I think they felt confident in his leadership," he said.
The other key factor for Baker's success, according to Widmer, is that he is a Beacon Hill insider.
"He comes into this position as governor ... with qualifications that few, if any, governors have ever had or will ever have," Widmer said, adding that Baker's experience helped him avoid some of the fumbles Patrick and Romney made out of the gate.
Baker also brought in a strong bipartisan team, which analysts say increased his goodwill with Democrats and independents.
"At this moment, he's seen as favorably among Democrats as Elizabeth Warren is -- that's quite remarkable."

Steve Koczela, president of MassINC Polling Group
Some political observers say Baker's popularity may be partly because his administration is friendly with the press and the media give him a pass.
Others say the governor hasn't actually pursued anything controversial yet.
The governor says it's "obviously gratifying" to see the poll numbers.
"I think our administration has made a good first impression, and that certainly beats the alternative -- making a bad first impression," Baker said.
Political Capital To Spend?
But Baker said it's early in his administration, and he doesn't really see himself with any "political capital" to spend.
"We've done a pretty good job of kind of making our case about being about the work and getting stuff done and being bipartisan," he said. "But, more than anybody else in the administration probably, I am acutely aware that we are as good as we are up until today, and then there's always tomorrow."
But analysts say Baker's extraordinary approval ratings allow him to think more creatively about his job.
"I think this positions him to make some really significant changes because early impressions of governors stick," Widmer said. He believes the MBTA could be a major reform for the governor.
"... I am acutely aware that we are as good as we are up until today, and then there's always tomorrow."

Gov. Charlie Baker
The governor says his next priority is opioids. His task force is putting out recommendations next week. He's also eager to lift the cap on charter schools.
"I think you're also gonna see us focus a little more on what I would describe as educational initiatives," Baker said. "I'm very interested in coming up with a strategy to expand our current technical school infrastructure."
Analysts say in time Baker will have fights with the state Legislature and make mistakes.
In fact, on Thursday, Baker did stumble.
On WGBH Radio he was asked his opinion about the Confederate flag at the state capitol in South Carolina.
"South Carolinians can make their own call," he replied. "I do believe that the reason that flag still hangs there is, you know, what I would call tradition or something like that."
He got some flack for that comment. Later, in the evening the governor said he was sorry. And he told The Boston Globe the Confederate flag at the South Carolina statehouse should be taken down.
But the question this morning is whether that blunder costs the popular kid on the block any political capital.
This segment aired on June 19, 2015.