CDC Report: Number Of Cyclist Deaths Increasing For Adults, Decreasing For Children
A new report by the Centers For Disease Control has found that the number of cyclist deaths have decreased across the country, especially among children, though deaths have increased among adults.
The report, released Thursday, examined cyclist deaths involving motor vehicles. Using data from the Fatality Analysis Reporting System from 1975 to 2012, the report examined 48 states and the District of Columbia (data was not available for Alaska and Hawaii).
Overall the fatality rate for cyclists in motor vehicle collisions decreased 44 percent over the 38-year study period. The sharpest decline was among children below the age of 15, with a 92 percent decrease in fatalities. However, the fatality rate for adults aged 35-74 increased nearly threefold during that same time period. (Click to enlarge chart below)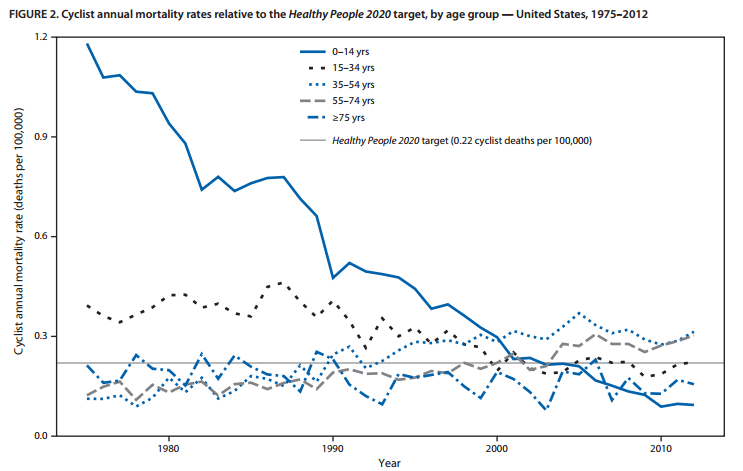 Cyclist deaths also varied by gender. The fatality rate for men was six times greater than for women and in 2012, men accounted for 87 percent of all bicycle deaths in the country, the report found. The report also noted that most of the growth in bicycle use in recent years has occurred among men aged 25-64.
In Massachusetts, the overall number of bicycle fatalities has decreased by more than half (56.9 percent) from 1975 to 2012. Maine had the greatest decrease in cyclist deaths (78.7 percent) while Florida had the smallest decrease in cyclist deaths (9.7 percent).
The report attributed a number of factors to cyclist deaths, including: the growing prevalence of cycling, road design and engineering, traffic law enforcement, driver and cyclist behavior, helmet use and traffic volume. Cyclists are twice as likely as vehicle occupants to die on U.S. roads, the report notes. And although bicycles account for about 1 percent of trips made in the U.S., more people are taking to the streets on bikes — mostly adults, while bike use among children has declined — according to the report.
The findings come as there has been renewed discussion about bike safety after a woman died in a bicycle crash in Boston last week. As more people ditch their cars and take up biking, the report calls for "multifaceted, integrated approaches to bicycling that address safety while also promoting cycling." This includes things such as extensive bicycle infrastructure, traffic calming measures and education initiatives for motorists and cyclists — something some experts are calling for in Boston.