After Fatal Bike Crash, One Expert On How To Make Boston Safer For Cyclists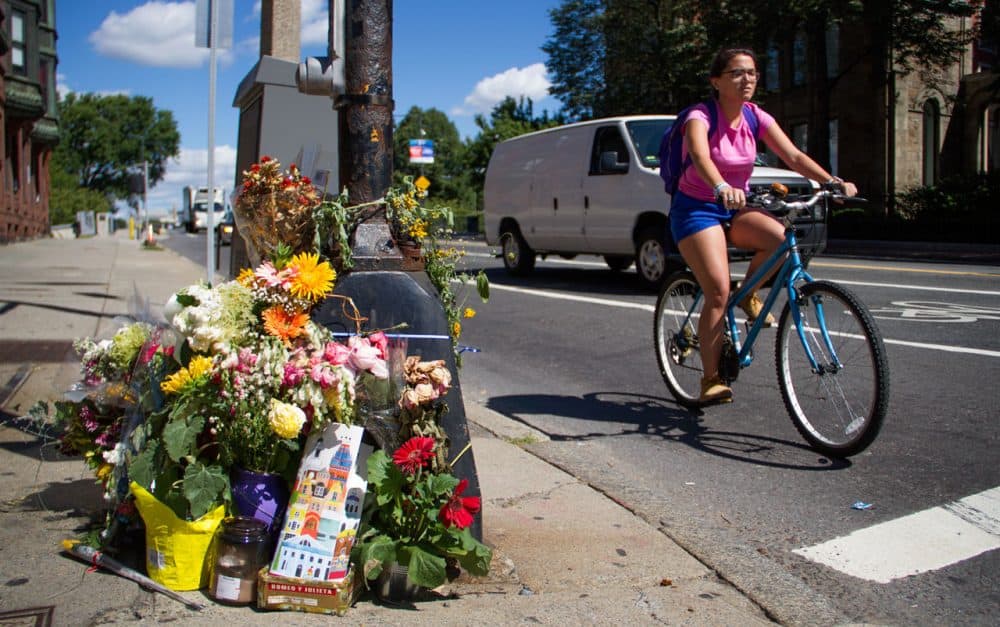 This article is more than 7 years old.
A bike crash that took the life of a woman in Boston last week has renewed discussions on bike safety in the city.
It's an issue that has come up in recent years following other similar incidents, and as advocates push for more bike-friendly infrastructure around the city. In June, an 8-year-old girl was struck and killed while riding her bike in Mattapan. A month earlier, a teenager was killed in a bike crash in Dorchester. And in previous years, there have been other fatal bike collisions, such as the 2012 death of a Boston University student.
We reached out to Dahianna Lopez, a PhD student in health policy at Harvard University who has studied bike crashes in the city of Boston, to find out what can be done to make the roads safer for cyclists.
Lopez has collected bike collision data and created an interactive map of bike collisions in Boston from 2009-2012 as part of a fellowship with the Boston Area Research Institute. (You can also check out the raw data here). She also worked on the city's 2013 Cyclist Safety Report and has done similar research in San Francisco.
Lopez said her interest in bike safety goes back to her days as an emergency room nurse in Los Angeles, where she saw firsthand the aftermath of bike crashes, including death.
"Instead of looking at patients and being upset every time someone came in and had legs that were amputated or became very disabled for life because of it, I decided to study something that was on the macro level and look for ways to bring together different disciplines to try to find solutions," Lopez said.
Here's what Lopez had to say about making Boston safer for cyclists, the city's transportation challenges and her hopes for the city's new active transportation director, who is set to begin work Monday: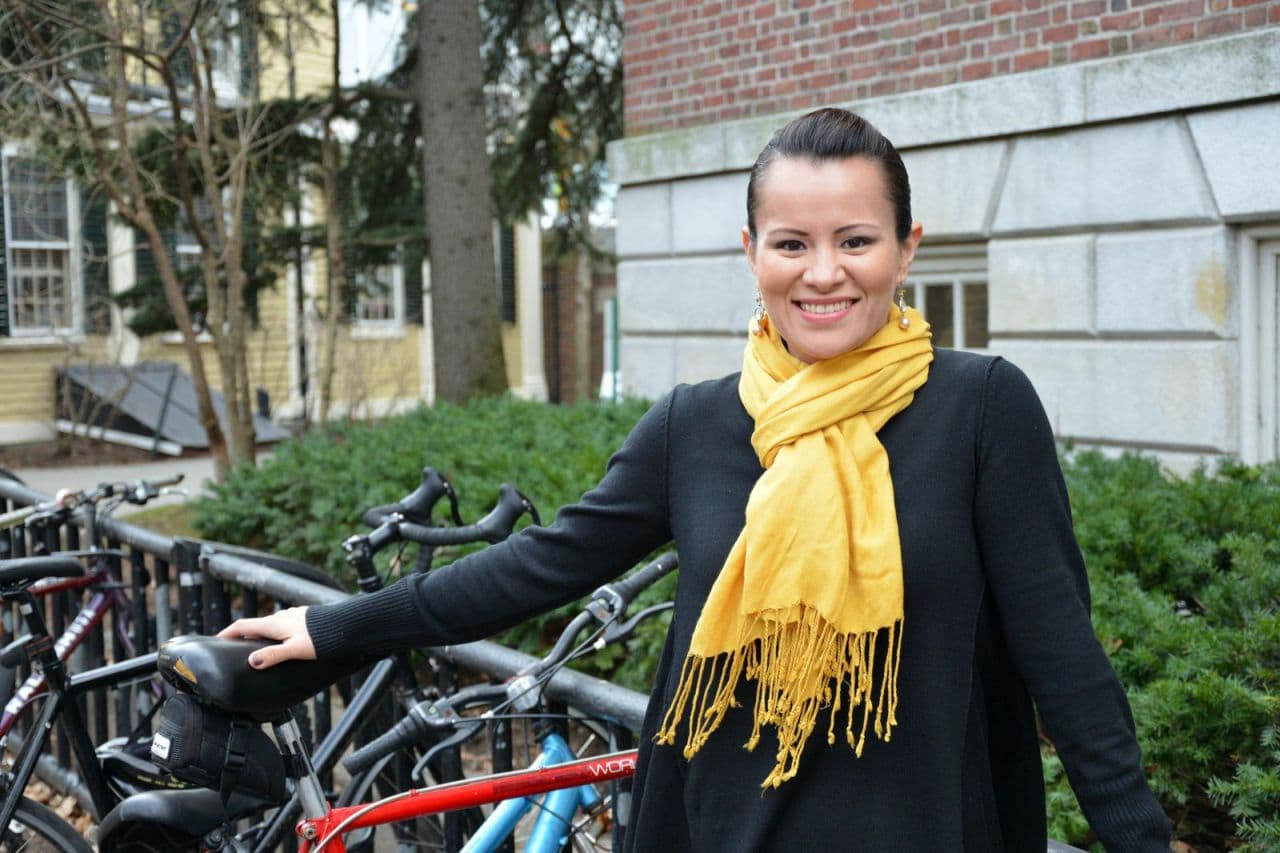 You've been studying and tracking bike collisions in Boston. Are things more dangerous for cyclists now than in the past?
To be honest I think there's more attention being called to the problem. When a story comes out about cyclists being injured in Boston, every single time I'm thinking, well, we could have prevented it. And people will always argue that cyclists are not being careful or that it's the drivers fault or the cyclist's fault. We just have to stop pointing fingers and just work on solving the problem together. As lofty as that sounds it's what works.
So looking at the dots on the map, you find where the problem is, you find the extent of the problem, and then you look at what solutions might be available and then you implement that.
What do you see as the biggest transportation challenges in Boston?

Honestly, I think it's literally having a seat at the table with all of the heads of the different departments. Let's say I'm a cyclist who was hit and I was hit at a particular place ... if we know there's a high rate of cyclists in that area, did we have more police officers in the area kind of slowing down traffic? Did we work with universities about the students and work with students directly and give them more information about safer routes or making sure that they're wearing helmets?
The biggest challenge is not the cyclists and it's not the driver, the biggest challenge is having agencies fit together and figure out how to work together.

There was a recent cyclist death last week. What do you think the city can do to make things safer for cyclists?
There are various things. I think definitely traffic calming, making random stops — ensuring that drivers are following the rules of the road, ensuring that cyclists are following the rules of the road. That's more on the law enforcement side.
Visibility. Some areas are really dark and some areas are really well lit and there are some places where the lights don't work at all. So more lighting, definitely in areas where there are more crashes, where things happen every year. If you look at the map, it happens in the same places every year. You know how many people are going to get hit every year and you can pretty much tell where in the city they're going to get hit. So more lighting, more enforcement, more education for both drivers and cyclists.
So what could we have done for last week? We could have had more things in place at the environmental level ... to try and prevent this.
More lighting, more enforcement, more education for both drivers and cyclists.
You also studied bike safety elsewhere. What can Boston learn from other cities?
They can learn a lot from European cities. I think they can learn to really push for a culture of bicycling as a form of transportation. I think the [Boston Cyclists Union] is really working hard on that and I give them a lot of credit for that.
If you look at a place like Amsterdam, you go over there and there are so many bicycles … and their bicycles have their own little lanes, they have places where they can park their bicycles. It's almost super-normalized — it's just a normal everyday thing to use a bicycle. I think in Boston and in San Francisco it's really kind of brave to get on a bike or you need to really love cycling to get on a bike.
Boston has hired an active transportation manager director, Stepfani Seskin, who begins her new role Monday. What do you hope to see from her?

I'm positive that she'll hopefully be working with multiple agencies. I don't know this person but I'm sure this person has a lot of experience doing active transportation. Highlighting the health benefits of cycling, that's what's really going to help her. The benefit to cycling is much greater than the likelihood of you being in a crash. But there is a likelihood of you being in a crash, and the likelihood of you getting injured if you are in a crash is pretty high.
So I'm hoping she will ... normalize [biking]. We [need to] balance out the mode share. Ninety percent of the time our mode of transportation is the vehicle, or maybe the train, depending on where you live. The mode of transportation that's least likely to be used is the bicycle. So what she's probably going to try to do is to flip that and encourage people to use more active forms of transportation and to focus on the benefits.
OK, Bostonians, your turn: What do you think should be done to improve bike safety? Leave your thoughts in the comments section.