WBUR Poll: Close N.H. Race Between Trump, Carson
Play
This article is more than 7 years old.
Businessman Donald Trump leads retired neurosurgeon Ben Carson in the New Hampshire Republican presidential primary, 22 percent to 18 percent, according to WBUR's first poll of the race.
Trump's lead is within the survey's margin of error of 4.9 percent.
In third place is former Hewlett-Packard CEO Carly Fiorina, with 11 percent. She's ahead of the one-time New Hampshire front-runner, ex-Florida Gov. Jeb Bush, who's at 9 percent with Ohio Gov. John Kasich.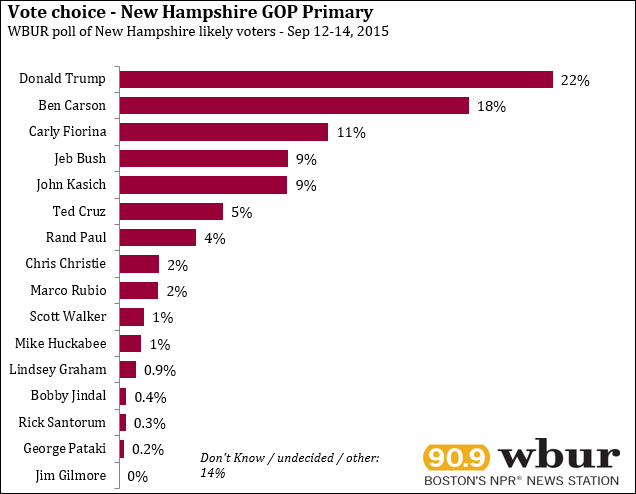 The poll (topline, crosstabs) indicates that Carson is closing in on Trump.
"This is a much closer race than we've seen over the last few months in pretty much any state, but it's similar to a couple polls that have come out just in the last few days, and a couple in Iowa from the last few weeks, that have shown Ben Carson doing much better against Donald Trump than anybody has done in quite a while," said Steve Koczela, of The MassINC Polling Group, which conducted the survey for WBUR.
Overwhelmingly, likely voters in the New Hampshire Republican primary say it's "very important" that their chosen candidate "says what he or she truly believes." Eighty-seven percent of poll respondents said that.
And 94 percent of Trump supporters said it's "very important" their candidate "says what he or she truly believes."
"He's not politically correct," Trump supporter Theodore Martin said in a phone interview. "He says what he means and does what he means."
Martin, who lives in Rindge, on the border with Massachusetts, said he wants a president who is going to do what he says he's going to do.
"When [presidents] get into office they never seem to do what they told the American people they were going to do," Martin said.
Carson, too, benefits from people looking for someone who "says what he or she truly believes." Ninety-two percent of his supporters said that's what they want to see in their candidate.
Among them: contractor Gary Anderson. "I believe what he puts out there is going to be the truth and he'll most likely act on it, not like most of the politicians we've seen in the recent past," Anderson said.
The poll also found that just 24 percent of likely Republican primary voters say it's "very important" that their candidate have "experience in [another] elected office."
That's what Anderson, who lives in Nottingham, near Durham, said.
"I don't think political experience is what's needed," Anderson said. "I think it's knowledge of how the system works, but also knowledge of what the people want."
Fiorina also benefits from the fact that likely Republican voters don't want someone who is part of the political establishment.
Elizabeth Tibbets said she supports Fiorina because she's not part of the Washington clique. Tibbets, who lives in Goffstown, near Manchester, said political experience is not very important.
"Except that they have to know how to get around the entrenched politicians that we have in there now," Tibbets said.
Eighty-five percent of Fiorina supporters said it's very important that their candidate be able to bring real change to Washington.
The live telephone survey of 404 likely primary voters was conducted Saturday through Monday. Its margin of error is 4.9 percentage points.
This segment aired on September 16, 2015.