'It Was Her Time To Die,' Boyfriend Allegedly Said Of Toddler Found On Deer Island
Editor's note: This story contains some disturbing details.
BOSTON — Rachelle Dee Bond and Michael McCarthy pleaded not guilty Monday in connection with the death of 2-year-old Bella Bond, the long-unidentified girl whose remains were found on Deer Island in June.
McCarthy, 35, faces murder charges and was ordered held without bail Monday. Bond, the toddler's mother, 40, is being charged with accessory after the fact. She was ordered held on $1 million bail.
Bond and McCarthy also face charges of improper disposal of a body.
The two appeared in Dorchester Municipal Court Monday, standing behind a glass partition, and are due back in court on Oct. 20 for a probable cause hearing.
Bella Bond's body was found on June 25 inside a trash bag by a woman who was out walking her dog on the Boston Harbor island in Winthrop.
The discovery of "Baby Doe" spurred a massive police campaign to learn her identity. A computer-generated image of the girl was distributed throughout the state and investigators looked into hundreds of tips. It wasn't until last week that the girl was identified.
The break in the case came after a tip was called into the Boston Police Department.
New details about the case emerged during Monday's proceeding.
Assistant Suffolk County District Attorney David Deakin said Bond told investigators that one evening in late May, Bella didn't want to go to bed and was being unruly. Bond told police McCarthy went to the girl's room to try to calm her down, Deakin said. Bond later went to check on Bella and saw McCarthy standing over Bella with his hand near the girl's abdomen, while her head appeared swollen and grey, Deakin said.
According to Deakin, Bond told investigators she knew her daughter was dead but McCarthy wouldn't say what he did. McCarthy did, however, say "she was a demon anyway, it was her time to die," Deakin said. Bond told investigators that McCarthy said he would kill her if she went to the police about Bella's death, according to Deakin.
Deakin said Bond told police that McCarthy later brought a large amount of heroin to the apartment and injected her and the two became intoxicated for days. Deakin said it was unclear whether Bond was injected with or without her consent. Bond told police McCarthy put Bella's body in a bag and they later dumped it into Boston Harbor.
A final report from the medical examiner on the cause and manner of Bella's death is still pending, though the examiner has ruled out natural causes in Bella's death, Deakin said. And preliminary DNA comparisons done appear to confirm authorities' identification of "Baby Doe" as Bella Bond, according to Deakin.
Also in the courtroom Monday was Joseph Amoroso, who has identified himself as Bella's biological father.
At one point during the arraignment, as Deakin outlined the state's case against Bond and McCarthy,  a woman interrupted the proceedings and shouted, "I hope you rot in hell. You f---ing rot in hell!" The unknown woman was escorted out of the courtroom.
Deakin also spoke about a "lifelong friend" of McCarthy's who had lived with the couple earlier this year for one to two weeks. That friend, who was not named in court, told police he had moved out of the couple's home because he didn't like their treatment of Bella, according to Deakin. The friend said on two occasions McCarthy locked the girl in the closet for 30 minutes to an hour, Deakin said. The friend also told police that McCarthy had become involved in the occult and purported to see demons and ghosts, according to Deakin.
"Mr. McCarthy and Ms. Bond told the lifelong friend that [Bella] was possessed by demons and that that was the reason why she required that type of punishment," Deakin said in court.
That friend also eventually led police to make the break in the "Baby Doe" case last week.
Deakin said the friend spoke with Bond last Wednesday, who told him about Bella's death. In their conversation, Bond allegedly told the friend that she was glad she stopped using drugs. According to the prosecutor, the friend responded by saying how that could help Bond get Bella back. The friend said he had been told by both defendants that Bella had been removed from their home by the Department of Children and Families and that's why the friend hadn't seen Bella since he moved out of their home, the prosecutor said. Bond then broke down crying and said, "I'll never see my daughter again," the prosecutor told the court.
"She responded [to the friend], 'Michael McCarthy killed her and I'm an accessory after the fact because I helped him get rid of her body,' " Deakin said.
The friend then reached out to McCarthy via text message and asked him about Bella's death, and McCarthy said she was with DCF, Deakin said.
The state's child welfare agency had previously been involved with Bella, but not in two years. DCF opened two "support for neglect" cases, one in August 2012 and one in June 2013. Both were closed after several months once services were provided, according to the agency.
DCF also terminated Bond's parental rights for her two other children between 2001 and 2006. One child was adopted by a grandmother and the other was adopted by an unrelated family.
In court Monday, Deakin said the friend shared the information he heard about Bella with his sister, who told him to look up the "Baby Doe" case. When he did, he saw the computer-generated image and noticed a resemblance to Bella, Deakin said. The friend later texted McCarthy and Bond and said, "Baby Doe ring a bell?" to which McCarthy replied, "'Who are you going to believe? Me or' and he used a derogatory epithet," Deakin said.
The friend's sister then contacted the Boston Police Department with the information she heard. Meanwhile, the friend went to Roxbury District Court on Thursday morning and spoke with someone he knew there, Deakin said. He was later interviewed by State Police, who then obtained a warrant to search the couple's home. There they found books on demons and demonology, according to Deakin.
Deakin also told the court that Bond has a lengthy criminal record, including drug and prostitution convictions. Deakin said Bond has also had several restraining orders obtained against her.
In court Monday, McCarthy's defense attorney Jonathan Shapiro said his client would not contest being held without bail.
Bond's attorney, Janice BassiI, sought $250 bail and house arrest, saying "$1 million bail is essentially no bail" and her client "has every incentive to appear in court." But the judge denied that request.
This article was originally published on September 21, 2015.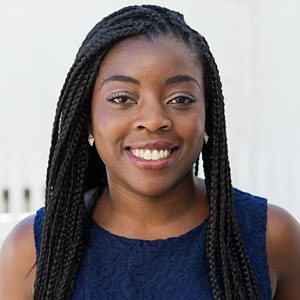 Zeninjor Enwemeka Reporter
Zeninjor Enwemeka is a reporter who covers business, tech and culture as part of WBUR's Bostonomix team, which focuses on the innovation economy.