MIT Experiments With Online Semester For Admission Into Graduate Program
Play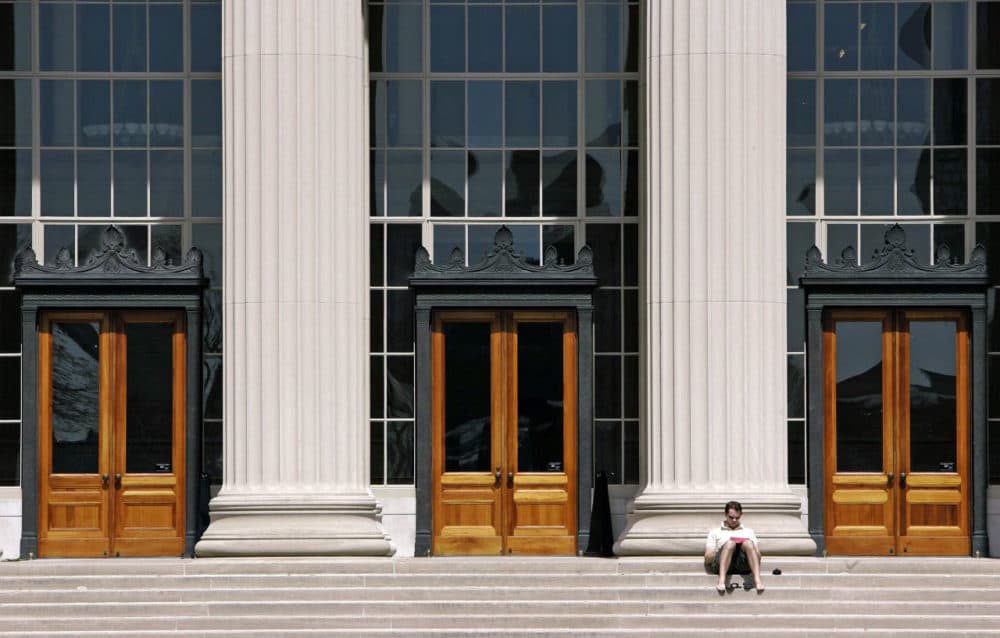 This article is more than 7 years old.
The Massachusetts Institute of Technology is changing the way it will admit some graduate students.
MIT is launching a pilot program that will allow students interested in getting a master's degree in supply chain management to earn credit for their first semester online.
"The cow makes the milk, but getting the milk from the cow to the supermarket is what supply managers do," is how Yossi Sheffi, director of MIT's Center for Transportation and Logistics, explained supply chain management to reporters at MIT'S Solve conference Wednesday.
If the admissions program works, MIT could allow other graduate programs to follow suit.
MIT President Rafael Reif is talking about nothing less than transforming admissions at MIT.
"Transforming admissions is a major issue," Reif told reporters.
In an address at the conference, Reif said the school is inverting the traditional admissions process.
"In a traditional admissions process, we have to assess, based on your record, whether you will succeed in our program. That admissions system works well for people who went to schools we know very well, but for people from outside that familiar circle, it can be hard to break in," Reif said. "With this new experiment, applicants do not have to hope that we will guess right about them."
Applicants will have a chance to prove in advance that they can do the work. Anyone can register for the online courses. Students who do well in a semester's worth of courses and in an online exam will earn a credential. MIT is calling it a MicroMaster's credential. At that point, a student can apply to the on campus program and can put their online credits toward a master's degree.
"Imagine a graduate program that includes talented students who might never have been admitted to MIT in the old system, but who have now a new pathway to success today, all because we gave them the opportunity to prove they could handle the material, and they did," Reif said.
The program in supply chain management is experimenting with this novel approach to admissions because of demand from businesses.
"We have 50-plus member companies who we work very closely with," Sheffi said. "They hire our people. We do all kinds of research projects with them. Their main complaint about our program is that it's too small. We are graduating dozens a year. They needs hundreds or thousands a year."
MIT was a pioneer in offering courses online. But this is its first foray into offering credit for those courses. Many other schools offer entire online programs. That's a trend MIT is still resisting. Sheffi said some things can be taught online -- mathematical and mechanical concepts, for example — but other things should remain in the classroom.
"We teach also things that have to do with dealing with people, with leadership, with communication, with doing research, the things that can only be done, or can be done much better in close proximity to the professors, working one on one," and those things, Sheffi said, must be taught on campus.
MIT is also attempting a revolutionary experiment in controlling the cost of a graduate education. Students who take the first semester of credits online would save a lot of money. MIT is thinking of charging about $150 for each of the five first-semester online courses. So that's $750. The exam will cost between $400 and $800 -- MIT has not decided yet. Grand total: between $1,150 and $1,550 for the first semester. Compare that to the $33,000 students pay for a semester on campus.
This experiment lasts until 2018. That's when the first class will graduate. Reif says other units of MIT have expressed interest in adopting the new way of admitting students. Reif was noncommittal when asked if this model of admissions could be extended to undergraduate admissions.
"Who knows what will happen some day?" Reif asked.
Correction: An earlier version of this post's headline incorrectly said the online semester was free. We regret the error. 
This article was originally published on October 07, 2015.
This segment aired on October 8, 2015.