'Psyched It's Finally Here': Long-Awaited Cambridge Skate Park To Open In November
Play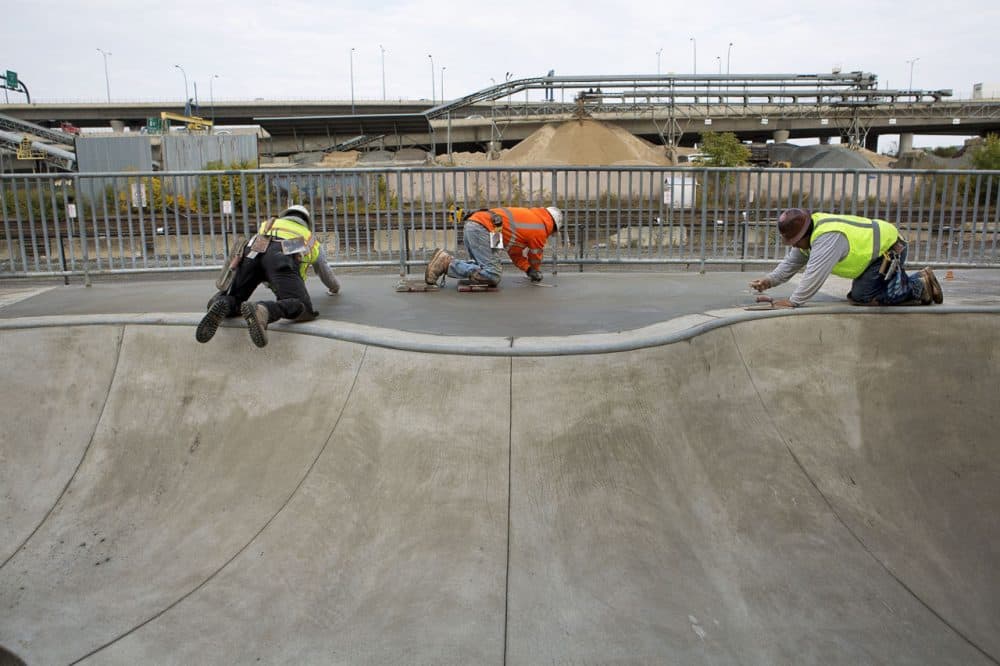 This article is more than 7 years old.
Skaters, get ready to do some serious shredding next month. After more than a decade of planning, the long-awaited Lynch Family Skatepark will finally open to the public on Nov. 14.
The Charles River Conservancy, which has been overseeing the project, announced the grand opening of the skate park Tuesday. The $3 million, 40,000-square-foot facility, located in East Cambridge underneath ramps to the Zakim Bridge, is the first skate park of its size in the Boston area.
Organizers say the skate park is designed for skaters of all skills levels as well as athletes in wheelchairs. It features three bowls reminiscent of empty swimming pools (the largest is 11 and a half feet deep) and a street skating area designed to mimic public locations like sidewalks and plazas — complete with stairs, ledges and other common street furniture.
"Skaters that like street are going to find enough street-type elements to satisfy their wants and needs, and then the same thing goes for the folks that like to ride transition in the bowl area," said Doug Russell, the skate park's project manager. "There's about a 50-50 split on terrain, so no matter if you like to ride street or transition, you're going to find what you want."

Through community meetings, more than 400 local skaters and skateboarding professionals contributed ideas for the skate park's design, which was done by the architecture and design firm Stantec and landscape architecture firm Halvorson Design Partnership, Inc. Construction of the skate park is being done by crews from California Skateparks and ValleyCrest Landscape Development.
For Boston's skate community, the opening of the skate park can't come soon enough.
"It's a very monumental occasion for skateboarding in the city," said Armin Bachman, the co-owner of Orchard Skateshop in Allston. "We're psyched that it's finally here and we're really looking forward to the energy that it's going to bring to the city and more opportunities."
The skate park has been many years in the making, and next month's grand opening will mark the end of a lengthy planning effort.
The skate park began as an idea two decades ago by sculptor Nancy Schön, of "Make Way for Ducklings" fame. Schön had noticed skaters were using her "Tortoise and Hare" sculptures in Copley Square for practice. Initially upset about the activity, Schön later learned the skaters had few skating options and decided to look into getting a skate park built. In 2002, Schön connected with Renata von Tscharner, who founded the Charles River Conservancy and was also looking into building a skate park.
For more than a decade the conservancy has overseen the project. Obtaining a piece of land was a major hurdle. The site of the park was among parcels of land used during the Big Dig. That land was formally designated for the skate park in 2013, but the site was also a former brownfield (industrial site) and had to be cleaned up before construction could begin. Construction on the park finally started in April.
"This big mega complex park is just going to be the start of some more radness coming to the city."

Armin Bachman, co-owner of Orchard Skateshop
Along the way, the project got a major boost from two key donors — The Lynch Foundation, which donated $800,000 early on and for which the park is named, and Vans, a shoe and skateboard apparel company. Last year in July, Vans donated $1.5 million to the project and committed to paying $25,000 to the Massachusetts Department of Conservation and Recreation (DCR) each year for seven years to maintain the skate park. (After that, maintenance of the park will be up to DCR.)
The skate park's long history is even reflected in the design. The park will feature large etchings of Schön's "Tortoise and Hare" sculptures in the cement. In some areas, the park will also feature a black and white checker design similar to Vans' signature print. And there will be a replica of an old skating spot in Boston known to skaters as "the hospital bank," which was located near Boston Medical Center.
With the grand opening of the park now in sight, local skaters are itching to ride it.
"I'll be there riding from day one, I'm really looking forward to it," said Douglas Moore, a skateboarder and skate park builder from Allston who described himself as "a middle-aged man who never quit" skating.
Local skaters say the skate park will become a major destination for skaters from all over New England.
"It really is like this one big scene and everyone just skates together, parties together, has fun together — it's one big family," said Bachman, the Allston skate shop owner.

Von Tscharner, of the Charles River Conservancy, said the skate park will not only be "a home for the skaters" but also an attraction for the city.
"It's wonderful to watch skaters," von Tscharner said. "It's like watching fire, constantly changing [and] flowing. So, it will be a great destination also for tourists to come here and see what the skaters are up to."
In addition to skateboarders, the skate park will accommodate BMX riders, rollerbladers and scooter riders. The park also has viewing areas for spectators, and organizers say the facility will be used to host community events and professional skating competitions. The public outdoor park will be open year-round. Organizers say skaters will likely still get use out of the skate park even in the winter months since a large portion of the park is covered by the highway.
Additionally, lights will be installed at the skate park next spring, allowing skaters to use the park in the early mornings and evenings, according to DCR.
Next month's grand opening will feature a ribbon cutting ceremony hosted by professional skater and Massachusetts native Andy MacDonald, giveaways and appearances by other professional skaters.

The local skate community hopes the Lynch Family Skatepark will spur other development projects for skaters.
"We kind of feel that this big mega complex park is just going to be the start of some more radness coming to the city," Bachman said. "There's a lot of smaller projects that hopefully won't take 15 years to complete that are in the works that we're really looking forward to seeing things grow and build more."
Bachman's shop helped create POP Allston, a temporary pop-up community space in Allston Village that features a free indoor skate park. The space opened in September and Bachman said they hope to find a new home for their skate park after their lease ends in April.
Building more skate parks is exactly what Russell, the project manager, is looking to do. He's currently working on a skate park project in Marshfield and sees the Lynch project as a starting point for smaller-scale parks.
"This was kind of the front runner and the trailblazer in a sense and it's allowing other communities to see what the value of this can bring," Russell said. "So it's a really exciting time for both skaters and construction folks like me."
Moore, the skater from Allston, said he hopes to see more skating venues developed in Boston's neighborhoods.
"We have this mega park going in one part of the city, it would be nice to have some smaller parks that actually bring it to the youth, especially down in Dorchester and Mattapan and Roxbury," Moore said. "Let's try to get them in all parts of Boston, there's room for parks everywhere, I think."
Here is a 3-D animation the Charles River Conservancy released back in April that shows what the Lynch Family Skatepark will look like:
This segment aired on November 13, 2015.