Muslim Women Hold Boston Vigil To Mourn Victims In Paris
Play
This article is more than 7 years old.
In the wake of the terror attacks in Paris, a group of local Muslim women gathered in Copley Square Wednesday to mourn the victims.
About two dozen women gathered for what organizers called a "silent vigil" near the steps of the Boston Public Library in Copley Square. They stood in a line, quietly, carrying red roses and signs with messages like "Love trumps evil," "Pray for the world" and "Spread hope."
"In light of what's happened in Paris, we're here to show solidarity, and to show that we're here for humanity, essentially," said Hibah Nour, 26, of Shrewsbury, who attended the event.
The event was called "Muslim Women In Black: Mourning for Humanity." The vigil was also an occasion to acknowledge lives that have been lost in other "senseless acts of violence both abroad and in the U.S.," according to Malika MacDonald, of Everett, who helped organize the gathering.
She had teardrops drawn near her right eye to "show my sadness" and a piece of paper taped over her mouth that read, "But you don't hear me though." MacDonald said she feels Muslim women's voices are often silenced and she hoped the event would show people that Muslims are also grieving.
"It's important for us to come together and show the world that there is still hope," she said. "With each life lost, a piece of humanity is lost. This is not the world that I want for my children and my grandchildren."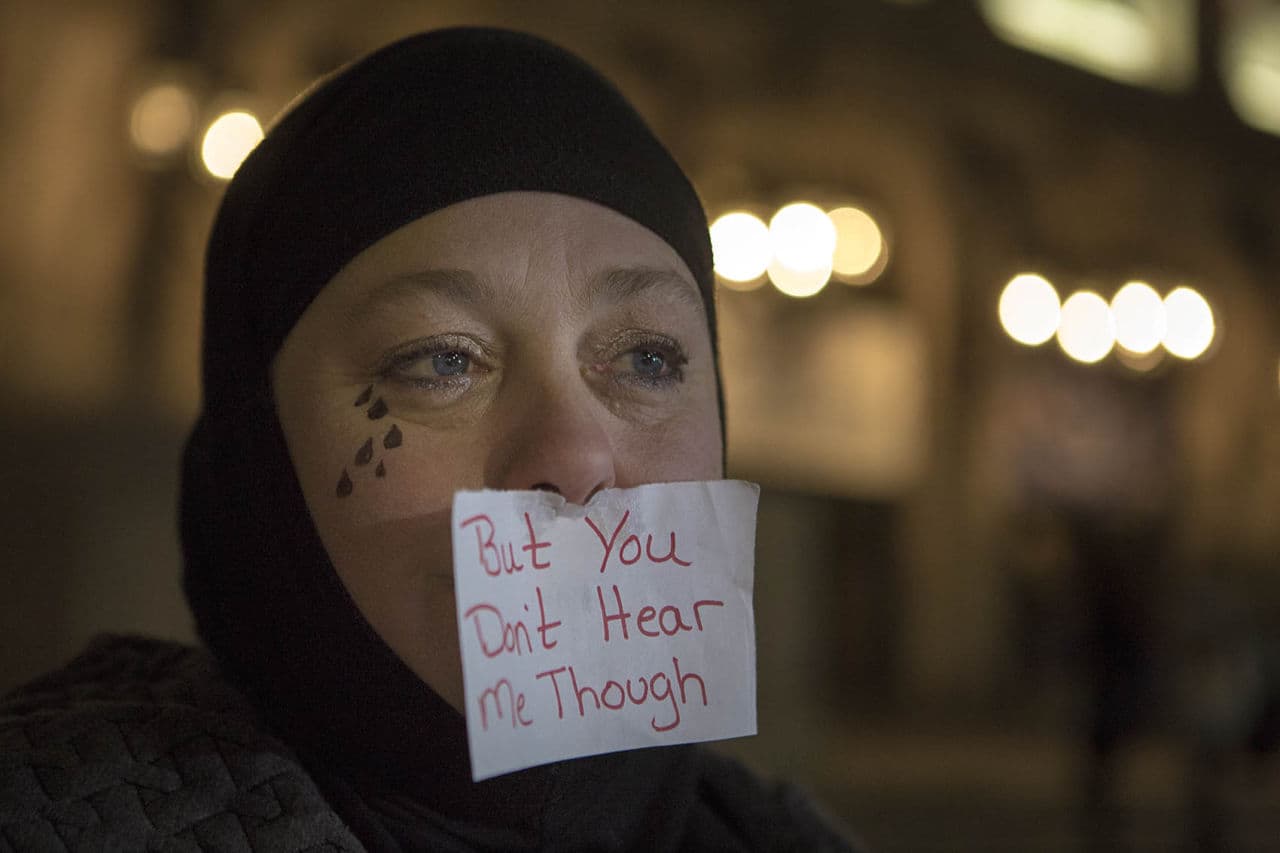 Those gathered Wednesday said they felt anger, sadness and fear after the Paris attacks. Several also had Paris connections.
Nour said she has close friends who live in Paris, but none were hurt in the attacks.
"It hit close to home that at any moment or any given day that could have been me and my family," Nour said.
Melissa Bergstrom, 32, of Somerville said she has been worried about taking the subway or walking down the street since the attacks.
"I felt a deep sense of realization that this is what happens all over the world, and the fear that I'm feeling these last couple days is the fear that people all over the globe live with every moment," Bergstrom said. "It just makes me feel compassionate to every single person out there that's living in fear or that's dealing with something like this."
Bergstrom said she doesn't identify with any particular religious group and attended the event to connect with others and express what she has been feeling since the attacks.
"I had been searching online for a way to connect with the community and when I found this event I immediately knew that I had to be here in person showing support and just physically spending time with people that are hurting as well," Bergstrom said.
Among the group, there was also frustration and dismay over the attacks being linked to Islam. ISIS has claimed responsibility for the attacks. At the vigil, many said they feel the terrorist group misrepresents Islam.
"My faith does not involve violence," said Marwa Morgan, a Boston University graduate student from Egypt. "Even if there are some people who have radical ideas and who do things that are violent that doesn't mean that we all think the same way, and that doesn't mean that we all approve of what's happening."
Morgan said Islam teaches tolerance.
"I feel like I don't need to apologize every time something like that happens and say 'well this is not happening in my name,'" she said. "It's just pathetic that we start thinking that we need to say we disapprove [of] terrorism, because it should be common sense."
MacDonald also condemned ISIS and expressed frustration over how the group is associated with Islam.
"Everything that they stand for and everything that they perpetrate is completely contradictory to our teachings," MacDonald said. "If you were to kill one innocent person in this life, it's as if you had killed all of mankind, and that is quoted from the Koran."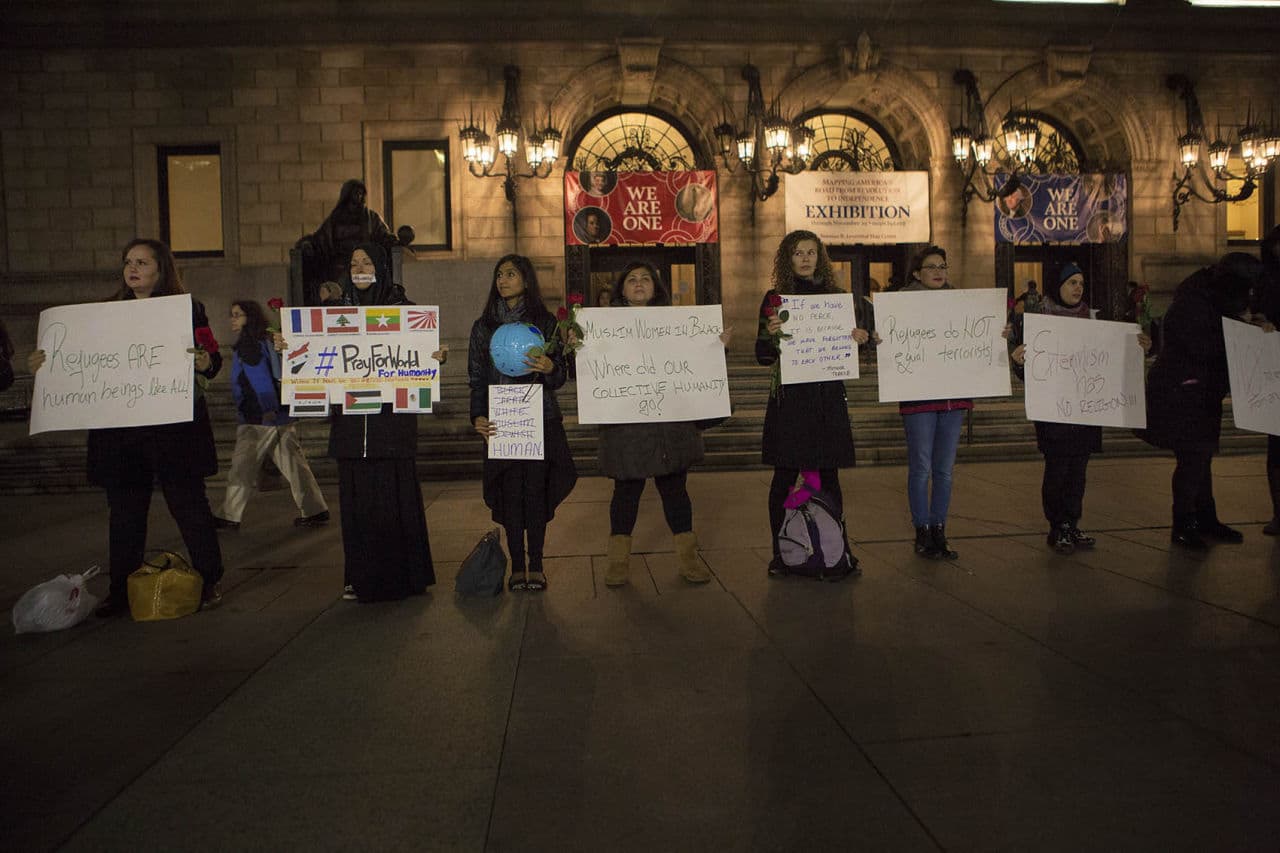 Some who gathered Wednesday were also concerned about backlash toward Muslims after the Paris attacks.
Nour said her mother wears a head scarf, and since the attacks she has talked to her mother about being careful and paying attention to her surroundings. Nour also expressed disappointment over recent comments by some governors, who said they would not accept any more Syrian refugees.
"They've been running from these people that pose a threat to the entire world," Nour said. "The least we can do is help them. I can only imagine if we were in that situation, and we needed that help ourselves."
On Monday, Gov. Charlie Baker said he opposes allowing additional Syrian refugees to be resettled in Massachusetts until he knows more about the government's screening process. Of the 12 million Syrians displaced by civil war since 2011, fewer than 100 Syrian refugees had resettled in the state as of last month.
Nour said she'd like to see leaders come together to deal with these major issues.
"It's almost as though love is fading out and hate is taking over," Nour said. "So, I would love to see world leaders step up to the plate and help Syrian refugees."
That message of working together is exactly what MacDonald is hoping to spread.
"There's so many forces right now that are trying to divide us and instill fear in us," she said. "This is the first step to show the world that we are here, and we want to work toward peace hand in hand."
This segment aired on November 19, 2015.