To Reduce Deer Population, Hunters Return To The Blue Hills Reservation
05:40
Play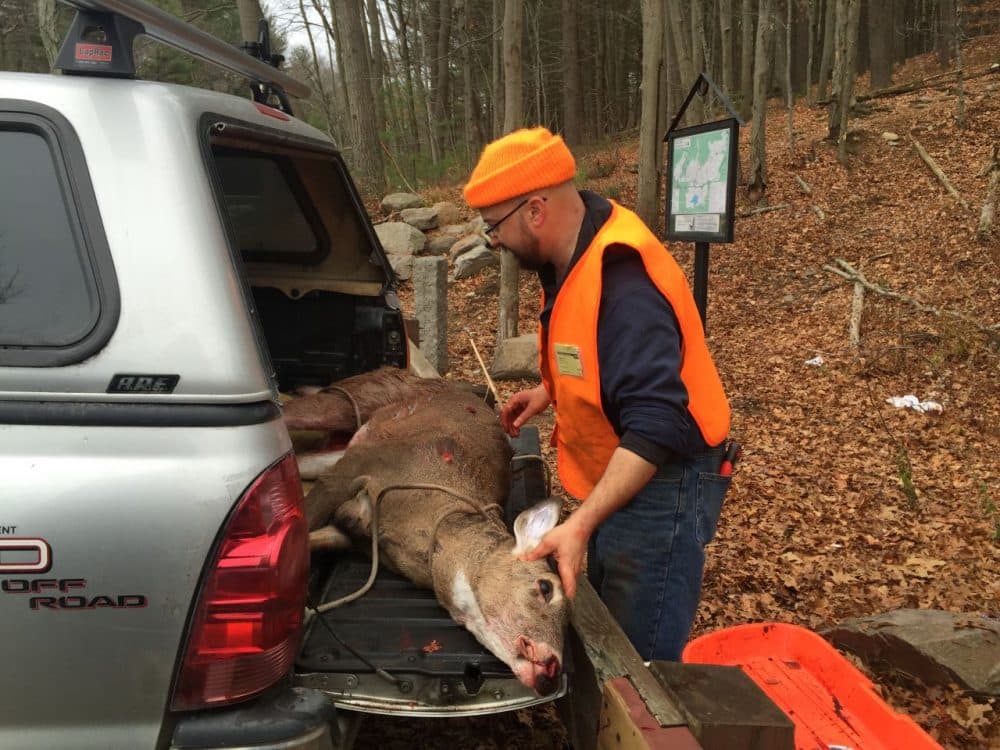 This article is more than 5 years old.
Deer hunting in the Blue Hills resumes Monday.
Monday and Tuesday are the last two days of a four-day hunting season this year at the Blue Hills Reservation. It's the first time hunting has been allowed there since the reservation was created in the 19th century.
Hunters have been invited to cull the booming deer population.
The First Round Of Hunting
It's still pitch black when Matt Vacher pulls into the parking lot to show the documents to the rangers waiting for him.
"I enjoy hunting," Vacher says. "It's really probably my favorite thing to do."
Vacher says hunting is really hiking with a 10-pound gun.
"You're trying to be quiet," Vacher says. "Your ears are up. Your eyes are up. You end up seeing way more animals and stuff that you wouldn't normally see."
The hunt begins half an hour before sunrise. It's the second day Vacher got up early.
"I shot the first deer in this woods in 122 years," Vacher says. "I was the lucky first one."
As a boy, Vacher used to hike the Blue Hills. But he didn't learn to hunt until he moved to Colorado. He's now back in Massachusetts, living in Braintree.
"It's unbelievable to be 10 minutes away," Vacher says.
Still, he had a concern about this hunt.
"I thought it might have been crowded and a little bit dangerous, and I felt safe the entire time," Vacher says.
And state officials say hikers should feel safe, too.
"As long as you're wearing blaze orange during hunting season, it's extremely safe," says Karl Pastore, regional director for the Massachusetts Department of Conservation and Recreation.
A Booming Deer Population
Eighty-nine hunting permits were issued for last week, 74 for this week.
State officials say the hunt aims to address the density of deer in the Blue Hills. They say the deer are eating the vegetation, which can harm the regeneration of the forest and endanger rare plants.
A survey found 85 deer per square mile. The Massachusetts Division of Fisheries and Wildlife considers that once there are more than 18 to 20 deer per square mile, the forest suffers.
Neighbors have also expressed concern about Lyme disease, as well as hitting deer on the roads. That's a problem that Vacher understands all too well.
"I've hit deer before," Vacher says. "I know people who have hit deer before and got injured. If there's a deer problem, I think this is a good solution."
"When you cull a population of animals, it just creates a better environment for more animals to move in," says Laura Hagen, deputy director of advocacy at the Massachusetts Society for the Prevention of Cruelty to Animals' Angell Animal Medical Center. Hagen opposes the hunt.
"What you create is basically a cycle of culling, which requires hunting, and then hunting, more deer come in, and then that requires more hunting, so it's just a vicious cycle that gets perpetuated," Hagen says.
There is another solution: contraception in the form of a vaccine.
"The antibodies then essentially block fertilization," says Allen Rutberg, the director of the Center for Animals and Public Policy at the Tufts University School of Veterinary Medicine, who has been experimenting with what vaccinations can achieve.
"We've been able to show on some smaller sites, especially more isolated sites, that we can reduce deer populations by as much as 50 percent in five years, which is the best we've done so far," Rutberg says. "If you can get it into the deer, it'll work, but can we get enough of them to have an impact? How easy are they to dart? And how much do they move around?"
Rutberg says suburban deer typically don't move a lot, so they should be a good prospect. He says no one from the state consulted him, though he's not taking a position on whether hunting in the Blue Hills is a good or bad idea.
State officials say they concluded that contraception has not been shown to be effective at reducing deer populations in open systems of free-ranging populations.
In the Blue Hills, the problem of overpopulation is all too evident to Aaron Hurst, a forester with the Vermont Department of Forests, Parks and Recreation, who has come for the hunt.
"It's barren," Hurst says. "There's no understory. There's no herbaceous plants. If it wasn't for the oaks and the acorns, I don't know what these deer would be eating all year long. They've kind of eaten themselves out of house and home."
'Lot Of Action Here'
In Vermont, Hurst is used to hunting in woods with four to six deer per square mile.
"So I saw more deer yesterday in two hours than I saw in three weeks of hunting in Vermont," Hurst says. "There's a lot of action here. There's a lot of deer running around."
After five hours of hunting, Hurst appears in the woods, trailing a big doe tied to a blaze orange sled. He has been pulling the sled for a mile down the trail.
"This one's probably a 2-and-a-half-year-old doe," Hurst says. "She'll probably go 100, 110 pounds."
Over two days, Hurst has shot four deer. He says he's donating them to families in need.
"Four deer will feed two families for a year," Hurst says.
State officials say it's too early to speculate about future years of hunting at the Blue Hills.
A group called Friends of the Blue Hills Deer is expected to protest outside the Brookwood Farm on the second to last day of the hunt, near where hunters must register any deer they have shot.
This segment aired on December 6, 2015.