#Oscars2016 — 'Spotlight' Is The Picture Of The Year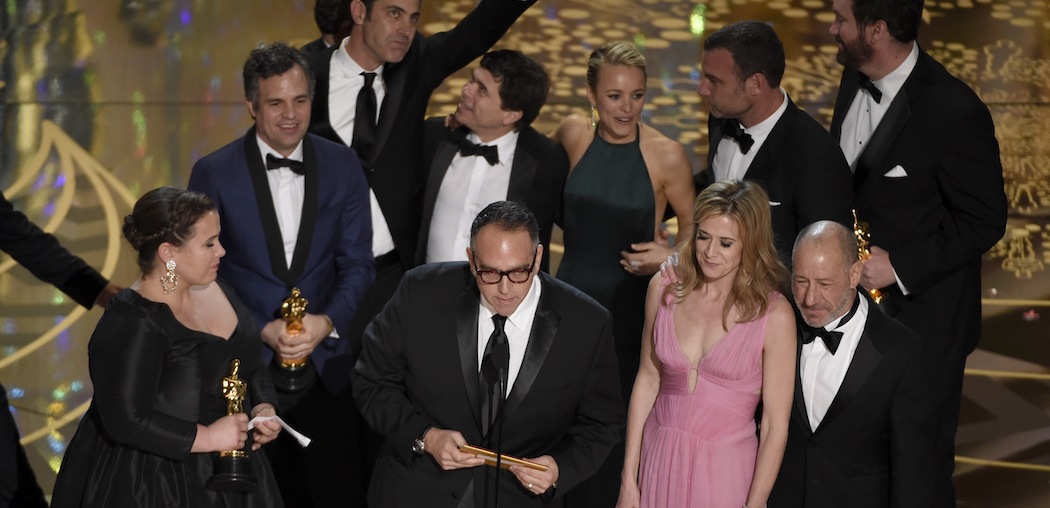 This article is more than 5 years old.
COMMENTARY
Talk about a surprise. After a night of "Mad Max: Fury Road" and "The Revenant" trading trophies, the Oscar Awards came to its senses and gave "Spotlight" the award for the best movie of the year last night.
It certainly didn't seem that things were headed in that direction, as Leonardo DiCaprio and Alejandro González Iñárritu won the awards for best actor and director, respectively, for "The Revenant," but the film that so intelligently and movingly tracked The Boston Globe's series on the Boston Archdiocese cover-up of abuse came out on top.
"Spotlight" also fit into the general sense of the night being a pro-social party for liberals. Climate change (DiCaprio), calling on Pope Francis to do more ("Spotlight"), gender confirmation (Kate Winslet), a rousing ovation for Vice President Joseph Biden and the overall sense that things had to change when it comes to diversity (everybody) were only a few of the political moments of the night.
In fact, it was a night in which quality won out over sentimentality and commercialism in almost every category, a startling change from past Oscars. And, except for Chris Rock prolonging the bit about helping his daughter sell Girl Scout Cookies, it was a pretty classy, if agenda-driven, Oscar show from beginning to end, starting with Rock's monologue.
He certainly had a job in front of him — acknowledging and, presumably, agreeing with the outrage over #OscarsSoWhite while entertaining a national television audience that was tuning in, not dropping out.
How'd he do? Kind of amazing in that he satisfied both audiences. Though maybe that's not so amazing when you consider that the audience was primed for almost anything Rock would say, other than a diatribe.
A diatribe it wasn't. Dressed in #TuxSoWhite, Rock did a kind of stream of consciousness monologue, noting "at least 15 black people on that montage [of clips from the nominated films]" and welcoming the audience to the "White People's Choice Awards … If they nominated hosts you'd be watching Neil Patrick Harris."
---
---
At one point it seemed he was angrier at the boycotters than the nominators, asking "How come it's only unemployed people who tell you to quit" and saying that there weren't boycotts in the '50s and '60s "because we had real things to protest," like "getting raped or lynched." It wasn't fair that Will Smith wasn't nominated for "Concussion," but then "it's also not fair Will was paid $22 million for 'Wild, Wild, West.' "
But then he turned his sights around. The in memoriam montage would be "black people getting shot on the way to the movies" and suggesting that they ought to have special categories for black actors like Best Black Friend — "The winner for the 18th year in a row is Wanda Sykes."
Then " 'Rocky' takes place in a world where white athletes are as good as black athletes," making it "a science-fiction movie."
The montage inserting black people into the nominated movies — Whoopi Goldberg in "Joy," Tracy Morgan in drag in "The Danish Girl," Rock in "The Martian" — with NASA not caring whether they got a black astronaut back or not — was also both safe and pointed. Perhaps most pointed of all was interviewing black moviegoers in Compton who not only hadn't seen most of the movies nominated, they had barely heard of them.
It didn't set the world, or the Academy, on fire, obviously. He didn't push the envelope the way Sacha Baron Cohen did as Ali G, saluting "Idris Elbow and the black bloke from 'Star Wars,' Darth Vader." But Rock did the job. He could be the host next year for either the Oscars or the NAACP Image Awards. Or pretty much anything else he wants to host, except for the Republican Convention. Not a bad trick to pull off.
It was hardly a complete success, though. Revisiting the diversity controversy had a law of diminishing returns as Stacey Dash and Jack White skits fell completely flat.
---
But the awards themselves were what eventually made the night.
Things got off to a great start with "Spotlight" (Tom McCarthy and Josh Singer) and "The Big Short" (Charles Randolph and Adam McKay) winning the screenplay awards. Almost every technical award then went to the deserving "Mad Max: Fury Road," except for cinematography which was awarded to the great Emmanuel Lubezki for "The Revenant."
And while everyone expected the supporting actor to go to Sylvester Stallone it went to the guy who deserved it, Mark Rylance for "Bridge of Spies," with perhaps the best acceptance speech of the night. Unlike his Tony speeches he didn't quote Louis Jenkins, whose poetry he brought to the American Repertory Theater, but to the love that a leader like director Steven Spielberg brings to the world, as opposed to many aspiring political leaders.
I was not a big fan of DiCaprio's grunting, crawling performance in "The Revenant," but he gave such a smart speech — and he deserved the win for "Wolf of Wall Street" — that it wasn't distressing. And Brie Larson certainly deserved hers for best actress in the emotionally gripping "Room." I was much more moved by her triumph over adversity than DiCaprio's.
Lady Gaga gave the performance of the night — atoning for the David Bowie Grammy bomb — with "Til It Happens To You," accompanied by sexual assault survivors. Biden introduced it.
Our ARTery colleague Joyce Kulhawik was a happy camper — she had chosen "Amy" as one of the best films of the year and it won best documentary feature. Ennio Morricone won for the only thing "The Hateful Eight" deserved to win for — the music — leading to the most humorous goof of the night. Morricone saluted his wife Maria and they cut to Cate Blanchett.
Ed Siegel is editor and critic at large for The ARTery.
Related:
This article was originally published on February 28, 2016.