'A Home Away From Home' — An Oral History Of Johnny D's
Play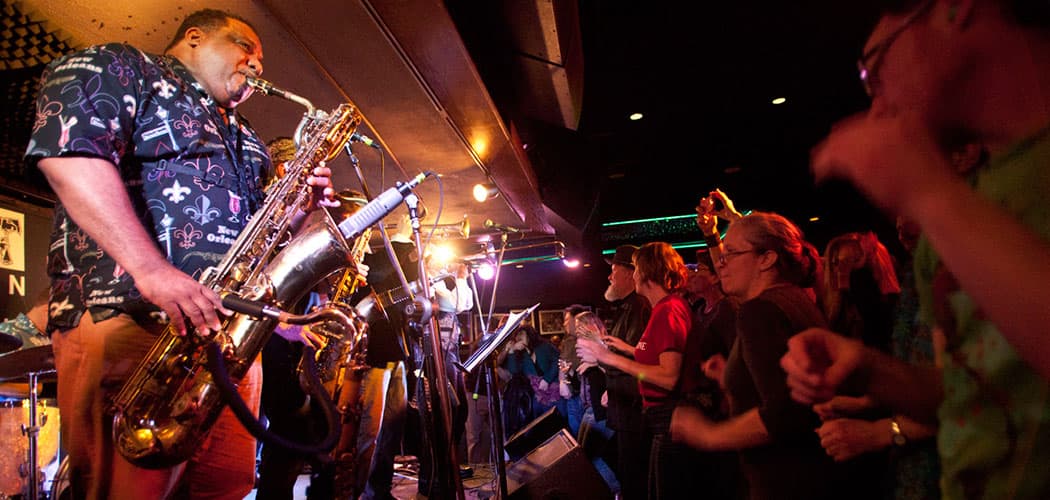 This article is more than 6 years old.
It's hard to imagine now, but there was once a time when Somerville's Davis Square was considered a frontier town, home to a handful of sketchy saloons and not much else. The expansion of the Red Line in 1984 changed all that, and from that moment on, Johnny D's Uptown Restaurant and Music Club led Davis Square's transformation from a humble neighborhood spot to a destination for culture and nightlife.

The DeLellis family -- John, a Somerville policeman, and Tina, a spunky Italian immigrant whom he married -- bought the bar in 1969 and through the '70s and early '80s played host to an eccentric collection of neighborhood regulars and a rotating cast of local country music outfits. In 1984, their daughter Carla took over the booking for the club, and, along with her brother David, oversaw the expansion of Johnny D's into a full restaurant. Over the next 30 years, Johnny D's became a launching pad for future stars, like the Dixie Chicks and Alison Krauss; a second home for beloved local outfits like Plate O' Shrimp and Barrence Whitfield and the Savages; a regular stop for road veterans like rockabilly legend Sleepy LaBeef; and a hotspot for an eclectic array of musical genres, from Afropop to Cajun to blues. The restaurant's enormously popular jazz brunch kept the club humming in even the leanest of times.
Carla, with her parents and brother having passed, announced in July 2015 that she would be closing the club in order to convert the property into a multi-story mixed-use building with residential space on top. The reasons, she said, were personal, not financial -- Johnny D's continued to turn a profit. (There are no current plans to include a music venue in the commercial space downstairs.) It was simply time to move on.
Johnny D's is nearing the end of an extended series of farewell concerts, which you can check out on their website. March 11 marks the start of the club's final, free "open house" weekend, which concludes on March 13 with a second line brass band parade through Davis Square.
Here follows an exhaustive (though by no means complete) history of Johnny D's, as remembered by some of its dearest denizens and most devoted custodians.

A Memory Of Biker Gangs
"There were times when there were motorcycle gangs that would come in, and they were very respectful of [my mom], and she would go out and she would point her finger — and of course everybody smoked in the bar at that time — and she would always have a cigarette in one hand and she would say: 'Get your bikes over across the street!' And they would all get on their bikes and they would move their motorcycles across the street." -- Johnny D's owner Carla DeLellis remembering when her parents, Tina and John DeLellis, ran the place.

The Early Days
Carla DeLellis: 1969 was when my parents took it over. My father … had gotten friendly with the owners of the bar. … And they were like, "Come on John, why don't you buy it." And it was called, back then, Murphy's Uptown. And then when my dad took it over he called it Johnny D's Uptown.
Back in those days, the bar used to open up at 8 a.m., you know — all the bars around here opened up at 8 a.m.
You used to get away with just selling Slim Jims and cheese puffs and sometimes hard boiled eggs, and that was the food. So yeah, at 8 a.m. I mean my mother always used to say it was people who got done with the night shift, you know. People through the hospitals who were done with their night shift as well, or factories. Or people who just wanted to start early.
My very earliest memories, my mom would take my brother David and me here every Sunday morning. We'd have to wash all the glasses. And back in the day, you didn't have a dishwasher, you had these rinse sinks with these brushes, and you'd get all these glasses. And you'd walk in and there'd be glasses everywhere.
And then, in 1974, when the hardware store decided to leave, my parents then put a stage in and expanded. And expanded the music. Country western was very big back in the '70s.
Jack Connolly, Somerville alderman: Back in the day, in the late '60s, I was 18 or 19. And back then you could drink at 18 because we were all potentially Vietnam-bound, and if you got drafted you were able to drink. So 18, 19 was the drinking age. So there were a lot of us around the square who would imbibe in different locations. [Johnny D's] was one place where if you wanted to see music, you could.
DeLellis: Sleepy LaBeef. He played with my parents. He's 80 years old [now] and he's amazing.
So they did country bands that kind of rotated, the same country bands every week. So it'd be Bob Riley one week, followed by Tina Welch the next week followed by the John Penny Band, followed by — and then they would rotate. Very easy, they were smart. And then midweek it was, at some point when the room was bigger, there was a lip sync band. I'm still waiting for that to come back. [laughs] I don't know if lip sync's ever going to come back.

The '80s
DeLellis: My father passed away unexpectedly in '84. He took a heart attack and went quick. He was only 58.
And I was like, "Mom, I think we should expand and put in a restaurant and put some different music in." And she did not — it took me three years, two, three years, to convince her to let me really take over the booking. And I don't blame her, I mean I was young, and I didn't know what I was doing.
At that point, two very important clubs in Harvard Square had closed. And that was Jonathan Swift's and Jack's. Jack's had a fire and Jonathan Swift's, I think, was just a tenants/landlord thing. And they were doing shows, important local shows and national shows. The T had just opened up at the Red Line, and this was like, whoa, we're now Cambridge, technically — we have access to people beyond Somerville. And so in about '87, '88, is when I really started changing the music.
Ken Irwin, co-founder of Rounder Records: Carla set up a meeting with us and came over to the Rounder warehouse and said that she was going to be taking over a lot of the duties at Johnny D's and would like to have some Rounder artists play there.

Mike Qualtiere, Johnny D's bartender and author of the blog (and book) "Life on a Cocktail Napkin": The old bar had one bar against the back wall. And it was like you'd picture for a country and western-type place. And they completely remodeled it. They put in a kitchen. And they moved the bar out front, it was a long, thin oval. And you would have three bartenders working in the middle of it. Just picture an old, sort of worn down country and western place with guys sitting at the bar with a shot and a beer having a cigarette, you know, into a place that all different kinds of people — but now, for the first time, a younger crowd would come in. Students and graduate students and young professionals would come in. And they dressed differently and certainly acted differently. I remember the first bartender saying, "I think I'm going to walk out of here and someone's going to kill me," you know. Because the older crowds didn't necessarily like that they were being pushed out of their slum bar.
Dana Westover, Johnny D's sound engineer and former booker: Carla's mother [Tina DeLellis] had had some fairly rigid rules about who could and couldn't come in. And one of them was you couldn't come in with a tank top because that signified that you were a gang member, because the guys would want their tattoos to be visible. So nobody with a tank top. And she did that 'til the day she died! You know, completely different clientele, everything. But it didn't matter to her. No tank tops, that's it!
DeLellis: When I first first started at Johnny D's, and I started working the door, and you could feel the tension like a knife.
Westover: Davis Square has changed hugely. During that period when the Red Line came in, you know, it was pretty entertaining. A lot of the nefarious characters who lived in Somerville in those days owned a lot of the real estate and they knew they were going to make more money if they could get the current renters out. So they burned them out. I mean there were fires. You wouldn't believe it. There was a period of months before the Red Line came it, where [there was] one fire after another and boom, boom, boom, boom, all these people had to get out.
Irwin: The tablecloths were those red and white plastic tablecloths that you might see in Appalachia.
For years and years, the menus that they used were Rounder album covers. [Carla] asked for a bunch of LP covers and then she split them and had that as the front and back covers for their menus. … So you could have an Alison Krauss menu. I think we had a number of Cajun and zydeco menus.
Westover: I tried to start bringing in really good local bands. … Barrence Whitfield is a good example, I think, of someone who is national, even though he is local. I mean he certainly was good enough to be national if he could ever get the help, you know. And there were a lot of people like that. Bim Skala Bim certainly was one of the early bands. … Plate O' Shrimp used to play here. They used to play Jack's, they played all those places. But that was a tremendous band, they were a great band. It was kind of a ska/reggae thing, but they had their own take on it and it was great.
Irwin: We were working on George Thorogood's third album and we were recording it out in the suburbs and we had had a really rough first day. … And that night, we all went over to Johnny D's. And it turned out to be the talent contest night. And George and the guys didn't bring any instruments down and George insisted everybody drink doubles. And then they borrowed equipment from another band and entered the band contest as Sidewalk Frank and the Newark Vandals. And played loud and drunk, and I think they came in third. The winner was a guy who was about 45 and maybe 5-foot-3 and bald and did Elvis impersonations.
Later that night Billy Blough, the bassist, went for a jog around Somerville and got lost and came back and took a bath at our place where they were staying. And I got up in the morning and had breakfast and went to the bathroom, and was rather surprised to find a nude Billy Blough sitting in a bathtub where all the water had gone out. He had fallen asleep there.
Qualtiere: I think Alison Krauss might have started here. I walked down into the band room and there was this little — she must have been 13 years old — this young little girl. She's all nervous. Then she got up on stage and you go, "Wooow, this girl is going to be big."
Westover: I remember we got Champion Jack Dupree in, who has since passed on. And we rented him a piano, we had to get him a Genesee beer because he didn't like the beer we had. … I remember him sitting there, at the piano, doing this stride left hand thing that he did, and at one point he lifted his left hand. And he reached down and he got his beer, you know, had a drink of his beer. And I was ticking it off in my head, you know, and he was like, three bars, of nothing! And the whole crowd's going, "What's happening?" And then he picked it right up again. It was right there, right on the money. That was a pretty magical moment, that was pretty cool. He was way up in his 80s at that point. He was a stride piano player, but he had played with lots and lots of the blues greats and all that.
DeLellis: Somerville was changing while Johnny D's was changing. And from being a bar that opened up at 8 a.m., who basically sold a lot of Miller High Life … I'll always remember one night I looked around, and the entire audience was drinking Rolling Rock. Which was a big beer back in those days. And I was like, "Oh my God, it happened!" Like, the transition has taken place. And I don't want to say that the other crowd was a bad crowd, it just was indicative, or showing, that it had changed.
The '90s
DeLellis: My methodology was that you can't get the same crowd every night. So part of our scene was to be eclectic. So you would have a blues band, followed by a jazz show, followed by some zydeco show. And there were some crossovers, but a lot of times it was very distinct audiences. … So you might have someone who's a Grammy winner, and the next night a local outfit that does disco covers. It was all part of the magic that happened in Jonny D's that didn't put its nose up to, you know, any particular music or type of level that a band had achieved.
Qualtiere: Dixie Chicks. They played here every year. The Dixie Chicks at Johnny D's — you would be on the dance floor, if you turned around you would be looking them in the eyes. Looking Natalie [Maines] in the eyes. Just like that. I mean you could reach out and touch her if you wanted.
Westover: There was a band called The Peecocks, opening for something else. They were pretty, shall we say, ribald. At one point the lead singer took off everything except for a gigantic dildo. At which point Tina rushed around the bar, rushed over to the stage and said "You gotta get it out of here." Meanwhile the crowd was enjoying every second of it.
DeLellis: There was — and they were a little quirky and you couldn't help but remember — was a band called Brave Combo, and they're out of Denton, Texas. … And they were doing these like Zeppelin-style polka tunes. I mean it was just crazy. So the next thing you know they're doing the chicken dance and they bring everybody outside and I'm like, "What is going on here!" I'm at the door grabbing their drinks so they don't bring them outside with them, and I'm like, "Oh my God." And they brought 300 people across the street, doing the chicken dance. The cops come, because the neighbors don't know what was going on… It was crazy. It was crazy. And then I'm thinking, "Oh my God, they're going to shut us down!"
Qualtiere: This one show, I mean, the place is packed, and there's Cajun music. And one of the waitresses comes up, and she's sort of holding out her arm, holding her hand out at arm's length and holding something between her index finger and her thumb. She walks up, and it's a pair of woman's panties. And she said, "Somebody found these at the edge of the dance floor." And I thought, "O-o-o-oK." You know, I'm busy, I'm running around, I just grab them with my arm's length and put them back behind the bar with the bottles. I thought, "That's a great story." … At the end of the night now, everybody'd leaving, I'd forgotten all about the panties. And this cute little college girl comes up and says, "This is really embarrassing, but did anyone turn in some ladies' underpants?" What had happened was, she was dancing and she got really hot, she had this long skirt on, so she just hiked it up to he knees and reached under — she didn't take her dress off or anything — she just reached under and pulled the panties off, and kicked them to the edge of the dance floor. Then when she finished dancing, she went back and they were gone. So, did she stop? No. She danced the rest of the night, and then on the way out — "Well, I'll pick up my panties now."
The 2000s
Marie Akoury, Johnny D's general manager: Glen David Andrews. He's from New Orleans. and he rocks this place. Every time he has come here, everyone's on their feet. And I love his music, I enjoy it — like, really. I try to get everything done pretty quickly, like those are the days I try to cheat a little bit, and actually take 15, 20 minutes to just enjoy watching the show.
Connolly: Recently, I just saw John Sebastian play with a group called The Lovin' Spoonful, which was huge in the '70s. Even though he's in his late '60s, he's still one of the best guitar players I ever heard. He put on an incredible show, [and I'm] not 20 feet away from this wonderful musician, who's had a huge career, a recording career, and here he is playing one of the great spots here. Irma Thomas, the great rhythm and blues singer, she's played there. It's amazing to think of some of the people who've been there. And you're so up close and personal. I mean, literally only feet away from the music. That's the thing I'm going to miss most, is the fact that you could be so close.
Akoury: Pegi Young was scheduled to play. And it was her birthday. And all of the sudden the bus pulls out. She always comes in a big bus. Then this guy comes in and he's like, "Hi, I need to speak to the manager." And I was like, "I'm one of the managers, how can I help you?" And he's like, "We're going to need a police escort, we're going to need some help." And I'm like, "For [Pegi] Young? She's sold like 50 tickets." Then he was like, "Well, Neil Young is going to be here with her, it's her birthday and he's thinking maybe he's going to play onstage with her." And I was like "Oooh my God, let me call Carla, let me call" --you know. So we're on the phone, she's like, "Is this a hoax?!" I'm like, "No, it's not!" So then we had to get some security and people. We told the staff, "Please do not call your friends and family." … And before you know it we're at capacity. And people were standing outside. So we opened up the windows. It was winter. We opened up the windows and the doors so those poor people outside can actually listen to the music. That was the craziest thing that ever happened here.

The End
DeLellis: You will hear stories of people saying, "I came here with my dad, and I came here when I met my wife, and/or I met my wife here, and I came here with my kids." And it's a multigenerational, multipurpose, multi-type of music — and I think that's what's made it so endearing to so many different people.
Irwin: I met a girlfriend there, and stayed with her until she passed away. And my wife and I went to Johnny D's the night after we got married. It was sort of the home away from home.
Qualtiere: On a weekend, a lot of people would go out to see live music. But I think, oh, probably 10, 12, maybe more, years ago, that started to fade. Some people said it was because of the Internet and you could now, instead of going out to a bar, you could go online and watch a live concert. But for whatever reason, live music is not as popular as it used to be.
DeLellis: It's a hard business because of the hours, and the late nights, and whether it's snowing out, or it's your birthday or — it just doesn't matter, you have to work.
Qualtiere: I came in to do some office work, and we had the workman's comp audit, where they determine what your rates are going to be, they always try to screw you. Every year they try something new. So I looked at it and I thought, "Oh no, we got to contest this." So I walk into Carla's office. And she had planned to go home a couple hours earlier. And now she's just getting ready to go home. I said, "Carla, I hate to do this, but you got to take a look at this. I'm going to contest it. This is going to take half an hour." And her shoulders sort of slumped and her head went down. She says, "Oh, I was supposed to be home. I have to cook dinner for my kids." So she says, "Give me a minute." So I sat in the other chair and she called her home. It's almost like I'm not in the room, she's talking now to her, I think, her youngest daughter. And she says, "No, no, honey, no, Mommy loves you. Mommy loves you, but I have to work. I have to work, I'll be home, no, I promise I'll be home." And I look over, and she's just talking, and she's got tears running down her cheeks.
I thought, "Nah. She can't do it. There's no way."

Connolly: The place evolved. It was a small bar, and it expanded when the hardware store closed, and then it expanded again when the fish market closed. As a result, it grew. Right now, when you're talking about doing something, if you want to open a club or a bar, you have to walk in and convince the city or town, "This is what it's going to be." You got to plan. Johnny D's evolved from a small, intimate little bar to a real nightlife destination and that's what's going to be missing from, I think, not just Davis Square, but from other places around the region.
Irwin: I think that so many of us music lovers just got to the point where we were extremely trusting of the booking, and that that enabled them to book people who we didn't know and be able to make it work, where a lot of other venues wait until an artist has a higher profile and a higher draw before bringing them in. I fear that that discovery process, that so many of us had at Johnny D's over the years, won't be replaced.
DeLellis: Johnny D's has been a huge supporter of music that didn't really have a home, and a lot of that is the zydeco, the New Orleans stuff. Some of the world music-type of stuff, especially at this size. … I will continue to do some sort of promotion as I pick and choose, whether it be at other venues, or as a festival in the square, especially for types of music that might not get picked up.
Qualtiere: It's one thing to tend bar, which I love anyway, but it's another thing to tend bar where there's great music or a great show. It's not like working. … There were shows, I can remember talking about with the bartenders, there were shows where, not only would we have worked without pay, we would've paid them to come in and work. Because we got the best seat in the house. All the people — it's like being the host of a party. All the people around, everybody having a great time — where else do you want to be, you know?
DeLellis: All my bartenders, almost all of my bartenders are women. Where before that wasn't the case, or as much. My managers are women. I think as a woman business owner, I relate to how women do things. They have a certain sense of urgency in a different way. So I think as a woman I've been able to hire other women that I feel bring a lot of value that, I don't know, may not have been hired by men.
Akoury: I was really sick, and Carla came to the hospital and stayed with me all night because I was so scared. I was having one of my worst nights at the hospital. 11:30 at night, she called and she said, "I'm coming," because I was crying on the phone. And I'm like, "They're not going to let you in, it's like 11:30 at night!" She's like, "I don't give a crap, I'm coming." Brought me her blanket that someone here gave her for Christmas, that had her dad and mom on it. … If anybody here was in trouble, whether it was financial, whether it's emotional, whatever it is, you know you can pick up the phone and she'll drop everything and come running to help us out.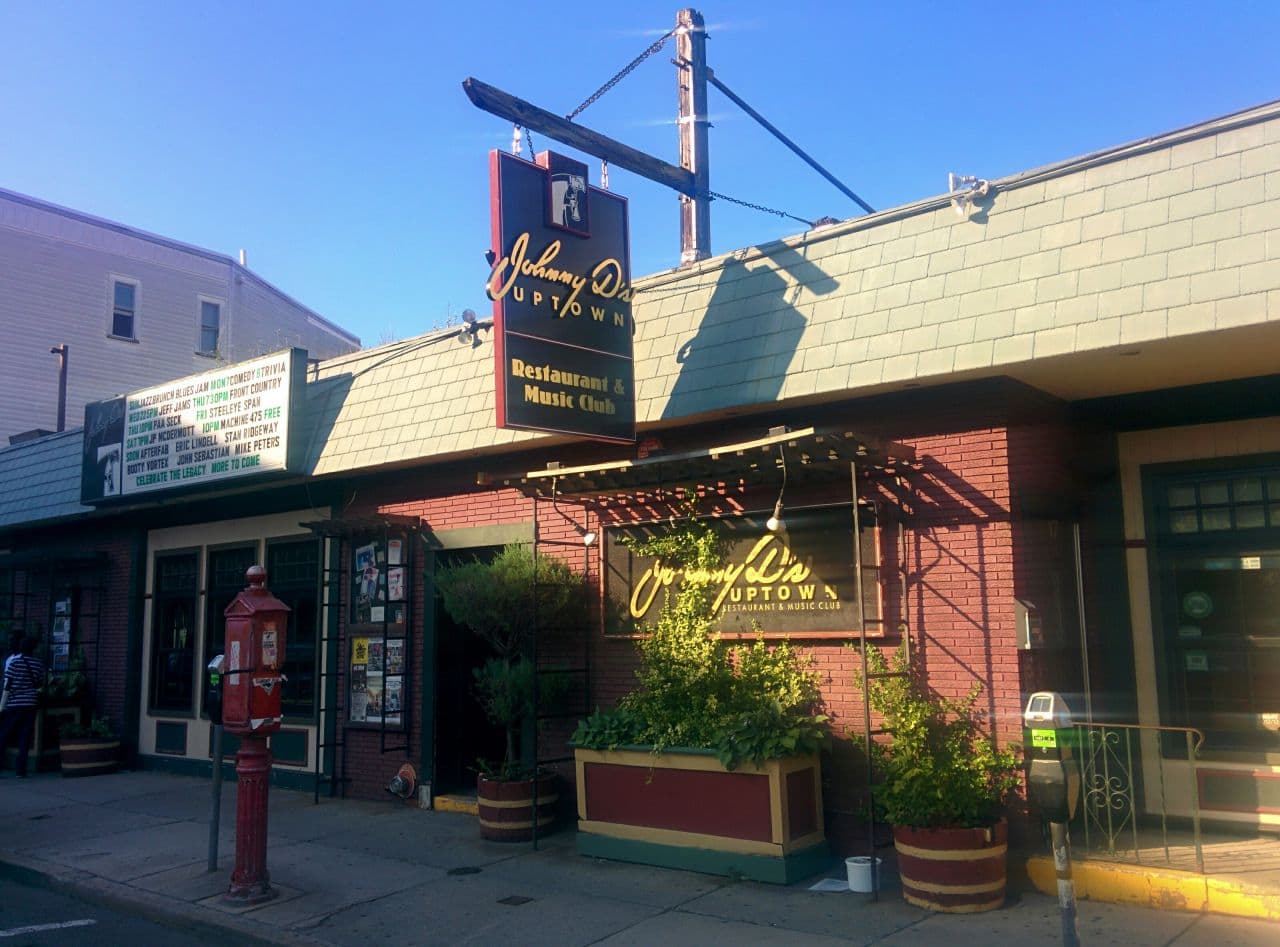 DeLellis: [I'll miss] the staff and the bonds we make as a group working together, and sitting down at the end of work and laughing about whatever crazy thing happened. Having my dinner cooked for me regularly. Being able to call up and say, "I'm picking stuff up for me and my kids." And, crazily enough, it's like I'm a little celebrity. Being somebody who ran Johnny D's.
Irwin: There was such a good feeling about the place. And a lot of that was Carla, going around and saying "Hi" to everybody and making sure that people were having a good time. Always had that adorable smile on her face.
DeLellis: Believe me, I get emails, I get handwritten things on cocktail napkins, I have people stopping me, saying, "Please, can I buy this table?" Or, "This is where I sat with my husband when he proposed to me, and that was the table." I have so many people asking me how they can get a piece of Johnny D's. And I haven't figured out because part of it is — I don't know, I'm a little, still, in denial.