Baker, Walsh Among Campaign To Block Recreational Pot Ballot Question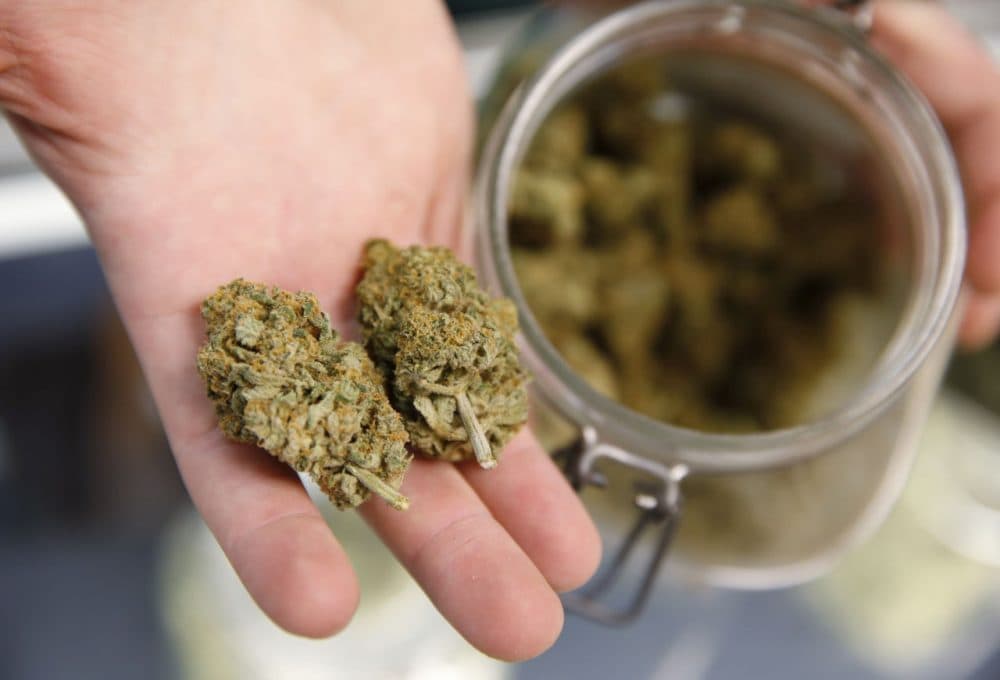 This article is more than 6 years old.
Some of Massachusetts' most powerful politicians are throwing their support behind a bipartisan campaign to block a likely ballot question that seeks to legalize recreational marijuana in the state.
Republican Gov. Charlie Baker and House Speaker Robert DeLeo and Boston Mayor Marty Walsh, both Democrats, announced their support for the so-called Campaign For A Safe And Healthy Massachusetts.
In a kickoff statement Thursday, the campaign said it plans to raise awareness about "the numerous negative impacts" resulting from the legal weed industry, "particularly the evidence of harm to young people."
"I've met far too many families in Boston and elsewhere where kids have lost their way in school and been shut out of success in the workplace due to addiction and abuse of marijuana," Walsh said in the statement.
In its statement Thursday, the campaign cited studies suggesting there has been a sharp increase in the drug's potency since the 1980s, and it cited concerns about the legal pot industry's considerable profits from edible products -- many of which come in forms, like gummy bears and candy bars, that the coalition says make them attractive to children.
Baker agreed, adding in the statement that he fears a legal marketplace for marijuana would also "threaten to reverse our progress combating the growing opioid epidemic so this industry can rake in millions in profits."
But a spokesman for the Committee To Regulate Marijuana Like Alcohol, the group pushing for the hotly debated ballot question, said the idea marijuana use has contributed to the state's opioid crisis is overblown.
"The gateway theory is another piece of rhetoric that is lifted directly from the 1930s," the spokesman, Jim Borghesani, told WBUR. "The only thing that has contributed to the opioid crisis in Massachusetts is the explosion of opioids in the market."
Baker, Walsh and DeLeo are joined on the campaign by a number of law enforcement and health officials, and other elected officials, including state Sen. Jason Lewis, head of the Legislature's Senate Special Committee on Marijuana.
The Democrat's support comes months after he and the committee's seven other members recommended legislators proceed carefully, should voters approve legalization through a ballot question in November.
The committee's report on followed its January trip to Colorado aimed at learning more about that state's legal marijuana industry. The group's report — and comments Lewis made publicly around its release — stopped short of recommending against legalization. A few weeks ago, Lewis sharpened his stance on legalization, telling WBUR's Radio Boston and other media outlets that he felt the measure would be coming at "the wrong time" and would be the wrong approach for Massachusetts.
Speaking with WBUR's Newscast Unit on Thursday, Lewis added: "Proponents like to compare this to alcohol. The fact is, alcohol takes a huge toll on our society."
But Public Support Remains For Legal Pot
According to ballot campaign spokesman Borghesani, Massachusetts voters have traditionally shown favorable feelings about expanding the legality of marijuana use, regardless of the issue's political backers.
"Voters don't take their cues from these elected officials," he told WBUR. "We think that in 2016 voters will do the right thing and create a regulated market in Massachusetts that will replace the stale system of prohibition."
A new poll from Western New England University shows 57 percent of Massachusetts voters support legalizing marijuana for adults.
And a recent analysis for WBUR by MassINC Polling Group's Steve Koczela showed that by every metric available, public opinion appears to favor the legalization of marijuana — and by wider margins each year.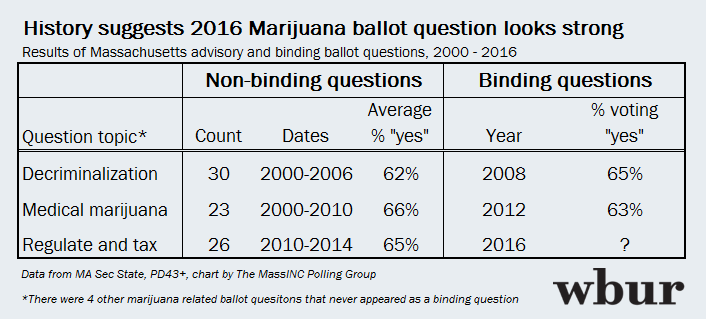 The new campaign against legalization acknowledged the state's history of having already decriminalized possession of small amounts of pot and legalized medical marijuana, arguing that legalization is more about corporate profits than about preventing unnecessary criminalization.
With additional reporting from WBUR's Newcast Unit