Slain Auburn Police Officer Remembered For Dedication, Generosity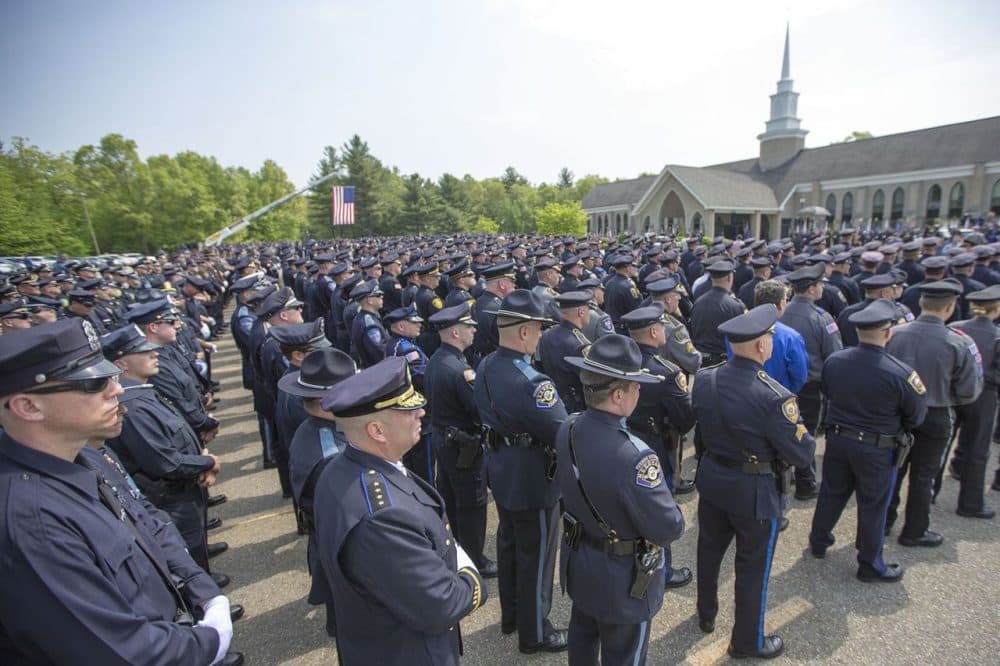 This article is more than 4 years old.
A police officer shot and killed during a traffic stop was remembered Friday for his dedication, professionalism, willingness to help anyone and sense of humor during a funeral attended by officers from across the state.
Hundreds of mourners packed the pews of St. Joseph Catholic Church in Charlton for the funeral of Auburn Officer Ronald Tarentino Jr. while hundreds more stood in rows outside.
Tarentino's wife, Tricia Tarentino, thanked those who turned out for his service.
"It's amazing to see how many lives he has touched and how each of you has shown and expressed your love for him," she said before the service.
She thanked the children of Auburn and the family's hometown of Leicester for their support as well as the first responders, doctors and nurses who tried to save her husband's life.
Burial was scheduled to take place at Greenville Baptist Church Cemetery in Leicester.
Officer Tarentino's youngest sister, Caitlin Tarentino, remembered him during her eulogy for his sense of humor and generosity.
She made mourners laugh when she remembered the place of privilege he had as the first-born child in an Italian family. It made him "kind of a big deal" and earned him the nickname "the Prince," she said.'
The officer, who was 42 years old, was always helping around his parents' house, building a new deck or cleaning the gutters, she said.
"He was always going out of his way to help others," she said.
Auburn police Chief Andrew Sluckis said Tarentino's death at the hands of a "feckless coward with a gun" had robbed the town of a fine officer who had earned his respect and trust.
One of Tarentino's three sons, Spenser Tarentino, said he hopes his father's death reminds people to give police more respect.
Officer Tarentino, whose father was a Medford officer, was shot in the back by Jorge Zambrano during a traffic stop early Sunday, authorities said. Zambrano, who had a lengthy criminal history, was killed later Sunday in an exchange of gunfire with police inside a duplex apartment.
This article was originally published on May 27, 2016.