Bob Dylan Gets Tangled Up With Sinatra: Next Stop Blue Hills Bank Pavilion
(Editor's Note: Unless Bob Dylan radically changes his setlist July 14 at the Blue Hills Bank Pavilion — and upcoming concerts in New Hampshire and Maine — most of the songs he'll be performing will be those written since "Time Out of Mind" in 1997, as well as his last two CDs of standards recorded by Frank Sinatra. ARTery editor and critic at large Ed Siegel saw the July 2 concert at Tanglewood. Following is his review.)
LENOX, Mass. -- Forget the voice of a generation protest songs and the red-hot songwriting of the mid-'60s. When you look at Bob Dylan's whole career it seems that he's been on a lifelong mission to reinvent the American songbook.
His American songbook begins with Woody Guthrie and Lead Belly, sure, but there's also Hank Williams, Muddy Waters, Jimmie Rogers, Charley Patton, the Staples Singers, Elvis Presley, Blind Willie McTell, Pee Wee Crayton, Paul Simon, Joni Mitchell, Wanda Jackson and Sam Cooke. His current concert tour, which I saw at Tanglewood and which comes to the Blue Hills Bank Pavilion July 14, pays tribute to that legacy with a scorching opening set from Mavis Staples, whom Dylan proposed to half a century ago. (He's also in Portland, Maine, July 16 and Gilford, New Hampshire, July 17.)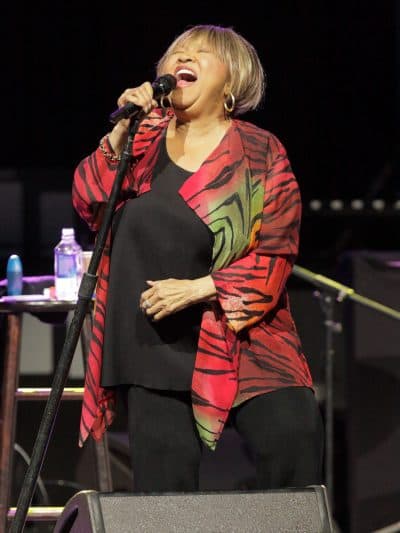 So it really shouldn't be any wonder that he's now reaching out, over the course of his last two CDs, to include the old American songbook popularized by Frank Sinatra, Billie Holiday and Ella Fitzgerald. To many it's understandably a fool's errand for that increasingly cracked and croaky voice to take on songs like "Full Moon and Empty Arms." And there was certainly a procession of baby boomers leaving his Tanglewood concert Saturday night, downcast that there were so few songs from his own legendary folk and folk-rock songbook. ("Blowin in the Wind" was the only representative of the folk period and "She Belongs to Me" from the post-folk '60s.)
I was not among the bereft. In fact, I was amazed at how artfully these songs played off his own songs, most of which came from his revival as a singer-songwriter that began in 1997 with "Time Out of Mind" and continued through 2012's "Tempest."
These story-songs generally tell the tale of an artist sadly, but wryly, looking at a world gone wrong — levees breaking, leaders lying, lovers cheating, workers reeling — while his aging body makes him acutely aware of his own mortality. He's told these stories since the mid-'90s with a great backup band that, featuring its own jaunty "Duquesne Whistle" swagger, can segue seamlessly from Muddy Waters blues to Waylon Jennings country and make them sound like they're coming from the same integrated country-blues place. As players have changed over the course of the past 20 years, the sound has stayed pretty much the same.
The whole Dylan ethos is encapsulated in his Academy Award-winning opening song, "Things Have Changed," from "Wonder Boys" — "People are crazy and times have changed … I used to care, but things have changed." He's been singing variations of that song for decades, but where he used to find solace with the anti-bourgeois denizens of "Desolation Row" or with born-again Christianity now it's only the fading hopes of romance that get him through.
Onstage he feeds off the energy of his band the way he feeds off the romanticism of the old Sinatra songs in his set list (about a third to a quarter of the two sets). He no longer plays the guitar and only occasionally ambles over to the keyboards, which couldn't be heard at all in the mix. Mostly he stood in the center of the band with a few harmonica breaks. He'd then move to the side of the musicians, one hand on hip, threatening to bust a move. But those 75-year-old bones ain't goin' nowhere.
So his apocalyptic theme song from "True Blood" — "Beyond Here Lies Nothin' " — is followed with "The Night We Called It a Day." Many of the songs are about lost love, not found love. When he used to sing "She Belongs to Me" you sensed the possibility of a relationship between him and a Joan Baez-like gypsy lover. Now there's a melancholy sense of loss in both the old and new songs. Even with "Tangled Up in Blue" the anger is gone; he's almost standing outside of himself thinking back on a dead relationship. (Here's the complete setlist.)
The Sinatra songs don't have that twisted stream-of-invective bite, of course. Instead there's a plea to "free me from these chains" and a hope that if he could find a love that's as "deep as the ocean, as high as the sky" he'll find some final sense of redemption.
In a way, "Tempest" giving way to the Sinatra songs is the same as "John Wesley Harding" giving way to "Nashville Skyline." But instead of the country crooner of "Lay Lady Lay" we have Dylan's new country croak.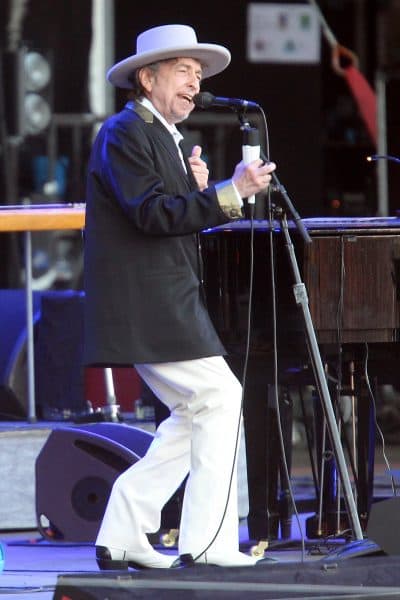 Dylan famously boasted in "Dont Look Back" that he was as good a singer as Caruso. What he meant was that the life experiences and the different kind of passion he brought to a song was different than what an opera singer could. It's true of him and Sinatra, too. Of course he can't hold a note like Frank, scat like Ella or phrase like Billie. But he can break your heart with "Autumn Leaves" or make you appreciate his life story with "Why Try to Change Me Now." And while Sinatra had Nelson Riddle he didn't have electric guitarist Charlie Sexton and steel guitarist Donnie Herron. They're the two musicians most responsible for giving the Great American Songbook a new "Spirit on the Water" life and a new Dylanesque meaning.
That 2006 song from "Modern Times" asked the memorable questions, "You think I'm over the hill? You think I'm past my prime?" Whenever Dylan has come to an artistic dead end and is just going through the motions he's found a way to reinvent himself. And while the Sinatra songs are one of the odder ways he's used to find a new connection, he's certainly earned the right and the trust to go wherever he wants.
It seemed odd, at first, that he ends these concerts with "Love Sick" from "Time Out of Mind," repeatedly singing "I'm sick of love." Of course he's anything but. For all his anger at the woman who's presumably dumped him, the song ends with "I'd give anything to be with you." Maybe he'll get her back with "That Old Black Magic."
In any event, it's still a thrill watching him. His voice can't always enunciate over the band, making his newer songs a challenge for those who haven't heard them before. But you get the idea. He's still not over the hill.
This article was originally published on July 05, 2016.